WATCH: Former Belarusian presidential candidate Ales Mikhalevich talks to RFE/RL's Andrei Shary in Prague
.
By RFE/RL
Ales Mikhalevich woke up on Belarus's election day -- December 19, 2010 -- as one of nine candidates vying to replace President Alyaksandr Lukashenka, the man known as "Europe's last dictator."
Some 24 hours later, after a violent crackdown by the authorities on citizen protests against election fraud, Mikhalevich began the day in jail -- along with other top candidates and some 700 supporters.
The crackdown generated international condemnation and a fresh round of sanctions on Minsk by Brussels and Washington.
Now, the 35-year-old Mikhalevich is hundreds of kilometers from home, in the Czech Republic, which granted him political asylum on March 24. He tells RFE/RL that from the safety of the European Union, he will devote his energy to activism and work to hold the Lukashenka regime accountable.
"For the moment, I'm working more as a political activist," Mikhalevich says. "As a lawyer, I would like to make use of all international legal mechanisms -- and I've discovered that there are many of them -- because this isn't just about political prisoners; it's about torture in Europe on the borders of the European Union.
"I want to use my experience and knowledge in order to stop torture and ensure that there are no longer political prisoners in Belarus. I'm not thinking so much about my future political career."
Concentration-Camp Conditions
Mikhalevich was discharged from a Minsk detention center on February 19, but only after he agreed to sign an agreement to collaborate with Belarus's State Security Committee (KGB).
In actuality, he says he never has -- and never will -- work with the security forces.
"I would be afraid above all of not being able to look my friends in the eyes if I became an agent of the KGB," he says. "I signed that document on cooperation knowing that I would immediately call a press conference and explain that I was in investigative custody and signed such a document."
Mikhalevich told reporters after his release that the conditions in jail were like a concentration camp. He said guards made him stand naked outdoors in freezing temperatures, deprived him of sleep, dragged him across the floor while handcuffed, kept him in an overcrowded cell, and interrogated him without a lawyer.
Mikhalevich is reunited with his family after being released from prison on February 19.
Recalling the experience, Mikhalevich says he knows that lesser-known prisoners probably experience even worse conditions.
"It's possible to survive under any circumstances. I calmed myself by thinking about the people imprisoned in secret camps -- in the gulag -- who were in much worse conditions and went through things that were much worse," he says.
"One of the main conclusions I reached was that, if they're going to publicly torture and mistreat former presidential candidates and public figures, understanding full well that sooner or later those people are going to talk about it, I could only imagine what would happen with former customs officials or law enforcement officers they're mistreating, understanding full well that no one is going to intercede on their behalf. Because who in our society is going to say, 'Oh, what a pity, they're mistreating customs officials.'"
Thorn In The Side
Mikhalevich says he also knew that regardless of what happened to him while he was in custody, he had already become a thorn in the side of the Lukashenka regime -- a role he says he now plans to expand by working closely with international rights groups.
"The authorities were in a situation where anything that they did with me would be bad. If they put me in jail, that would have created some bad publicity. If I stayed in Belarus, that would have been bad because they would have had to conduct a serious investigation into the acts of torture I talked about at [my postrelease] press conference," Mikhalevich says.
"The fact that I left is also bad because I'm now working with international organizations, with lawyers, with the United Nations commissioners on questions of torture."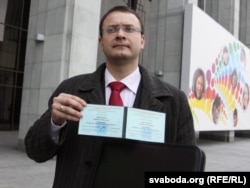 Mikhalevich displayed his official registration as a candidate for the December 19 Belarusian presidential election.
Mikhalevich tells RFE/RL that because the authorities had prohibited him from leaving Belarus, when he decided to leave the country he left his mobile phone in Minsk, suspecting that the KGB uses people's phone signals to track them.
He says a friend drove him into Russian territory and then into Ukraine. With his current passport in police custody, he used an old passport at the border crossings. In Kyiv, Mikhalevich got in touch with several embassies, but the Czechs agreed "pretty quickly," he says, to issue him an entry visa.
The former presidential candidate says he intends to return to Minsk "as soon as possible, as soon as such an opportunity presents itself," but doesn't rule out trying to have his family -- he has a wife and two daughters -- join him abroad.
According to the Belarusian news agency Belapan, the country's top prosecutor is likely to ask the Czech Republic to extradite Mikhalevich.
Still In Prison
Meanwhile in Minsk, fellow former presidential candidates Andrey Sannikau and Mikalay Statkevich remain in prison. Another ex-candidate, Uladzimer Nyaklyaeu, remains under house arrest.
More than 40 protesters have been charged with instigating mass disorder and several have already been jailed for up to four years.
Mikhalevich says that as the repression continues, Lukashenka is unwittingly helping the opposition.
"I think that Lukashenka is now doing a lot to help the opposition unify. It's always easier to unify against someone," he says. "I was a very soft candidate. I didn't criticize Lukashenka. I simply said that I had a different program, that the present government doesn't have answers to most of the questions, but that the government undoubtedly had done some good things in the past.
"Even people like me, who are ready to work with the government, are being driven by it into open, radical opposition. So I think that precisely after December 19, after that night of mass arrests and cracked heads, unifying will be much more likely."
written by Richard Solash, based on an interview conducted by Andrei Shary of RFE/RL's Russian Service; translation by Christian Caryl