MINSK/VILNIUS -- Opposition activists in Belarus are still wondering how a "polite request" from the government of President Alyaksandr Lukashenka to the government of neighboring Lithuania could lead to a "tragic mistake" that resulted in the arrest of a leading human rights activist on suspicion of large-scale tax evasion.
Opposition politician and former presidential candidate Alyaksandr Milinkevich called Lithuania's decision to provide banking information about human rights activist Ales Byalyatski to Minsk a "tragic mistake."
"It is very important to determine how such a thing could happen in Lithuania, which has supported democratization in Belarus for so long and has helped enable the choice toward a European path of development," Milinkevich said.
"The sudden betrayal of activists and human rights activists is, really, a betrayal on the part of the Lithuanian authorities. We need to look into it to make sure it does not happen again and that other countries don't do similar things," he added. "This could destroy our democratic society that has struggled for human rights for so many years."
The Foreign Affairs Committee of Lithuania's parliament held an extraordinary session in Vilnius on August 9, and officials there were contrite. Deputy Foreign Minister Asta Skaisgiryte-Liauskiene told reporters that the Justice Ministry received a "polite request" for bank-account information from Minsk and complied with it without following a long-established informal procedure of consulting with the Foreign Ministry. She said the policy would be formalized in the near future.
She also said Vilnius was looking for ways to increase its support for the democratic opposition in Belarus.
Opposition 'Will Fight On'
As a result of the information provided by Lithuania, Belarusian authorities arrested Byalyatski, head of the Vyasna human rights organization, on August 4, charging him with "serious tax evasion." The international community has condemned the arrest and urged Minsk to release Byalyatski.
Uladzimer Labkovich, a lawyer with Vyasna, told RFE/RL's Belarus Service that the organization would continue its work despite the arrest of its leader.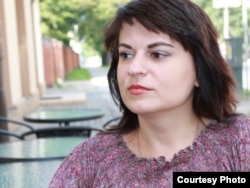 Journalist Natallya Radzina told the Lithuanian parliament of her time in prison.
"We expected this and we were ready for it. Let them imprison us all. That's all I can say -- if they want Vyasna to stop working, let them imprison us all," Labkovich said. "If they don't, then we will continue our work to the maximum because otherwise the biggest reproach we would get when Byalyatski gets out would be that we let the work lapse."
Lithuanian Ambassador to Belarus Edminas Bagdonas wrote to Byalyatski's wife, Natalia Pinchuk, on August 10 and apologized for the lapse that led to her husband's arrest. Bagdonas also met in Minsk with activists to explain how seriously Vilnius is taking the situation.
Belarusian journalist and activist Natallya Radzina, editor of the Charter97.org website, testified at the August 9 Foreign Affairs Committee hearing in Vilnius. Radzina recently announced that she was
seeking political asylum in Lithuania
following intense persecution by the authorities in Minsk over the last 18 months.
In a
statement posted on August 9
, Radzina described her six weeks in a Minsk prison, saying: "It was clear that officials would not allow me to work in Belarus, no way. That became obvious in March 2010, after the pogrom on our office and the first criminal case. Then they launched the second criminal case, then the third and finally, the fourth -- for the events of December 19, 2010."
Getting Tough On Belarus
That was the date of the disputed presidential election that returned Lukashenka to office and of a major opposition demonstration against that vote in a central square in Minsk. That demonstration was followed by a harsh crackdown on dissent that still continues.
United Civic Party leader Anatol Lyabedzka called for the situation to be used to help define a harder and united approach to Lukashenka on the part of all European Union members.
"We need a strategic approach to this question. Values must take priority and pragmatism, where there is room for it at all, must have a very narrow and local character," Lyabedzka said.
"If the result of the Byalyatski matter is that we reach such an understanding of the Belarus problem, then I will think that Ales's time behind bars will be justified. We need a strategic formula based on values."
Opposition leader Milinkevich concurred, saying: "We need to make the decision to treat the Belarusian government like a dictatorship. If we consider it a dictatorship, then democratic countries will not react to letters asking for information and they won't react to letters demanding the extradition of people who are fighting for freedom.
"How can they react as if Belarus were a country where people live in freedom and have free elections and are a part of the European community?" he asked. "No -- this is a dictatorship."
RFE/RL correspondent Robert Coalson contributed to this report from Prague and RFE/RL Belarus Service correspondent Valery Kalinovsky contributed from Minsk