MINSK -- Minsk's top five police officials have received presidential awards for maintaining order in the Belarusian capital during mass protests in December, RFE/RL's Belarus Service reports.
Alyaksandr Radzkou, first deputy chief of President Alyaksandr Lukashenka's administration, personally presented the letters to the officials at a ceremony in Minsk.
The Minsk police press service said Lukashenka expressed his gratitude to the police for their contribution into "the preservation of civil order and security" during massive demonstrations on December 19-20 against the results of the presidential election that officially declared Lukashenka the winner of the disputed poll.
Two of the awarded officials -- the deputy head of Minsk's Interior Ministry department, Colonel Ihar Yauseyeu, and the commander of that department's special police unit, Colonel Alyaksandr Lukomski -- are on the list of Belarusians banned from entering the European Union and the United States.
Last week, Brussels and Washington officially imposed sanctions against Belarus -- freezing some Belarusians' financial assets and banning 158 officials, journalists, police officers, and others from entering EU countries and the United States because of their roles in the violent dispersal of opposition activists on December 19.
While many of the activists were beaten, hundreds of them were arrested and charged with organizing or participating in mass disorder and an unsanctioned gathering.
Minsk-based human rights activist Valyantsin Stefanovich told RFE/RL that Lukashenka was trying to legitimize the beating and arrest of the demonstrators by awarding police leaders the presidential letters of praise.
"Lukashenka just wants to send a message to the police that 'although you are on a bad list abroad, you are on a good list here at home,'" Stefanovich said.
Stefanovich added that the EU sanctions were weak and only symbolic, as few of the officials included in the ban care about the travel restrictions against them.
He said the sanctions had also not changed the behavior of those on the banned list.
For instance, he said that on February 8 one of the officials banned from the EU and United States, Minsk district court Judge Yauhen Khatkevich, sentenced activist Mikhas Lebedz to 12 days in jail for participating in a rally to support political prisoners.
Read more in Belarusian
here
Special Page: Belarus Crackdown
Crackdown In Belarus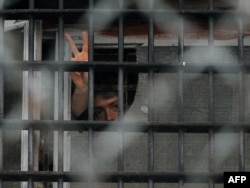 A special page devoted to coverage, views, and multimedia features on authorities' response to public doubts about Belarus's presidential election.
Click here