MINSK -- Two prominent Belarusian opposition figures have gone on trial for their role in the mass street protests that erupted in December following the disputed reelection of Belarus' authoritarian leader, Alyaksandr Lukashenka.
Uladzimer Nyaklyaeu and Vital Rymasheuski, both of whom ran again Lukashenka in the December 19 presidential election, face up to three years in jail if found guilty.
The trial drew large crowds of onlookers, many of whom were unable to secure a seat in the packed Minsk courtroom.
The ambassadors of Poland and Lithuania, as well as the temporary U.S. charge d'affaires in Belarus, Michael Scanlan, attended the hearings.
Syarhey Kalyakin, the leader of the Just World opposition party, also came to the court to support the defendants.
"My presence here today, and at the previous trials, is an act of solidarity with those who are being unlawfully tried," Kalyakin said.
Nyaklyaeu lies in a hospital after being beaten and before he was spirited away by plainclothes security agents.
"The only fair ruling the court could deliver would be to acquit these people of all criminal charges. All they violated was the code of administrative offenses by taking part in an unauthorized rally."
Speaking to reporters ahead of the trial's start, Nyaklyaeu maintained his innocence and accused outside provocateurs of assaulting government buildings during the December 19 protest in Minsk.
Belarusian authorities brutally dispersed the rally and detained more than 600 protesters, prompting Western officials to impose sanctions and a travel ban on Lukashenka and more than 100 of his associates.
The 64-year-old Nyaklyaeu, a well-known Belarusian poet, was beaten unconscious during the protest and snatched from his hospital bed by men in plainclothes the following day. He was placed under house arrest after a brief stay in prison.
Nyaklyaeu, speaking to reporters today, accused outside provocateurs of assaulting government buildings during the December 19 protest on a square in central Minsk.
"Everybody asserts that it was Lukashenka who orchestrated events on the square but I'm not convinced of that. We had not prepared for that. As I understand, the brutal events on the square benefited neither Lukashenka nor me," Nyaklyaeu said.
"My first thought after I was hit was -- why is this happening? It should not have happened. I thought about that while in prison. There was some third force involved. I thought we would sort out this question, who was that force?"
Rymasheuski, who heads the Belarusian Christian Democratic Party, was released on condition that he does not leave the country.
The two were initially charged with organizing mass unrest, which carries a prison term of up to 15 years. But in March Belarusian authorities said they now faced a lesser charge -- organizing acts that disturbed public order -- that carries a maximum prison term of three years.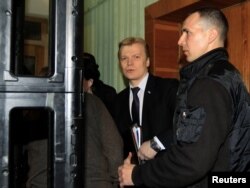 Former presidential candidate Vital Rymasheuski (center) arrives for his court hearing.
Today's hearing comes amid a wave of trials -- some ongoing -- against opposition figures who played a prominent role in the protests challenging Lukashenka's landslide electoral victory, which monitors have called "flawed."
Anatol Lyabedzka, the head of the opposition United Civic Party who himself faces trial over the December protests, condemned the trials as an attempt to further muzzle dissent.
"They are links in the long chain with which the authorities have fettered the opposition," Lyabedzka said. "In my opinion, their goal is to tighten control over the political opposition and advocates of change, particularly during the economic crisis we are currently going through."
Like Lyabedzka, critics have accused Lukashenka -- who has ruled Belarus with an iron first since 1994 -- of using the election crackdown and a deadly subway bombing last month to deflect attention from the country's deepening economic troubles.
A total of seven former presidential candidates were arrested during the December rally, one of whom has fled abroad and taken political refuge in the Czech Republic.
A number of opposition activists remain in jail, including former presidential candidate Andrey Sannikau, who placed second after Lukashenka according to official results.
Sannikau, who was also severely beaten at the time of his arrest, is
currently on trial and faces up to 15 years in prison.
Sannikau's wife, journalist Iryna Khalip, was also arrested and faces charges over the protests. She is currently under house arrest and has been forbidden from communicating with her husband.
So far, seven opposition figures have already been sentenced to between two and four years in prison.
written by Claire Bigg, based on reporting by RFE/RL's Belarus Service