MINSK/PRAGUE -- There was a time when Ivan Antanyuk enjoyed grocery shopping. Fresh fruit and vegetables, meat, cold cuts, cheese, fish, and the occasional sweet treat were once staples in his shopping basket.
Today, buying groceries has become a frustrating chore for the retired army officer, whose real income has shrunk to less than a third of what it was before a devastating financial crisis struck Belarus in March.
Returning from a recent trip to his local store, the 81-year-old Minsk resident peered disapprovingly into his shopping bag.
"Just the bare essentials: flour, cereals, oil, sugar, cheese, kefir, and milk," Antanyuk says. "I didn't get any bread, potatoes or vegetables. We rarely eat meat or sausages, it's very expensive."
To tackle the meltdown -- sparked by a rise in Russian energy prices and lavish public spending campaign ahead of the December 19 presidential election -- Belarus last month devaluated its ruble by 36 percent.
Belarus's authoritarian President Alyaksandr Lukashenka has also set aside his grievances against the West and asked the International Monetary Fund for a rescue loan.
His traditional ally, Russia, has refused to grant Belarus a direct loan, instead offering a $3 billion rescue package to be issued by a regional grouping, the Eurasian Economic Community (Eurasec).
Memories Of Soviet Collapse
While their government scrambles to secure a bailout, Belarusians have been hoarding basic foods and forming long lines at exchange points to convert some of their savings into foreign currency in scenes reminiscent of the chaos that followed the Soviet Union's collapse 20 years ago.
WATCH: Belarusians are struggling to make ends meet amid a deepening financial crisis, the most severe since the collapse of the Soviet Union. (Video by RFE/RL's Belarus Service)
Consumer prices have spun out of control. According to official figures, prices for fruit leapt by a staggering 50 percent in May alone, while prices for tea rose by 46 percent and fuel prices by almost 20 percent.
Antanyuk and his wife Svyatlana now spend as much as two-thirds of their monthly income, which currently amounts to a combined $300, on food. They must also pay utility bills and buy costly medication for Svyatlana.
With the Belarusian ruble tumbling further every day, the Antanyuks, who rely solely on their pension for subsistence, are starting to panic.
"Just look at the prices, it's a collapse, a catastrophe!" he says. "But if you listen to state-controlled radio or television, everything is just fine. I don't know how we are supposed to live."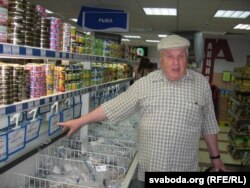 Antanyuk says he and his wife can rarely afford meat or sausages.
Faded Holiday Hopes
The couple's frugal lifestyle is a far cry from the comfortable existence they led as pensioners in Soviet times, which Antanyuk nostalgically refers to as the "golden age."
The couple had long dreamed of visiting Svyatlana's native city of Tambov, in Russia. This dream, like much else these days, is now out of reach.
"What holiday? I vacation in my room, my wife vacations in hers, and we call out to each other: 'Are you still alive?' -- 'I'm alive.' -- 'Good, me too,' " he says. "What kind of holiday can we talk about with our miserable income?"
The Antanyuks worked hard all their lives and had been looking forward to retirement. The economic hardships that Belarus has endured since the breakup of the Soviet Union have forced them to lower their expectations.
Today, the financial meltdown has shattered their last hopes for a peaceful retirement.
Antanyuk says he and his wife are "surviving. Surviving and living out our days. Even in my worst nightmares I had never thought it would turn out this way. It's not just a collapse of the system, it's a catastrophe. Everybody can feel it."
Making Ends Meet -- Just
Some 70 kilometers away, in the town of Maladzechna, things are looking a little brighter for Volha Lahvinovich and her family.
The mother of two and her husband, Yan, are well prepared for the crisis. Huge bags of pasta, rice, sugar, tea, and coffee clutter their flat, which they share with Volha's parents.
Unlike Ivan Antanyuk and his wife, the Lahvinovichs own a small summer house with a vegetable patch that is providing precious help in reducing their grocery bills.
They also rely heavily on financial support from their parents, who are all still employed.
The young couple has never had money to spare. Yan earns the equivalent of $250 a month as a worker in a local wood factory, while Volha brings in an additional $100 in child and maternity benefits.
So far, they have managed to cut back only on nonessentials such as bottled water or ice cream for the children.
Thanks to their tight-knit family and their homegrown produce, they hope to weather the crisis without too many privations.
"When people talk about this 'crisis Armageddon,' I respond by recalling the period between 1996 and 1999, when for example my mother, who is a highly qualified engineer, earned just $30 a month," Yan Lahvinovich says.
But despite their resilience and their efforts to remain optimistic, the Lahvinovichs, like the vast majority of Belarusians, can't help eyeing the future with mounting anxiety.
"We're scared because we don't know how we're going to live," Volha says. "We have no idea what's going to happen now."
RFE/RL's Belarus Service contributed to this report