The trial of Italian Prime Minister Silvio Berlusconi on charges that he paid for sex with an underage go-go dancer opened in Milan today, but was adjourned after a hearing that lasted just five minutes.
Berlusconi also is charged with abuse of power, with prosecutors alleging that he personally called police to have the girl released from custody on a charge of theft because he was concerned that she would reveal their relationship.
Magistrates in the Milan courtroom said the proceedings are being postponed until May 31 to allow for the naming of civil plaintiffs in the case.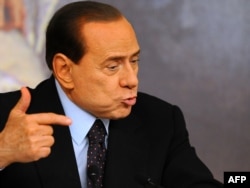 Prime Minister Silvio Berlusconi
The underage prostitution charge carries a possible prison term of six months to three years. The abuse of power charge carries a sentence of four to 12 years, and if Berlusconi is sentenced to more than five years, he would be barred from ever again holding public office.
Berlusconi was not present for today's hearing. Instead, he scheduled a meeting with his cabinet to discuss the crisis in Libya. His lawyers submitted a letter saying he was prevented from attending today due to "institutional engagements."
Prosecutors accuse Berlusconi of paying Moroccan go-go dancer Karima el-Mahroug for sex at his home near Milan in 2010 when she was 17 years old, a minor in terms of laws on prostitution in Italy.
The evidence which is expected to be presented includes wire-tap recordings allegedly showing how women were procured for sex parties at Berlusconi's villa.
Clooney To Testify?
Both the prosecution and defense attorneys have named el-Mahroug, now 18 years old, as a witness. Dozens of aspiring Italian starlets also have been called to testify.
Berlusconi's lawyers also have named Oscar-winning actor George Clooney as a defense witness because el-Mahroug once said she had seen the Hollywood star at one of Berlusconi's parties.
Clooney says he met with Berlusconi only once to get aid for Sudan's Darfur region. It would be up to the panel of three judges in Milan, all women, to decide if Clooney's testimony would be pertinent.
Berlusconi has denied having sex with the girl, who is known by her nickname Ruby. The 74-year-old prime minister also has said he was acting in "good faith" when he claimed to police that she was former Egyptian President Hosni Mubarak's niece and that she should be released to avoid a diplomatic incident.
In February, when prosecutors filed their request for a trial, Berlusconi claimed that the move was politically motivated.
"This thing about the trials, which are false trials, these accusations are completely without any proof," he said, "and everyone has seen that they are just waging a negative media campaign."
Italy's Constitutional Court in January removed Berlusconi's automatic immunity from prosecution. He also is facing trial in three unrelated embezzlement and fraud cases in the weeks ahead.
Moved Out Of Milan
The postponement of the sex and abuse of power trial could have implications for a countereffort by Berlusconi's lawyers and political allies. They are trying to get the trial moved out of the Milan tribunal on claims that the court there is politically slanted against him.
Instead, they want the case transferred to Italy's so-called Tribunal of Ministers, which deals with offenses committed by public officials while performing their duties.
On April 5, the lower house of parliament approved a motion asking Italy's Constitutional Court to rule on which court should hear the case. The trial delay announced today gives the Constitutional Court time to issue its ruling before proceedings move forward in Milan.
The question is not merely academic. Unlike an ordinary court, the Tribunal of Ministers needs the authorization of the lower house of parliament if it wants to put Berlusconi on trial. Berlusconi also is a member of that chamber and his conservative allies control a majority there.
Political analysts say it is unlikely the Berlusconi-controlled house would authorize the Tribunal of Ministers to hear the case.
compiled from agency reports