British police have said the container in which 39 bodies were discovered early on October 23 is believed to have entered Britain from Belgium, thus amending a report that it had arrived at a port with ferry services to Ireland.

"After further inquiries, we now believe that the trailer traveled from Zeebrugge [in Belgium] into Purfleet [near London], and docked in the Thurrock area shortly after 12:30 a.m. this morning," Essex police said.

Authorities had said earlier that they thought it had entered Britain at Holyhead in Wales, a major entry point for traffic from Ireland.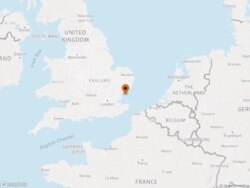 "The tractor unit of the lorry is believed to have originated in Northern Ireland," the police said, after reporting the arrest of the driver.

British media reports said his name is Mo Robinson, 25, from Portadown, County Armagh, Northern Ireland. Robinson was arrested on suspicion of murder.

The bodies -- 38 adults and one teen -- were found in the container at Waterglade Industrial Park about 32 kilometers from London.

The Bulgarian Foreign Ministry said the Swedish-made Scania truck is registered in Bulgaria's Black Sea port city of Varna to a company owned by a woman from Ireland, but the possible connection to Bulgaria was murky.

Bulgarian Prime Minister Boyko Borissov said the people found dead in the trailer could not have boarded the vehicle in Bulgaria because it had not entered the country since its registration there in 2017.

Borissov told private BTV channel that Bulgaria was cooperating with the British authorities in the investigation.

"The truck had been registered in 2017 in Bulgaria by an Irish woman. It then left the country and never reentered. So there is no way that we can be connected, except from the registration plates of the truck," he said.

Police said they have not yet identified the victims or established where they came from.

British authorities did not detail how many of the victims were men or women.

Essex Police Deputy Chief Constable Pippa Mills said that identifying the dead "could be a lengthy process."

British Prime Minister Boris Johnson told lawmakers that the incident was an "unimaginable tragedy and truly heartbreaking."
In a separate development, police in Kent, southeast England, found nine people alive in the back of a truck on the M20 motorway on October 23, Sky News reported.

"Nine people are now being checked as a precaution by the South East Coast Ambulance Service before they are passed to Home Office immigration officers," Sky quoted a police spokesman as saying.

For years, illegal immigrants have attempted to reach Britain stowed away in the back of trucks or in containers.

In 2000, British customs officials found the 58 Chinese people suffocated to death in a lorry at the southern port of Dover.
Based on reporting by Reuters, dpa, and the Press Association