The economies of Central Asia need to become more diversified and competitive to lure more foreign investment.
That's the main recommendation of a new report being presented today at the World Economic Forum in Switzerland by the Organization for Economic Cooperation and Development (OECD).
The OECD is an economic group often described as a rich countries' club. Its report says Central Asia is abundant in valuable natural and human resources, an advantage that helped propel strong growth rates over the last decade.
But it also says the region is overdependent on these natural resources. For example, in 2008, petroleum and related products made up two-thirds of Kazakhstan's total exports, while gold represents around one-third of Kyrgyzstan's exports.
That, the report argues, has left the region's economies "highly exposed to the uncertainties of international markets," a precarious position further highlighted by the recent global economic crisis.
Fadi Farra is the head of the OECD Eurasia Competitiveness Program and the main author of the report, the "
Central Asia Competitiveness Outlook
."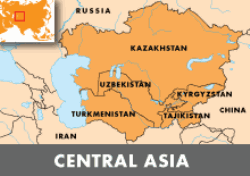 "This region has been so far not enough on the radar screen of investors. It's got a very strong competitiveness potential going forward," Farra says. "The gap between the current endowments, the current performance, and the potential future performance, compared to other regions, is actually quite large. And there are opportunities to improve competitiveness."
'Great Potential'
To be sure, the countries covered in the report vary widely -- from energy-export powerhouses such as Kazakhstan and Turkmenistan, to poor countries such as Afghanistan and Tajikistan, whose economies are based mainly on agriculture.
The countries of the region are also all at "different stages of competitiveness," Farra says, but they all have great potential.
"Some are quite advanced, meaning that they have put in place a first generation of reform and second generation of reform that allow them to have a stronger share of foreign direct investments, for example Kazakhstan. Others are still working on those specific reforms," Farra says. "It doesn't mean that their potential is different. They simply have to put in place those reforms."
The report points out what it says are the countries' shared competitive advantages. First is their location: Central Asia is landlocked, but it is surrounded by fast-growing economies such as Russia, India, and China, which are increasingly investing in it.
With the exception of Afghanistan, adult literacy is almost universal -- at 99 percent compared to a world average of 83 percent. Female participation rates in education and enrolment rates in both primary and secondary education are relatively high.
Then there are those abundant natural resources, including energy as well as agriculture products.
Kazakhstan and Turkmenistan are major exporters of oil and gas, while Kyrgyzstan and Tajikistan have abundant water reserves whose most abundant potential is hydroelectricity.
There are vast untapped mineral deposits in Afghanistan such as iron, copper, cobalt, and lithium, Kazakhstan also has significant reserves of minerals, Kyrgyzstan exports large quantities of gold, and Tajikistan has potential for aluminum production and export.
As for agriculture, Central Asia produced 4 percent of the world's wheat production in 2008, while cotton is the main export for both Turkmenistan and Uzbekistan.
Need For Reform
Farra says Central Asia has become an increasingly attractive destination for foreign direct investment, which rose almost fivefold in the period 2003 to 2009.
"There has been a first wave of investments in Central Europe in the 1990s, a second wave of investments that started to stagnate in Southeast Europe, and now we're seeing a very clear trend of foreign direct investments moving forward to Central Asia," Farra says. "But the challenge is to look at how to remove policy barriers."
The report says reforms should focus on three areas: education, financing for small and medium-sized companies, and promoting investment in areas other than commodities.
Business leaders are joining more than 10 heads of state and government, including the presidents of Switzerland, Azerbaijan, and Ukraine, and Kazakhstan's prime minister at today's launch.
A second "Competitiveness Outlook" on Eastern Europe and the South Caucasus is to follow in June 2011.