News that a coup was being staged against Soviet leader Mikhail Gorbachev in Moscow arrived to the Central Asian republics by radio on August 19, 1991, and was met with concern and confusion among leaders and ordinary citizens alike.
The region's recently minted republican presidents generally took a wait-and-see approach before condemning the attempted coup or supporting it.
Kyrgyz leader Askar Akaev was an exception.
Recalling the events in an interview with RFE/RL, he says he wasted no time calling on his people not to follow the orders of the leaders of the putsch.
"I appealed to the people of Kyrgyzstan that day, August 19, explaining that the putsch was a coup d'état, an attempt to save the Soviet authoritarian regime," Akaev says. "After my statement on television, people started calling us and sending telegrams to our government house. They all supported us. I believe Kyrgyzstan can be very proud of this, because in neighboring Central Asian countries, or other [Soviet] republics nobody [officials] was against the putsch. They were just watching and waiting to see what would happen."
Feliks Kulov, who at the time was interior minister of the Kyrgyz SSR, recalls that Akaev summoned his vice president, the speaker of parliament, and interior and security ministers immediately after news broke that eight Communist Party hard-liners had seized control of the government in Moscow.
Despite warnings from the security chief, who strongly suggested supporting the putsch, according to Kulov, he says he advised that it was time for Kyrgyzstan to determine its own destiny.
Niyazov Tests the Waters
In neighboring Turkmenistan, President Saparmurat Niyazov took the cautious approach, according to one of his ministers.
Niyazov never announced his position publicly. But Nurmuhamed Hanamov, a cabinet minister at the time, suggests Niyazov's first reaction was to support the putsch.
"I was in Niyazov's office to give him my weekly report," Hanamov recalls. "I was sitting in front of him when the phone rang. Niyazov picked up the receiver and stood up as he was taking. He said, 'Hello, Mr. Yanayev [Gennady Yanayev, vice president at the time and a leader of the coup]. I heard about the situation. Don't worry about this country. Everything will be OK here. We will support you.'
"It was a very short conversation, after which Niyazov sat back in his chair and sighed very heavily and said, 'Oh, it's a difficult situation. You don't how to behave.'"
Niyazov was careful not to show his cards publicly, unlike Qahhor Mahkamov, whose interview to a journalist on that fateful day ended up costing him his position as the first president of the Tajik SSR.
A week after the putsch ended in failure, Mahkamov told a parliament session that he was against the coup from the beginning. However, he was challenged by a journalist who, brandishing a tape recorder, said he had recorded an interview with Mahkamov on August 19 in which the president did anything but condemn the putsch.
Amid pressures by parliamentarians, and protesters outside the building, Mahkamov announced his resignation.
WATCH: As Coup Shook Moscow, Tajikistan Waited:
Buri Karimov, a former deputy chair of the Tajik Council of Ministers, says that following the lead of others was a common approach during the Soviet era.
"Unfortunately, during those days, our leaders -- as a screwdriver in a bigger system -- would always wait and see how others reacted, so they could follow the others," Karimov says. "Our communist leaders' silence actually meant they supported the putsch. As we say in Tajik, 'Silence means yes.' It meant exactly that."
Karimov The Survivor
News of the attempted coup reached Uzbek President Islam Karimov on his way home from an official trip to India. Some of those close to Karimov claim his initial reaction was to support the communist officials plotting the takeover of the government.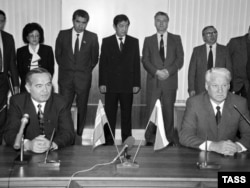 Uzbekistan President Islam Karimov (left) meets with Russian President Boris Yeltsin in Moscow in this 1991 photograph.
Jahongir Mamatov, a former Uzbek lawmaker, says Karimov even sent a telegram to Moscow to support coup leaders.
"I spoke to Shahobiddin Ziomov, who then was Karimov's adviser on international affairs, upon their arrival [from India]," Mamatov says. "He said, 'We sent a telegram from the plane.'"
Karimov, however, later denied the rumors and media reports about the telegram.
In Kazakhstan, President Nursultan Nazarbaev was facing tough choices. Leonid Kravchuk, independent Ukraine's first president, says Gorbachev had promised the Kazakh leader the post of prime minister under his plan to reform the Soviet Union under his New Union Treaty.
"Gorbachev had repeatedly said that he wanted to see Nursultan Nazarbaev in the post of prime minister of the Soviet Union. He indeed never made any secret of it," Kravchuk says. "I think Nazarbaev had these thoughts in mind [in his reaction to the attempted coup]."
Nazarbaev kept silent on August 19. The following day, when it became clear that the coup would fail, Nazarbaev went on Kazakh national television to announce that he did not support the hard-liners in Moscow.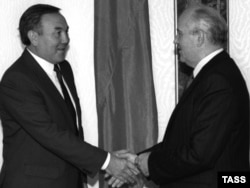 Soviet leader Mikhail Gorbachev (right) had promised Kazakh President Nursultan Nazarbaev (left) the post of prime minister of the Soviet Union.
The failure of the coup sped up the demise of the Soviet empire and by the end of the year all the Central Asian countries had announced their independence.
Akaev, Karimov, Nazarbaev, and Niyazov remained in power, as presidents of sovereign states. Twenty years on, Karimov and Nazarbaev still hold those posts.
Akaev, the only Central Asian leader who was swift in publicly condemning the putsch, says he still believes the Soviet Union might be restored in one form or another. In an interview with Russian media this week, Akaev -- now a professor at Moscow State University -- predicts the Soviet Union will make a comeback in 10 to 15 years.
RFE/RL's Central Asian services contributed to this report