Choose Your Favorite Prison Warden!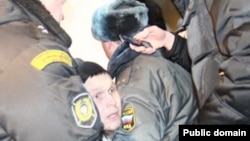 Police in Russia's Tatarstan region have had a rough time in recent months, following reports of the
brutal treatment of prisoners
that flooded in after one man died in custody from being
raped with a bottle
.
So what has Tatarstan's government done? Well, they've been busily promoting a national contest where you can
vote for your favorite prison guard
!
In "Vivat, Officers," Russians get a chance to choose their favorite corrections officer. Tatarstan's own Vladlen Chemerisov is back among the pack in the all-Russian vote at just over 8 percent.
Only one vote per IP address or phone number per calendar day, though, so if you want to help Chemerisov make up the gap or co-favorites Andrei Kozlov or Aleksandr Sidorov break away from the crowd, you only have until June 12 to get your votes in!
About This Blog
Written by RFE/RL editors and correspondents, Transmission serves up news, comment, and the odd silly dictator story. While our primary concern is with foreign policy, Transmission is also a place for the ideas -- some serious, some irreverent -- that bubble up from our bureaus. The name recognizes RFE/RL's role as a surrogate broadcaster to places without free media. You can write us at transmission+rferl.org