Tbilisi's Prospero's Books lies tucked in an alley off Rustaveli Avenue, the city's main boulevard. It could stand in for any East Village or Notting Hill bookstore cafe. An up-front section devotes itself to MBA-sounding self-improvement titles like "Managing For Results" and "Think Strategically: Plan The Future And Make It Happen."
By comparison Siaivo Books, Prospero's equivalent in Kyiv, was raided earlier this year by masked men who expelled bookshop employees and welded the door shut in an alleged ownership dispute. Today, the space sits empty and boarded up.
Not surprisingly, the World Bank's "Ease of Doing Business 2011" survey ranked Georgia 12th out of 183 countries -- the highest grade of any ex-Soviet state and just ahead of Finland and Sweden. Ukraine clocked in at 145, five notches ahead of Uzbekistan and behind the rest of the ex-Soviet republics. Russia ranked 123rd.
Post-Soviet countries could have something to learn from Georgia's playbook. When Georgian President Mikheil Saakashvili came to power after the bloodless 2003 Rose Revolution, Georgia, with its population of 4.5 million, was widely seen as one of the most corrupt countries in the former Soviet Union. Saakashvili battled corruption, streamlined bureaucracy, and pushed through successful economic reforms. The world has noticed. In 2010, Transparency International graded Georgia 68th out of 178 countries for corruption, a leap from 2003 when it ranked a lowly 127th. Ukraine ranked 134th.
A 2002 IFC Enterprise Survey indicated that more than 70 percent of firms in Georgia expected to pay bribes to public officials to get things done. In 2008, that number dropped to just 4 percent. Meanwhile, the latest "Ease of Doing Business" global report ranks Georgia eighth-easiest in starting a business, seventh in dealing with construction permits, and second in registering property.
Breaking With The Past
How did Saakashvili do it? Observers credit in part his government's cadre of young leaders who entered adulthood after the Soviet Union's breakup and in many cases earned degrees in other countries or worked for Western institutions before taking posts in the Georgian government. The government in fact encourages this migration from the old system and openness to new ideas by offering study grants for postgraduate Georgian students under age 40 who are accepted into select global universities.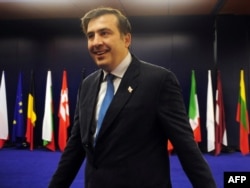 While he has his critics, President Mikheil Saakashvili has transformed Georgia.
Most of Georgia's leaders speak multiple foreign languages. Finance Minister Kakha Baindurashvili, 32, studied at Williams College in Massachusetts; Georgian-born Economy Minister Vera Kobalia, 29, spent over half her life in Canada and studied at the British Columbia Institute of Technology; Energy Minister Aleksandre Khetaguri, 34, participated in World Bank and USAID training programs in the United States; Defense Minister Bachana Akhalaia, 30, worked at Tbilisi's liberal Liberty Institute, many of whose founders were elected to parliament after the Rose Revolution; Justice Minister Zurab Adeishvili, 38, earned his LLM degree in the Netherlands; Education Minister Dimitri Shashkini, 35, served as country director for the U.S. International Republican Institute; National Bank chief Giorgi Kadagidze, 30, earned his B.A. from Preston University in the United States.
Saakashvili, 42, studied at Columbia University Law School in New York, the International Institute of Human Rights in Strasbourg, and George Washington University. Prime Minister Nikoloz Gilauri, 35, earned a masters in international business management from Temple University in Philadelphia and studied economics at Ireland's University of Limerick.
In contrast, the leadership of Ukraine, a country which underwent a similar pro-democracy "colored revolution" in 2004, today remains partly unchanged from the 1990s and, in some cases, Soviet times. The National Bank chief, Volodymyr Stelmakh, 71, worked at the USSR State Bank in Moscow and, for five years in the 1980s, as an adviser to Cuba's National Bank. Since 1992 he has held various top leadership roles at Ukraine's central bank. Economy Minister Vasyl Tsushko, 47, worked as director of a Soviet state farm before briefly chairing a regional state administration and then becoming interior minister.
President Viktor Yanukovych, 60, graduated from Donetsk Polytechnic Institute in 1980 at age 30, with a major in mechanical engineering. Prime Minister Mykola Azarov, 62, earned his doctorate in geology and mineralogy from Moscow State University in 1971 and as recently as 1995, served as director of Ukraine's State Research and Design Institute of Mining, Geology, and Geomechanics.
Unlike in Georgia, Ukraine's president, prime minister, and cabinet ministers were educated in Soviet institutions and none, according to their official biographies, have trained in countries outside the USSR or Ukraine.
Looking To The World
Political will combined with international exposure and experience plays an important role in seeing through reforms, say Georgian government officials. First Deputy Economy Minister Archil Kekelia, 30, earned his MBA from the London Business School and worked at a Spanish bank.
"In the 2000s, I spent a lot of time abroad. My colleagues spent a lot of time abroad. We were able to observe how things are done in the West in business, banking, jurisprudence, health care," he says. "Now we carry with ourselves some examples and practices and knowledge of how things are done in other systems, which gives you a good mix of vision and understanding."
To implement reforms, "you need to create a new set of rules and for Georgia, it was explicit," says Georgia's National Security Council Deputy Secretary Irakli Porchkhidze, 29, who earned his master's degree at Columbia University's School of International and Public Affairs. "We wanted to create a modern government, a government that was accountable, forward-looking, small-government-oriented, fast-moving, and service-providing."
He adds that in order to push through reforms a country's leadership first needs to be idealistic, then needs to demonstrate political will and a cohesive political elite that endorses and stands behind the reforms. "You need vision as well," he adds. "What do you want your country to be associated with, to look like in five, 10 years?"
Saakashvili's clean break from Georgia's old system was both symbolic (the country changed its anthem, flag, and coat of arms) and practical, swiftly taking advantage of the momentum and trust that flowed from the Rose Revolution.
The government passed a new Tax Code, streamlining administration and reducing the number of taxes from 26 ultimately to six low, flat taxes, earning Georgia the fourth most tax-friendly ranking in the world on "Forbes Tax Misery and Reform Index 2009."
Georgia also battled corruption. Where systemic corruption had been a way of life, the government increased efficiency and cut red tape in the public sector. It instituted a competitive national testing program for school admissions where once money could earn an entry place and, in 2005, famously fired the entire corruption-ridden traffic police corps in one day, cutting 30,000 from the payroll. A new force was put in place through open competition, and salaries were increased tenfold. The government also thinned its bureaucratic procedures. While the previous government's 300 licenses and 600 permits opened the door to corruption, today most Georgian agencies are one-stop shops.

Youth Is Not Enough
Georgia's reformist spirit manifests itself even in smaller details: for example, the government's official website. The president's biography page includes an icon where the public can report corruption. The government's website lists leaders' -- including the prime minister's -- phone numbers and e-mail addresses. Every page is available in English, providing information on various topics from tourism to government tenders to unique investment opportunities. In contrast, not all Ukrainian government websites are available in any language other than Ukrainian (see the Justice Ministry's
website
) and information is often hard to find or unavailable.
Georgia's reforms were self-driven, according to Ghia Nodia, political analyst and professor at Ilia State University, and not about following Western advice on gradual systemic changes. "It took lots of daring to even set that objective and to believe that it's possible," Nodia says. "The people who were young and some of them socialized in the West or used to working in Western organizations -- they had this daring."
"The Georgian example could in the future serve as an example in terms of motivating people that it's possible," he adds. "If it's possible in Georgia then it can be done in other countries, in that sense."
Youthful leadership alone, however, is not itself a catalyst for change. "Corruption will never go away by itself. The idea that a new generation will fix it is not right. Corrupt fathers pass bad habits to their children," says Shota Utiashvili, 32, head of the Georgian Interior Ministry's information and analysis department. "If you want to fight corruption, you need to fight it everywhere -- in the police, courts, customs -- it needs to be a unified approach. In Ukraine and Russia, you occasionally get a show trial of a guilty person, but everyone knows there are hundreds, thousands as guilty as him who never get punished."
One of Georgia's key decisions, according to Utiashvili, was to start arresting corrupt people close to the top, including two members of parliament in 2004 and 2006 for, respectively, extortion and paying a bribe. "That set an example and was repeated over and over," accompanied by heavy press coverage. Today, Georgia investigates corruption using "stings" -- a common U.S. law enforcement practice -- sending undercover agents with hidden cameras to expose corruption. Offering a bribe, as well as accepting a bribe, is criminally punishable.
At the same time, an old-guard leadership does not preclude reform. Kazakhstan, where President Nursultan Nazerbaev, 70, has been in power since 1990, improved business regulation the most this year. According to "Doing Business 2011," it moved up 15 places in the "Ease of Doing Business" rankings to 59th among 183 economies. Kazakh Prime Minister Karim Masimov, 45, spent time studying and working in Beijing and Hong Kong.
Out With The Komsomol
Eschewing clan ties was another element critical to Georgia's reforms. "The president when he came to power was young and not attached to old teams. He was free of these friendships and this kind of political elite. This was absolutely a new team," Deputy Economy Minister Kekelia says. "If you look at neighboring countries, you won't see a young person that came to government with his own team of youngsters. Look at Armenia, Azerbaijan, Central Asia -- most of these guys are ex-members of the Komsomol. Same thing with Ukraine; same thing with Russia -- you have a KGB guy there."
Ukrainian lawmaker Natalia Korolevskaya, 35, says that in today's Ukraine there are few top-echelon leaders who don't remember and didn't work in the Soviet regime, calling it "our colossal insufficiency." According to Korolevskaya, on her recent visit to Georgia Saakashvili told her he considered his country's main reform to be that it was "able to create a team consisting of a new generation of leaders who don't have the reflex of taking bribes, who don't have limited ideas, who are capable of realizing reforms."
"Unfortunately," she adds, "we don't have this in our country because when people implementing the reforms are those who actually created the system, we understand that we can't expect real results. Ukraine's main problem is corruption."
One example of a leader on his way up may be Andriy Shevchenko, 34, a lawmaker and former journalist who studied at Yale University as a world fellow and now chairs parliament's Free Speech Committee.
The Ukrainian government recently announced its intention to send 300 students in 2011 to study in Western universities.
Realizing The Risks
Despite its successful reforms, Georgia's system remains a work in progress. Opposition leader and head of the Our Georgia-Free Democrats bloc Irakli Alasania, 36, says the current government's tendency to appoint younger leaders has divided society and cast away the over-55 crowd as "useless." Alasania believes Georgia needs to combine "the young educated people with the experienced people."
He also agrees with critics who say the government enforces an unfair election environment and restricts press freedoms. He adds that while street corruption largely has been cleaned up, elite corruption flourishes.
Last month, Georgia's parliament voted to change the constitution and give the prime minister greater powers than the president. Critics say the amendments were created and passed to benefit Saakashvili, whose second presidential term ends in 2013 and who some speculate will then become prime minister -- the path Vladimir Putin took in Russia.
Nodia also sees an innate weakness in the current system. "When you are so daring in appointing very young people to high positions, it means you take risks all the time. Sometimes it works, but some people don't [work out]. So you change people all the time, and that's, of course, a weakness."
Could the Georgia model work in Ukraine? With its 46 million people, Ukraine has a larger uphill battle to fight, according to the deputy chairman of the Georgian parliament's Foreign Affairs Committee, Giorgi Kandelaki, 28. "Ukraine is a big country. It doesn't have territorial problems; it doesn't have war. It can withstand upheavals much easier," he says. "But at the same time it's slower to change. Stagnation is impossible [in Georgia]. Either you move, or you fail."
In Ukraine, a younger generation of managers with international experience has yet to be promoted to top posts because of what critics call a closed leadership circle. "The older people don't give young people the chance to change [Ukraine]. They think they will change Ukraine by themselves, but I think it's difficult," Georgia's Ambassador to Ukraine Grigol Katamadze says.
"There are certain limitations that the young politicians [in Ukraine] have in terms of moving ahead or creating strong enough political alliances," says Nick Maxymiv, a Kyiv-based financial consultant with experience in both Ukraine and Georgia. "A lot of things in Ukraine are manipulated by money. There's a great dividing line between politicians who are business owners with money and politicians who are just open-minded, Western-educated, with no finances."
Alexa Chopivsky is a journalist based in Kyiv. The views expressed in this commentary are the author's own and do not necessarily reflect those of RFE/RL