In interviews with RFE/RL's Radio Free Afghanistan, Afghan lawmaker Homa Sultani has repeated the claim that she has met with Taliban leader Mullah Mohammad Omar. She claimed that she knows his current whereabouts and that she has access to him. Sultani first made the claim on July 14, when she and a fellow lawmaker, Haji Abdul Basir, told reporters that they recently met the fugitive Taliban leader. He has signed on to their peace plan, they added.
Speaking this week to RFE/RL broadcaster Mustafa Sarwar, Sultani said she met Mullah Omar last year in Helmand and met him again near Kabul recently. "Mullah Mohammad Omar has reached an agreement with me even though I am a woman and a [ethnic] Hazara. He considers me an arbitrator between his side and other parties to the conflict in Afghanistan," she said. "This points to progress and change in the ideology of the Taliban leadership."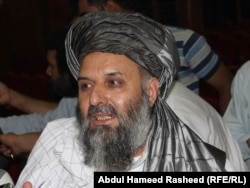 Lawmaker Haji Abdul Basir
Sultani also claimed to have exchanged letters between Mullah Omar and Afghan President Hamid Karzai. In a hand-written note in Dari language, the Taliban leader purportedly agreed to meet Karzai and had even traveled to within 150 kilometers of the Afghan capital to see him. Hamid Elmi, a spokesman for the Afghan president's office, had previously expressed "doubts" about the signature on the purported letter from Mullah Omar. Sultani said last week the Afghan presidency had cooled on their efforts.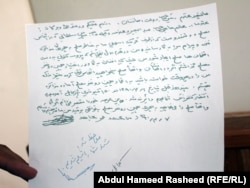 The purported letter from Afghan Taliban leader Mullah Omar to Afghan President Hamid Karzai
Her statements have generated tremendous interest and skepticism. Sultani defended her claims on a
popular nighttime Afghan TV show
. She has calmly answered critics inside the lower house of the Afghan parliament, the Wolesi Jirga. Afghan authorities are cautious after
the embarrassment
they faced last year, when Kabul and NATO mistook an impostor for a Taliban negotiator.
But for ordinary Afghans, any claim of progress in the seemingly unending quest for peace in their homeland rekindles hope. International forces are similarly intrigued by the prospect of a quick settlement that could pave the way for their exit from the mountainous country.
Reuters reported
that Sultani's July 14 press conference attracted journalists and diplomats:
That Sultani's story would draw a packed audience from Kabul's local and international press corps along with low-profile Afghan delegates from Western embassies, shows just how little is really known about peace "talks" with the Taliban.

Several embassies (inc Brits) sent people to today's bizarre presser with Mullah Omar's improbable mediators. Clutching at straws?" one Western journalist said on Twitter after the news conference.
Reuters added that cheerful Afghan journalists poked fun at Sultani's claims: "Reporters jokingly embraced and congratulated each other that peace had finally come."
-- Abubakar Siddique