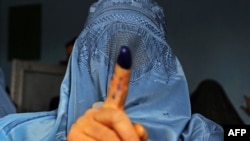 Millions of Afghans, including an unprecedented number of women, turned out to vote in the presidential and local council elections April 5 despite torrential rain across most of the country and weeks of heightened Taliban violence.
The first thing I did early that Saturday morning was call home and try in vain to convince my mother not to go out.
The
attack on Kabul's only five-star hotel
, which was followed by a series of explosions and assassinations of candidates, election workers, and civilians was proof of the Taliban's commitment to compromise the legitimacy of the process while terrorizing the electorate.
What the Taliban ultimately wanted to achieve was low voter turnout--one last blow to democracy building efforts before international forces pull out of the country at the end of this year.
Staying home and not voting would mean a step back into darkness for the country, but was voting worth risking one's life? Thinking about my own family venturing out to vote, I couldn't rid my mind of the bloody images from recent Taliban attacks.
But contrary to my expectation, I found my mother quite confident in her decision to vote. In fact, all of the women in our neighborhood had decided to go together.
She explained that they decided to vote "because it is about securing our survival as human beings. Staying at home today would be an act of cowardice. It would assure our return to Taliban rule, much like a gradual death."
For many Afghans, the act of voting itself was a way to send a message to the Taliban. That message being a resounding "no."
Women cradling babies, the elderly, and the handicapped stood for hours outside polling stations in the pouring rain waiting for their turn to send that message.
"It's pretty cool to be given a chance to say what you like and what you don't," said Rabia, a 22- year-old university students. "I feel quite fortunate today because over a decade ago, women of my age were beaten in the streets for simply venturing out, in this very city." Rabia then raised her inked finger and said proudly, "I voted. I did my bit."
Rabia's comments about life under the Taliban brought back a flood of memories for me.
In the capital Kabul, women were beaten for wearing sandals in the summer. To make a phone call, one had to travel to neighboring Pakistan. Cinemas were abandoned, music and television were censored nearly to oblivion, and soccer was considered the game of Satan. Religious minorities were forced to bear yellow marks on their foreheads. Poverty was ubiquitous. The sight of children eating out of garbage cans was quite usual. Women who stepped out of line were shot to death in public and men were decapitated. Bloody, lifeless bodies hanging from trees in Kabul's Central Park were a casual warning to shoplifters, muggers, and others who violated Taliban law.
"Our participation in the elections is a slap in the face to oppressors and terrorists," wrote Rabia on Facebook, again showing off her inked finger in a photograph she shared. "Isn't it enough for the world to know that we, the women of Afghanistan, are democrats?"
People around the world knew Afghanistan as a country that fought off the Soviet invasion.
Later, it became a country associated with tales from a traumatic civil war.
By slipping into the hands of the Taliban, Afghanistan adopted the persona of a victim; of radical Islamic militancy, of terrorism, lawlessness, and violence. As the Taliban regime fell, the country opened its doors, and its people did not want to miss their chance to embrace the world.
Afghanistan's Independent Elections Commission reported that around seven million out of 12 million eligible voters cast ballots April 5 despite Taliban threats to disrupt the poll. In a country that has long suffered from ethnic and tribal divisions with virtually no exposure to pluralism, millions nevertheless showed faith in a democratic transfer of power.
They'll have another chance to show their resolve in one year's time, when Parliamentary elections are scheduled to be held.
"The massive turnout carries a strong message for the Taliban," said Afghan Member of Parliament Zakia Zaki. "Afghans are not going back to the Dark Ages. Now, it is for the Taliban to negotiate peace and become a part of the country's political life or lose everything all together."
Nearly 40 percent of voters in this most recent election were women, according to the Commission. Of the eight candidates vying for the office of president, none were women, though one candidate chose a woman as his running mate. Social media was overrun with women in blue burqas raising blue fingers April 5.
"It has become a fashion among women in our neighborhood," my mother said. "It seems like to many, the blue ink has suddenly become a symbol of responsibility and consciousness."