The Daily Vertical: 'For Your Freedom, And Ours' (Transcript)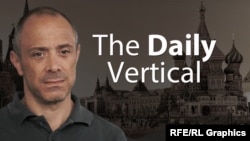 The views expressed in this commentary do not necessarily reflect the views of RFE/RL.
Twenty-seven years ago this week, Muscovites took to the streets -- in support of Lithuania.
After Soviet troops killed 14 civilians and injured hundreds more in an attempt to crush the Lithuanian independence movement in January 1991, tens of thousands -- and by some estimates hundreds of thousands -- of demonstrators poured into Moscow's Manezh Square.
They held signs that read: "Hands off Lithuania" and "Today Lithuania, tomorrow Russia."
In a tweet this week, Russian opposition figure Vladimir Kara-Murza recalled the demonstration as "part of a noble tradition, for your freedom and ours."
Sadly, it's a noble tradition that has become dormant in Russia today; it's a noble tradition that Vladimir Putin's regime has done everything in its power to crush.
There are, of course, precious few public manifestations of support for Ukraine these days.
But it's a noble tradition that has not been forgotten in Vilnius.
This week, Lithuania issued its first blacklist of 49 Russian officials who would be sanctioned for violating human rights or engaging in corruption and money laundering under the country's new Magnitsky law.
Russia's ambassador to Lithuania called the move an "unfriendly act" and vowed that Moscow would retaliate.
But unfriendly toward whom?
It's unfriendly, of course, only toward those who have violated the rights of Russian citizens.
So just as ordinary Muscovites took to the streets 17 years ago in support of the rights and freedoms of Lithuanians; today the Lithuanian authorities are returning the favor and acting in support of the rights and freedoms of Russians.
For your freedom, and ours.
Keep telling me what you think on The Power Vertical's Twitter feed and on our Facebook page.