Egypt's Military Says Presidential Vote Before Year-End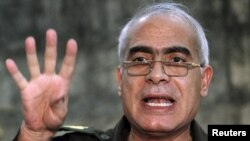 Egypt's transitional military government says the country will hold presidential elections one or two months after a parliamentary vote scheduled for September.
The announcement was made by General Mahmud Shaheen, a member of the governing military council, as he unveiled an amended constitution incorporating changes approved in a referendum earlier this month.
The referendum was the first popular vote since the ousting of long-time President Hosni Mubarak in February.

compiled from agency reports