DUSHANBE -- Electricity rationing has been ended in Dushanbe but remains in force elsewhere in the country, RFE/RL's Tajik Service reports.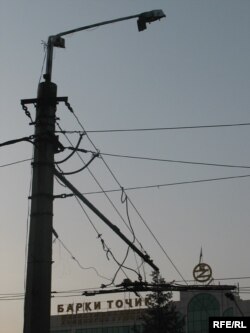 All tangled up in Dushanbe
Nozirjon Yodgori, the spokesman for Tajikistan's state energy supplier, Barqi Tojik, said that thanks to the increased volume of water in the Vakhsh River, electricity rationing has been lifted in the capital.
He said other parts of the country would have electricity from 5 a.m. to 10 a.m.and from 5 p.m. to 8 p.m.
Yodgori added that as soon as the flow of water increases, rationing will end countrywide.
Electricity rationing was introduced on the eve of the Norouz national holiday last month. At that time, Barqi Tojik said the main reason for the reintroduction of rationing was the abnormally weak water flow in the Vakhsh River, then at 63-70 cubic meters per second, or some 3.5 times less than 70 years ago.
In the spring and summer, Tajik hydropower plants generate a huge amount of electricity that is exported to neighboring countries. But in the autumn and winter, especially if the summer was dry and the water level in reservoirs is low, electricity is rationed for about six months.
This winter, due to warm weather, Dushanbe and the main provincial main cities did not impose regular power cuts, while smaller towns had electricity for about 10 hours a day.