Best-selling American author and philanthropist Greg Mortenson faces a media storm and legal investigations after a leading TV news show exposed alleged fabrications in his writings and possible financial misconduct.
The program, aired on CBS television's "60 Minutes" program on April 17, claimed that many key episodes in Mortenson's best-selling book "Three Cups of Tea" and its sequel "Stones into Schools" were embellished or fabricated. And it raised serious questions about his financial dealings.
The books tell the story of how Mortenson fell in love with the mountain regions of Pakistan and Afghanistan and set up a charity called the Central Asia Institute (CAI) to build over 150 schools in this remote area.
Mortenson's inspirational story mobilized many Americans to contribute to the Central Asia Institute, which has raised some $50 million since 2006.
U.S. President Barack Obama donated $100,000 of his Nobel Peace Prize money to the charity last year. And Mortenson's books so impressed the Pentagon that it made them compulsory reading for U.S. soldiers serving in Afghanistan.
But now, at least one Pakistani researcher who was contacted by RFE/RL, and is featured in Mortenson's book, is threatening to sue him.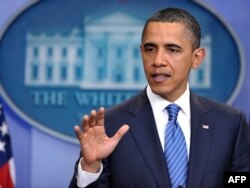 U.S. President Barack Obama donated $100,000 of his Nobel Peace Prize money to Mortenson's foundation.
Mortenson also faces an investigation over his charity's finances in his home state of Montana and his publisher, Viking, has announced plans to review alleged inaccuracies in his books.
So where is the truth? RFE/RL's investigations in Pakistan and Afghanistan chart a more nuanced picture than that presented on "60 Minutes."
There are inaccuracies aplenty in Mortenson's works and some murkiness about the exact number of schools he helped build. His claims are being harshly questioned -- especially in Pakistan.
'He Wasn't Kidnapped; He Was Our Guest"
However, Mortenson also has some surprising local admirers, despite the accusations of people like Mansur Khan Mahsud.
Mahsud is a Pashtun research scholar in Pakistan who says he's considering suing Mortenson for falsely accusing his family and community of kidnapping him. In fact, says Mahsud, they hosted and protected Mortenson during a trip to their village in the western tribal areas 15 years ago.
Mahsud says he first met Mortenson in his ancestral village of Kot Langarkhel in South Waziristan in July 1996 and spent nearly two weeks with him, guiding him throughout the region.
In "Three Cups of Tea," however, Mahsud is described as an "emerging Taliban commander" who held Mortenson captive for several days before eventually freeing him.
Mahsud, however, says he "absolutely rejects" Mortenson's account. "He was our guest and we really looked after him. We really offered him the best of our hospitality," he says.
"We took him on tours around our region. He took many pictures and made videos with us. You can watch those pictures on CBS and CNN, in which he can be seen standing and holding a gun."
What is certain is that, contrary to Mortenson's claims, there were no Taliban militants in Waziristan in 1996.
His description of the life and culture of Waziristan is riddled with errors and is even offensive, according to locals.
The kidnapping of an American would have been a major story in Pakistan but it was never reported.
RFE/RL submitted written questions and tried repeatedly to reach Mortenson and the CAI for a rebuttal.
A spokeswoman said Mortenson was "having health problems" and that RFE/RL would be contacted "at a later date."
In written replies to the "60 Minutes" program, Mortenson reiterates his claims of being kidnapped in Waziristan.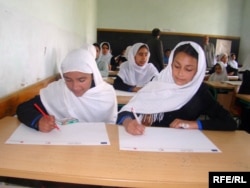 Mortenson and his Central Asia Institute insist they have been supporting community-based education, especially for girls, in remote regions of Pakistan and Afghanistan.
"Yes, I was detained for eight days in Waziristan in 1996. It was against my will, and my passport and money were taken from me," he wrote in the response available on the CAI
website
.
"I was not mistreated or harmed, but I was also not allowed to leave. A blanket was put over my head any time I was moved by vehicle."
Mortenson and the institute's board also defended the charity's financial dealings,
saying on the organization's website
that they intended "to cooperate fully" with the Montana investigation and "look forward to demonstrating how our supporters' donations have been used to further our mission of education, especially for girls in Pakistan and Afghanistan."
Some Schools Were Built
But as the questions and inconsistencies continue to mount, RFE/RL has found some surprising backers who have come forward to praise Mortenson. One of them is a local politician in Pakistan's northern Gilgit-Baltistan region who originally fiercely opposed Mortenson's work.
In "Three Cups of Tea," Imran Nadim Shigri is described as an influential political figure who backed a conservative Shi'ite cleric's religious decree against the CAI's school-building.
Shigri has confirmed that Mortenson did build schools in the remote valleys of his native Baltistan. He could not recall the exact number of schools built by the CAI but said that in the remote Braldu Valley he had personally supervised the handover of five of Mortenson's school buildings to the government, which is now providing teachers and funds to run them.
Shigri says Mortenson's heart was in the right place but that the main problem was his lack of management skills, because Mortenson trusted some local people who misguided him and overinflated building costs.
Shigri also faults Mortenson for focusing largely on building infrastructure without concentrating on the education that would be provided in these buildings. "He only focused on constructing schools. He failed to ensure their sustainability and [proper] management," he says. "He also failed to ensure a high quality of education in these institutions."
Shigri is familiar with Mortenson's books and says that they read like "novels," but he is tolerant of the need for some poetic license:
"He probably was aiming to attract donations and to generate funds," he says. "So he wrote with that in mind and that's why things have been exaggerated. I am not saying that whatever he wrote is wrong. That is not the case but they are not 100 percent accurate."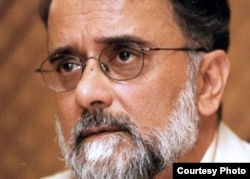 Pakistani journalist and author Ahmed Rashid says Mortenson has made a "phenomenonal' contribution to promoting education in the region.
Across the border in Afghanistan, Gul Zaman, governor of the remote Naray district in insurgency-plagued eastern Konar Province, says that three of Mortenson's schools are already working in his district while one more is being built.
In the settlement of Saw alone, Zaman says, "around 700 to 800 boys and girls benefit" from the local school and there are also "200 to 300" pupils enrolled at each of the schools in Samarak and Suna Gala.
On its website, the CAI lists eight schools in Konar and in a recent U.S. television interview, Mortenson claimed to have built 11 schools in the province.
But Zaman says that two of the schools named by the CAI were actually built by a NATO provincial reconstruction team. Zaman's statement was verified by Syed Jamaluddin Hassani, head of Konar's education department.
A spokesman for the Afghan Ministry of Education in Kabul had no knowledge of the Central Asia Institute schools.
'Extraordinary' Contribution Should Not Be Overlooked
Well-known Pakistani author and journalist Ahmed Rashid has known Mortenson and his work for many years. Although he can't vouch for 100 percent accuracy in Mortenson's writings, he says there is no denying Mortenson's "phenomenal" contribution to promoting education -- especially for girls -- in Afghanistan and Pakistan.
Rashid also credits Mortenson with bringing education and development to the forefront of the Afghan discussion in America, raising awareness of the issue among the general public, America's policy makers and its armed forces.
"I find it very hard to believe all these charges," Rashid adds. "I can well believe that there might be exaggeration on his part for some of the things that he claims to have done. But I think his mission has been absolutely extraordinary and that is what we should keep in mind."
RFE/RL Radio Free Afghanistan correspondent Roohullah Anwari contributed reporting from Konar, Afghanistan. Heather Maher contributed reporting from Washington. RFE/RL Radio Mashaal correspondents Daud Khattak and Abdul Hai also contributed to this story