WATCH: Greenpeace activists look back on the environmental organization's first 40 years.
By Antoine Blua
When a small activist group gathered decades ago to stop the testing of a nuclear bomb, it built the foundations of what would become an international environmental organization which has contributed to change our behavior and vision of the world.
Exactly 40 years ago, on September 15, 1971, in a fishing boat they had renamed Greenpeace, a group of Quakers, pacifists, ecologists, journalists, and hippies set sail from Vancouver on the Canadian west coast to "bear witness" to U.S. underground nuclear testing at an island in the Aleutian Islands, west of Alaska.
Although the boat was stopped before it reached Amchitka and the testing went ahead, the action helped raise global awareness of the blasts and the United States cancelled nuclear testing on the island the following year.
The initial Don't Make a Wave Committee that had organized the protest turned into Greenpeace.
The group made global headlines in 1985, when its vessel, the "Rainbow Warrior," was blown up by French agents to prevent it from going near the Mururoa test site in the South Pacific.
Over the years, the organization has spread and branched out from protesting nuclear weapons to fighting on other environmental fronts as well, including commercial whaling, toxic waste, and climate change.
'Unfortunately, Our Work Is Still Needed'
According to Sara Holden, senior communications manager at Greenpeace International, the organization has been to the fore in pushing for changes in environmental policies around the world:
"We are 40 years old but, to be honest, we would like nothing more than to be retired already," she says. "But unfortunately our work is still needed."
Holden maintains that Greenpeace has achieved a "great deal" in terms of specific improvements to the environment, citing the group's campaign to achieve complete protection for the Antarctic.
In 1991, the group scored something of a victory when the signatories of the Antarctic Treaty agreed to adopt a new Environmental Protocol, including a 50-year minimum prohibition on all mineral exploitation.
The bombed-out hull of the Greenpeace flagship "Rainbow Warrior," following its sabotage by the French secret service in New Zealand in 1985.
Greenpeace International, based in Amsterdam, now has offices in more than 40 countries and claims some 2.8 million supporters. Its 1,200-strong staff ranges from "direct action" activists to scientific researchers.
Last year, its budget reached $310 million. Greenpeace does not accept money from companies, governments, or political parties in order to maintain independence.
But it has also been accused of being antiprogress for its opposition to nuclear power and genetically modified crops.
Provocative Tactics
And Greenpeace's unconventional approach to saving the planet has also drawn criticism.
Some of its more provocative tactics include aggressive advertising campaigns to stop seal hunting, and high-seas confrontations with whaling boats.
Greenpeace began its first campaign against whaling in 1975, confronting Soviet ships off the coast of California with high-speed inflatable boats, and shielding whales from their harpoons.
The campaign also marked the beginning of a series of actions targeting the Soviet Union.
In 1982, the Greenpeace ship Sirius sailed into the port of Leningrad, releasing 2,000 helium balloons carrying the message, "Soviet Union: Stop The Atomic Tests," in Russian.
Greenpeace also released a double album "Greenpeace: Breakthrough" in the Soviet Union in 1989, featuring hit tracks donated by leading rock musicians and bands like Peter Gabriel, U2, Eurythmics, and Sting.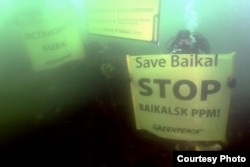 Greenpeace activists participate in a typically unconventional protest in Lake Baikal in Russia as part of a campaign against a polluting paper mill.
The Moscow office, established later that year, was given the task of developing a network of reliable local nongovernmental groups to provide information and support.
And Greenpeace Children of Chernobyl [Chornobyl] was set up in Ukraine in 1990 to document radiation and toxic contamination caused by what is considered to be the worst nuclear accident in history.
"Greenpeace worked in the former Soviet Union more or less like an information bureau," says Andrey Petrov, World Heritage Campaign Coordinator at Greenpeace Russia. "Greenpeace tried to explain to people mainly issues connected with nuclear things."
"It was very important to explain to people not only the official point of view on these nuclear issues, but also the unofficial [information] about the very dangerous consequences for the populations around the [Chornobyl] nuclear power station and so on."
Greenpeace continued its work in the region following the 1991 breakup of the Soviet Union.
The Ukraine office closed in 1997.
Greenpeace Russia, however, continues to operate with a 50-strong staff based in Moscow and St. Petersburg offices. Petrov says the branch is supported by some 600 volunteers and an annual budget of about $1.6 million.
'Facing A Perfect Storm'
More than 25 years of Greenpeace's efforts to expose and oppose nuclear waste shipments from France to Russia eventually pushed Moscow to put an end to the practice last year.
Petrov says the group's work has also been decisive in protecting 10 key natural sites in Russia, which are now included on UNESCO's World Heritage List.
The campaign group's birthday will be recognized by Vancouver when the city mayor proclaims September 15 Greenpeace Day.
And on September 17, Greenpeace is organizing the Rainbow Warrior Festival ahead of the launch next month of the organization's new, state-of-the-art "Rainbow Warrior III" sailing vessel.
"What we want to look forward to at this point, is what we need to do now," says Holden. "We are facing a perfect storm -- if you like -- particularly around climate change."
"And our job from now onwards is to make sure that we bring as much pressure to bear as we can upon the politicians and the corporations that can make a difference to our environment and our climate."