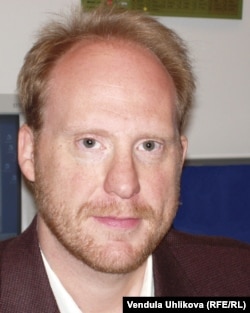 Grant Podelco
In this week's episode, Ron Synovitz talks with our Southwest Asia correspondent
Robert Tait
about his
harrowing ordeal
in Cairo last week.
Tait and a colleague from Radio Free Iraq, Abdelilah Nuaimi, had just arrived in the Egyptian capital when they were detained by police at a roadblock on their way to Tahrir Square. What happened to Tait and Nuaimi while in the custody of the feared Mukhabarat intelligence service amounted to torture.
Staying on the same topic, our chief Washington editor,
Christian Caryl
, discusses the comparisons being made betweeen the events in Egypt and the Islamic Revolution in Iran in 1979. Caryl is writing a book about 1979 and how the remarkable events of that year continue to define the world.
In our new "Meet The Bloggers" segment, producer Pavel Butorin gets Brian Whitmore into the studio to talk about his
"Power Vertical"
blog, a must-read for obsessive Kremlin watchers.
And just in time for Valentine's Day, we discover that Aslan Doukaev, the director of our North Caucasus Service, speaks the language of love.
This week's host is
Grant Podelco
.
Listen to or download the latest episode below or
subscribe to "The Blender" on iTunes.
For previous episodes of "The Blender," you can also
click here
.
RFE/RL's The Blender -- Episode 5