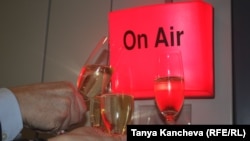 On this week's edition of The Blender, a look back at the best of the past year, as RFE/RL's only weekly English-language podcast celebrates its first anniversary.
We asked each of our four regular hosts -- Grant Podelco, Daisy Sindelar, Bruce Jacobs, and Pavel Butorin -- to choose some of the best moments from the previous 52 episodes -- the top news, features, interviews, and music since the first Blender was uploaded to iTunes on January 14, 2011. Ahh, they were so young then.
We gathered them all in Studio P-10, asked faithful Blender editor Tanya Kancheva to assume her usual place in the control booth, opened a bottle of Champagne (OK, it was actually Czech sekt, The Blender entertainment budget not being what it used to be) and then we hit the record button.
What resulted is, I think you'll agree, an informative, entertaining, and often funny look back at some of the important -- and not so important -- stories from the past year.
We hope you enjoy it.
Listen to or download Episode 53 of The Blender above, or
subscribe to The Blender on iTunes
. For the complete Blender archives,
click here
.
Got a question or comment about The Blender? We'd love to hear from you.
Click here
to send us your feedback or leave a comment below.