BRUSSELS -- The European Union is overhauling its policy toward its eastern and southern neighbors as the 27-nation bloc seeks a fresh approach to integrate post-Soviet countries.
Since 2004, the EU's Neighborhood Policy has sought to court those same 16 countries with offers of financial assistance in exchange for progress on political and economic reform.
A more targeted program, the Eastern Partnership, was established in 2008 and aims to strengthen political and economic relations between the EU and six former Soviet states -- Armenia, Azerbaijan, Belarus, Georgia, Moldova, and Ukraine -- through visa agreements, free-trade deals and strategic partnership pacts.
Stefan Fuele, the EU's Enlargement Commissioner, said on March 27 that a revised version of the Neighborhood Policy will be rolled out in May. Speaking at the Brussels Forum, an annual meeting focusing on EU policy, Fuele said the revised approach will include stricter conditions for aid.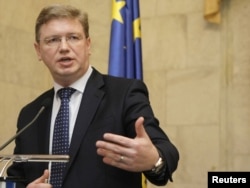 EU Enlargement Commissioner Stefan Fuele in Kyiv in January
"As a result of this review process, you are going to have still one neighborhood policy covering both dimensions, east and south," Fuele said. "But you will have a much bigger differentiations not only between the south and the east but also within the south and within the east, with minimum of benchmarks and with individual programs for each and every of our partners."
Fuele added that the EU's new diplomatic corps, the External Action Service, would be deeply involved in the new policy and several EU embassies in target countries would be upgraded.
Pushing For More
The new catchphrase European officials are using to describe the policy change, "more for more," stresses that both expectations and rewards will be greater for participants in the Neighborhood Policy.
"A reformed European neighborhood policy should reward real progress. We want more for more," Polish Foreign Minister Radek Sikorski, whose country is due to take over the rotating six-month EU Presidency in July, said. "The faster the reforms, the greater the openness to European processes in the countries concerned, the faster the EU should respond."
Sikorski also stressed that the methods that had brought in the 10 countries from Central and Eastern Europe, including Poland, into the EU from 2004-07 are no longer applicable.
"I believe that we have run out of steam on the model that brought us, in central Europe, into the EU, and the model was this," Sikorski said. "We give you a very large carrot; membership after a grueling period of reform that requires a sort of national obsession on the part of the candidate countries. Since we are not prepared to give that big promise to the Eastern partnership countries, we should create a system of small carrots spaced out in sync with their political calendars so that particular government incentives to make reforms which they themselves would benefit."
The flip side of "more for more," of course, is that countries who fail to reform can expect "less for less," officials say.
Tough Postelection Tack
The policy changes come amid an ongoing crackdown on opposition activists in Belarus, a participant in both the Neighborhood Policy and Eastern Partnership program, following a presidential election in December that critics say was marred by fraud.
Brussels had recently been courting Belarus with offers of better relations in exchange for political and economic reform.
Since the crackdown, the EU has imposed travel bans and asset freezes on Belarus's authoritarian President Alyaksandr Lukashenska and 157 of his associates. Brussels added an additional 19 names to the sanctions list last week.
Both Fuele and Sikorski said the EU was monitoring the situation in Belarus closely and did not rule out more sanctions in the future.
In an interview with RFE/RL, Slovak Foreign Minister Mikulas Dzurinda, said he plans to push for a new round of economic sanctions at an EU foreign ministers' meeting on April 18.
"I am feeling from the beginning that only strong, tough economic sanctions can help," Dzurinda said, "especially to people detained in prisons on political grounds."
Likewise, Sikorski says Belarus's continued participation in the Eastern Partnership will be contingent on Minsk's behavior in the months prior to the program's upcoming summit in Warsaw in September.
Being Jaruzelski?
Due to the visa ban, Lukashenka will not be allowed to attend the Warsaw event. Sikorski says the Belarusian leader now has a choice: emulate Poland's last Communist ruler, Wojciech Jaruzelski, who negotiated a transition to democracy, or share the fate of deposed leaders in Egypt and Tunisia who were forced out of power in disgrace.
"It is still president Lukashenka's choice whether he wants to, metaphorically speaking, become General Jaruzelski," Sikorski said. "In other words, [become] a dictator who represses his people but then starts transition his country towards democracy, or whether he want to end up like the gentlemen in our southern neighborhood."
Meanwhile, several southern EU member states, most notably Spain, have argued that given the dramatic transition taking place in North Africa and the Middle East, the EU should divert more money to that region at the expense of Eastern Europe.
But Salome Samadashvili, Georgia's ambassador to the EU, told RFE/RL that Brussels should continue to reward the progress that has been made in her country and several others in the east.
"I am sure it is in the interests of the EU to continue to helping us to succeed because we also create a very good example to the southern neighbors," Samadashvili said.