The publisher of a website affiliated with North Caucasus insurgents is vowing to continue his work after being acquitted by a Finnish court on May 9 on charges of illegally bringing Chechen asylum seekers to the Nordic country.
Finnish entrepreneur and civil-liberties activist Mikael Storsjo had admitted to arranging plane tickets for Chechen refugees to come to Finland. But a Helsinki court found he did not do it for personal gain, meaning he committed no crime under local laws.
Storsjo also serves as chairman of the Pro Caucasus society, which publishes the Kavkaz Center website, which is often used by insurgents to post news and commentary. Storsjo, who says he has no editorial control over the site and merely provides web-hosting services, says he has become the victim of a sustained harassment campaign by Kremlin groups.
Storsjo tells RFE/RL his house was broken into several months ago. He says he and his family have received death threats by members of the Finnish Anti-Fascist Committee as well as Russian and Estonian members of Nashi, a pro-Kremlin youth group.
"They apparently tried to make me and other people like me afraid and then maybe they thought that we would stop our activities," Storsjo says. "When I didn't stop, they came with heavier and heavier threats."
Accused Of Backing Terrorists
The Kavkaz Center website, which is hosted on servers in Sweden, Finland, and Lithuania, is one of the most controversial news outlets covering the North Caucasus. Kavkaz Center professes to be independent, international, and Islamic, but its reporting is pro-insurgent.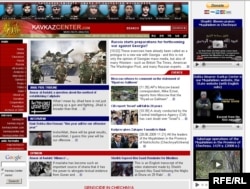 Kavkaz Center professes to be independent, international, and Islamic, but its reporting is pro-insurgent.
The site, which is run by former Chechen Press and Information Minister Movladi Udugov, is banned in Russia and widely regarded there as a mouthpiece for Chechen terrorists.
Critics in Finland charge Kavkaz Center with supporting terrorist groups including Al-Qaeda and the Taliban. Vocal members of the Finnish Anti-Fascist Committee claim that the Chechen refugees Storsjo has brought to Finland are terrorists.
Storsjo counters that of the more than 70 asylum seekers he has helped immigrate to Finland -- many of whom were children -- all but one, whose claim is still being processed, have been cleared by the Finnish government and granted protection.
British journalist and terrorism specialist Phil Rees says that while Kavkaz Center is primarily made up of human rights activists who support independence for the North Caucasus, its political leanings are more complex than that:
"They're certainly not terrorists I mean, absolutely, OK, no way," Rees says, "but there's this whole vague area of, if you support a cause, at what point does that support for the cause spill over, you know, to supporting people whose actions you may disapprove of?"
'Dirty Tricks'
Storsjo acknowledges the website's bias, but stresses he does not have influence over the site's editorial policy. Kavkaz Center editors did not respond to a request for comment.
Two of Storsjo's greatest critics in Finland are Juha Molari, a Lutheran priest who left his parish last week under duress and is facing two charges of ethnic agitation, and Johan Backman, an academic and author. Both are activists in the Finnish Anti-Fascist Committee, which has about 20 active members.
Storsjo says that Molari once put a video out on the Internet threatening to kill him, and called on Russia's Federal Security Service (FSB) for help in doing so. Molari acknowledged making a video for Storsjo but says it did not threaten his life. The video was taken down several days after being posted.
Storsjo says such "dirty activities" are new to Finland, and he points to what he says is a likely connection between the Finnish Anti-Fascist Committee and the Kremlin.
"If you give up then you lose the game, and you should never lose the game when you are playing with these kinds of people," Storsjo says. "Because, I mean, in order for evil to [triumph], it's enough [for] the good [to do nothing]. So that's not an option, to stop doing things."
Giving Chechens A Voice
Storsjo, who owns a company in Helsinki called Office House that rents out office space, says he became chairman of the Pro Caucasus society after Chechen leader Ramzan Kadyrov's forces detained the brother of the former chairman and threatened to kill him if he did not stop his activities.
He says he took on the role as he had no relatives in Chechnya who could be threatened.
Storsjo says he first took interest in Chechnya while reading books about the North Caucasus by Leo Tolstoy during his youth. He has since taken about 20 trips through the region and met many Chechen refugees staying in camps in Azerbaijan and Turkey, where he saw "with my own eyes in what miserable situation they live, and I then just got the idea on the spot that I can help them."
But he says that "it's nothing that I planned, and made some five-year plan about helping so and so many Chechens, its just that I have seen some people that I realized that those people are really in need of help, and I have done what I can."
In the wake of the court's verdict, the Finnish entrepreneur has vowed to continue working to help Chechens seek asylum in Finland, as well as giving Chechens a voice by hosting Kavkaz Center.
"I am not a Muslim myself, and even less am I a radical Muslim. I am a Christian. But I think that this Kavkaz Center is needed, because those people who are fighting for a free North Caucasus, their voices -- and their thinking and their opinions -- should also find their way to an audience," Storsjo says.
"Otherwise we would all lose something when we didn't get this information. I think it's essential to get it, in order to understand what is really going on there."