For some, the timing of Osama bin Laden's passing could hardly be more apt -- coinciding with the collapse and apparent slow death of hated autocratic Arab regimes in the face of popular demand.
That confluence of events seems to betoken -- at least to many in the Arab world -- that it is not just the onerous figure of bin Laden himself that has been removed from the stage. Gone too is the violent creed he preached, doomed to share the same historical trash can of irrelevance as the unaccountable and unrepresentative governments being assailed by the "Arab Awakening."
Indeed, the Al-Qaeda leader's killing at the hands of U.S. forces has prompted a conspicuously low-key response in many Arab countries. From being widely viewed as a heroic freedom fighter a decade ago, the Saudi-born jihadist seemed to have faded into obscurity just as the lands he once exhorted to rise up against perceived U.S. subjugation are roiled by upheaval from efforts to shake off the status quo.
To a U.S. public mesmerized by the belated retribution meted out to the mastermind of 9/11, such indifference may seem bewildering, perverse even.
'Unmistakeable Shift'
But to others, it merely signals that Arab societies have moved on. Shadi Hamid, research director at the Brookings Institution's Doha Center, says U.S. commentators -- bewitched by the impact on the American collective psyche of the attacks on New York and Washington -- "are perhaps exaggerating the importance of bin Laden's death" to the wider Arab public.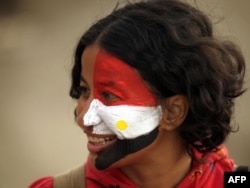 Protesters in Egypt and the Arab world have rejected Al-Qaeda's violent ways.
"Bin Laden is not the central figure that he was eight or nine years ago," Hamid says, when he "was really seen as a leader of resistance in large portions of the Arab and Muslim world. But over the last several years, we have seen Al-Qaeda become increasingly irrelevant and almost beside the point and very few people still look to bin Laden as a leader or as an inspiration in today's Arab world. So we have seen an important shift. In some cases it has been slow and gradual, but it's unmistakable."
U.S. policymakers mindful of bin Laden's 1998 fatwa calling on Muslims to "kill the Americans and plunder their money wherever and whenever they find it," may hesitate to accept that judgment at face value, given Al-Qaeda's subsequent success in recruiting violently committed adherents.
But Maha Azzam, associate fellow of the Middle East and North Africa program at the London-based Chatham House think tank, agrees that the current Arab revolts reflect a changing dynamic that excludes bin Laden.
"I think we have entered a different era. Bin Laden is very much a product of his time," Azzam says. "His reaction to Western interference and U.S. military presence in the region was shared by many, although his tactics were rejected by the majority."
Azzam says he thinks "today's Middle East and the vast majority of Muslims throughout Muslim-majority countries want to bring about change but they want to do that through a very different process. The pro-democracy protests in Tunisia and Egypt and elsewhere in the Middle East have been peaceful movements that have espoused nonviolence."
Al-Qaeda's Message Refuted
Certainly Al-Qaeda and militant Islamists have played little visible role in the mass disturbances that have affected not just Tunisia and Egypt, but rolled into Libya -- plunging it into a protracted civil war that has sucked in the Western powers -- Yemen, Bahrain, and perhaps most strikingly, Syria.
While the most vocal demands of protesters have been for democracy and greater freedom, the only obvious role for Al-Qaeda's brand of jihadism has been as a bogeyman invoked by beleaguered leaders. The ousted Egyptian president, Hosni Mubarak, Colonel Muammar Qaddafi of Libya, and Syrian President Bashar al-Assad have all depicted the protests against their rule as being secretly orchestrated by Al-Qaeda behind the scenes.
In fact, analysts say, Al-Qaeda's silence merely reflects how a group dedicated to death and destruction has nothing to contribute when the debate turns to building democracy. For Hamid, the nonviolent protests of the "Arab Spring" amount to a mass rejection of Al-Qaeda's message.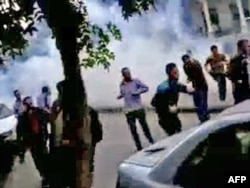 Al-Qaeda has featured in the Arab revolts primarily as a "bogeyman invoked by beleagured leaders."
"Al-Qaeda has been quiet and in some cases silent through much of the last three months, in part because they really don't have much to say," Hamid says. "Their central argument was that real change could not happen through peaceful methods, that violence was necessary. They were telling people, 'Don't participate in elections, don't go out and protest peacefully because that's not going to make a difference.' Their central narrative has not only been discredited, it's been disproven by facts on the grounds and I think that provides a rather definitive blow to Al-Qaeda's ideology."
U.S. Failing To Take Advantage
Yet if bin Laden's invocation of bloody holy war against the United States and its allies no longer resonates, the visceral anti-Americanism off which his rancid credo fed has not died. Hostility to the United States still lingers in the Arab world and in other Muslim countries.
Some of the fault may lie with the Obama administration itself, which -- doubtless wary of the threat of political takeovers by Islamist extremists -- has been slow to side with the protest movements.
The period has been characterized by statements from Secretary of State Hillary Clinton that have made U.S. policy appear -- at best -- behind the curve. As demonstrations rocked Egypt, she described Mubarak's regime as "stable" before being forced to change tack. Later she referred to Assad -- despite his anti-American stance -- as a "reformer," an assessment emphatically debunked by a subsequent crackdown that human rights campaigners say may have killed more than 1,000.
The result in countries like Egypt, Bahrain, and Yemen, whose besieged President Ali Abdullah Saleh has been a key Washington ally in the fight against Al-Qaeda, has been to tar the United States in the public mind with support for dictators resisting popular demands for democracy -- hardly the perfect antidote for anti-Americanism.
Hamid says bluntly that the United States "has not performed very well" during the Arab Spring and warns that a failure by the White House to be seen on the side of the uprisings runs the risk of Washington "being on the wrong side of Arab history."
Arabs Have 'Moved On'
Azzam agrees but says reality will ultimately force Washington to back the popular uprisings. "The half-hearted measures that sometimes appear from the U.S. administration often dampen the building of a better relationship between the Arab street and the United States," he says. "I think we've reached a point where leaders in much of the Middle East have become a liability even to the United States' interests and, therefore, I think the energy of the protest movements on the ground will eventually dictate the U.S. position.
"The more that there is a rejection of the political order as it exists in much of the Middle East, the more I think that the United States will have to respond in very clear terms."
But such a recognition of a fast-changing Middle East may require drastic finessing to the "war on terror," even at a time when Al-Qaeda's motivation for an attack avenging bin Laden's death is at a peak. It will definitely, Hamid says, pose a severe challenge to those in Washington who argue that the campaign against jihad remains as relevant as the day after 9/11.
"It hasn't been as pertinent or as relevant for several years now. We've moved beyond the war on terror. Terrorists and jihadists are playing an increasingly marginal role in the region. They simply don't matter that much to most Arabs and that's why Al-Qaeda doesn't really figure prominently in Arab debate," Hamid says.
"It's instructive that the Arab media coverage of bin Laden's death is quite different than the American coverage. Arabs have moved on and in some sense the prevailing response seems to be indifference and ambivalence. This is not the top story in the Arab world. Arabs have, in many ways more than Americans, moved beyond Al-Qaeda."