With the confirmation of Ayman al-Zawahri as the new leader of Al-Qaeda, there has been much speculation as to whether the terrorist organization will change its tactics with him at the helm.
Not much is known about the Egyptian militant, who security analysts believe is most likely to be hiding in the Afghan-Pakistani border region.
One man who is more familiar than most with Osama bin Laden's former second in command is Tawfik Hamid, the current occupant of the Chair for the Study of Islamic Radicalism at the Potomac Institute for Policy Studies in Washington and the author of the book "Inside Jihad."
Like Zawahri, Hamid is a former member of the Egyptian terror organization Jamaa Islamiya, and in that capacity he met Zawahri on several occasions.
Based on his familiarity with Zawahri's mindset, Hamid warns that Al-Qaeda's new leader is likely to steer the group onto an even more aggressive course and may be intent on inflicting "any form of pain" on those he sees as "infidels."
Extreme Desire For Revenge
Hamid says such an approach could include "attacking children in some nursery" or directly targeting civilians in places like restaurants or subway stations in the United States.
According to Hamid, Zawahri would be willing to use the "simplest" of weapons "to do things that can give maximum pain."
Hamid suggests that a change in tactics could result from factors that include Zawahri's own character and his extreme desire for revenge.
Both are reflected in the Al-Qaeda statement about Zawahri's appointment and in a high-quality propaganda video released several weeks ago, which called non-members to become active participants in the jihadist movement.
"I think," says Hamid, "that there is also a cultural dimension that makes us believe that, compared to his predecessor, Zawahri's actions are going to be more violent, and this was clear from his latest videotape, where he hinted about the start of a new era of confrontation."
To begin with, says Hamid, there is Zawahri's deeply ingrained desire for vengeance against his perceived enemies -- a desire that is likely to have been aggravated by the killing of bin Laden.
"This is a common cultural thing, to take revenge; we call it 'atar,'" he says.
"Atar is a form of revenge; it's very common in Arab cultures, especially in Egypt.... It is very powerful in the minds of many, many, many Egyptians."
Unlike Osama bin Laden, says Hamid, Zawahri was radicalized as a young man and gravitated early on to militant organizations that aimed to overthrow the Egyptian government.
He is believed to have formed his first cell of militants at age 16, and ended up spending large portions of his life in Egyptian prisons.
He is likely to have endured repeated bouts of torture -- an experience that might have contributed to his radicalization. Whatever the reasons, it is clear that, over the years, he developed an extreme hatred for the leaders of his own country and those who supported them.
Like bin Laden, Zawahri was ultimately expelled from his homeland and later joined the Afghan struggle against the Soviet invaders in the Hindu Kush. Also like bin Laden, he did not return to his homeland afterward.
Waiting To See How 'Arab Spring' Develops
Hamid suggests that while Zawahri may try to turn Al-Qaeda's attention back to his native Egypt, he is unlikely to do so immediately.
First, predicts Hamid, Zawahri will wait to see the outcome of the upcoming elections and the future path of Egypt's new government.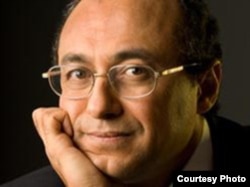 Former Islamic extremist turned political scientist Tawfik Hamid
"If the Muslim Brotherhood took power and they started to implement Shari'a law as the Al-Qaeda-Taliban want to see, they would be happy with that," he says. "And that's why they are happy with the Arab revolution up to this very moment, because they are expecting the next stage will be the Shari'a stage."
If such a situation fails to materialize, however, and Egypt continues along a "path of relative secularism," Hamid warns that things could quickly turn violent in the country.
"I am afraid they may try to create a situation of chaos by carrying out some terror attacks to weaken the economy," he says, adding that the aim would be to destabilize the country and create poverty that "can work actually for the benefit of the radicals."
U.S. Still A Primary Target
Hamid, who claims to have predicted the London and Madrid bombings after 9/11, thinks that, while Zawahri may try to influence events in Egypt, the United States will remain a primary target.
In Hamid's view, Zawahri's opposition to the U.S. goes beyond his affiliation with Al-Qaeda and is deeper than bin Laden's animosity toward the West.
Unlike bin Laden, Zawahri suffered mistreatment directly at the hands of a regime that was closely tied to the United States.
Moreover, Hamid believes, Zawahri is more deeply steeped than bin Laden in the explicitly anti-U.S. ideology of the late radical Egyptian Islamist thinker Sayyid Qutb.
"He is a student of Sayyid Qutb...and he was actually brainwashed by his teachings," says Hamid. "One of the early things that changed Sayyid Qutb and made him radical was coming to America and seeing what he considered un-Islamic values."
Despite widespread speculation about possible rifts within Al-Qaeda that may have delayed the announcement of Zawahri's succession, Hamid does not share the view that Al-Qaeda is fragmenting.
"These people do not divide, unless you make a significant change in style," he says.
"For example, if Al-Zawahri today said, 'Oh, we will be friends to Americans and Israelis with a peaceful attitude,' they will divide.
"But as long as it takes the same direction it has, these things are usually pre-planned, who will come next."
If Zawahri gives full rein to his radical instincts, Al-Qaeda may end up staging attacks that kill even more innocents -- ultimately leading to a backlash that could severely weaken the organization, according to Hamid.
In the meantime, however, Hamid warns that the West should expect little softening of Al-Qaeda's course under its new leader.