Two Afghan members of parliament held a press conference in Kabul on July 14 to reveal that they had met with Taliban leader Mullah Mohammad Omar over a year ago, and that he had agreed on an outline for peace negotiations with the government in Kabul.
Homa Soltani and Hajji Abdul Basir claimed to have presented Omar with an outline of negotiations that had been approved by none other than Afghan President Hamid Karzai. The lawmakers said that Omar had physically signed an outline peace proposal -- with some of his demands added -- but the president's office rejected it.
"One year ago Mullah Omar accepted our peace plan," Soltani said. She detailed how she had met the Taliban leader in a "border province," and he signed her proposal for peace negotiations while seated on her red shawl, which she had spread on the ground.
Hamid Elmi, a deputy spokesman for the Afghan president, told RFE/RL that Karzai had met with the two lawmakers and had indeed received a letter, reportedly signed by Mullah Omar, but said the president's office "had doubts" that the signature was truly that of the Taliban leader.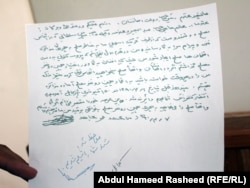 Soltani and Basir say this letter was signed by Mullah Omar.
Soltani, one of a handful of female members of parliament in Afghanistan, added, "Mullah Omar has no problem, no objection, with the Afghan Constitution. He has no language discrimination and he respects women rights."
Soltani and Basir also said that Omar had at one point been "150 kilometers from Kabul" once for peace talks.
This is not the first time Soltani and Basir have held a high-profile press conference on possible negotiations with the Taliban.
Last March in Kabul, the lawmakers presented a man named Abdul Khaliq, who claimed to be a representative of Mullah Omar. Almost immediately, semi-official Taliban spokesman Zabiullah Mujahed denounced the man as an impostor.
At the most recent gathering, the lawmakers asserted that Omar had told them directly that "he has no relations or contact" with Mujahed.
-- Farah Hiwad