I am standing on the banks of the River Swat in northwestern Pakistan. I want to forget my worries and listen to the flow of the water that brings life to the plains of Pakistan from the peaks of the legendary Hindu Kush.
I want to see foreign tourists, bags packed, heading toward the heights of Swat Kohistan on foot or in rented Jeeps. I want to see families flocking to Fiza Gat Park to laugh, play, and have dinner together. I want to see couples lost in their own beautiful worlds, pledging to live and die together.
I want to see smiling Buddhas carved into the mountains, who centuries back preached peace and harmony. But when I get to Jehanabad, what I see is a disfigured Buddhist carving. I meet locals who bitterly recall how Taliban militants stormed the area one night to blow up the head of one of the rarest Buddhist carvings in the region.
I want to see vehicles carrying fruit -- apples, peaches, pears, persimmons, and berries -- to the markets in the cities of Khyber Pakhtunkhwa and Punjab. But what I see instead is the devastating effects of years of Taliban insurgency and last year's massive floods, which combined to nearly destroy local agriculture and left thousands jobless.
I am standing on the bank of the River Swat and I am waiting.
Nearby, a young Swati boy switches on his Chinese-made radio. I eavesdrop as he listens to a news bulletin that reports on successful efforts by the Pakistani Army to clear the area of Taliban militants and begin work on several developmental projects. A strange feeling of optimism engulfs me.
"The area has been cleared of terrorists" is a common refrain in Pakistani media. Listening to these reports, I -- like many Swatis -- assume that some degree of normalcy has returned.
While visiting the valley, I don't see militants aligned with Mullah Fazlullah, chief of Tehrik-e-Taliban Swat, patrolling the roads, imposing their strict religious code, and punishing violators in public. I also see some semblance of progress, as workers and contractors haggle over busy construction sites where bulldozers frantically clear ground.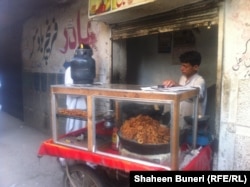 When I ask locals what they want, the reply is simple: "Peace and justice." (Photo by Shaheen Buneri)
In Mingora, Swat's central commercial hub, people are buying food and items of daily use. Police are guarding squares in the city and military personnel are checking cars at nearly every entrance to any public space.
In Green Square, locals are busy with their day-to-day business, shops are open, and traffic is jammed. It seems everyone has forgotten the horror of the night in 2008 when the Taliban shot dead a famous dancing girl, Shabana. Her murder was a clear message to the gorgeous dancing girls that they should leave the area for "unknown destinations."
Despite appearances, I feel a sense of fear among the people here, a palpable uncertainty, and confusion as to just how "cleared" the area really is. When I ask locals what they want, the reply is simple: "Peace and justice."
I visit some NGOs and meet their officials. Everyone has a plan or proposal for how to reconstruct destroyed schools, bridges, and health units. They tell me of their important role in the reconstruction and rehabilitation process. Locals seem to generally appreciate many of the NGO projects, but they also complain that relief organizations are suffering from military and political interference and, more often than not, ignore the concerns of the affected people.
I also see widows and orphans visiting the offices of governmental and nongovernmental organizations for compensation or to get information about family members lost in the conflict.
Muhammad Ali, who works for the Khpal Kor Foundation, a local orphanage, says there has been a steep increase in the number of orphans or lost children as a result of the multiple army operations over the last few years. When the conflict reached its peak in 2008, more than 3 million people were displaced in the Malakand region, of which Swat is a district.
A 10-year-old named Hamza tells me he still sees bloody and beheaded bodies in his sleep.
"There are some children whose fathers were affiliated with the Taliban and killed in the military offensive, and others whose fathers were killed by the Taliban," he says.
More than 400 schools were destroyed in Swat by the Taliban and very few are under construction. In the few villages where the army has renovated schools damaged during the conflict, they are sure to advertise it, painting "A Gift From Pakistan's Army'' on the walls. I see school-age children studying either in tents or in open fields.
When I meet local politicians and community elders, they express satisfaction over the military operation. But it's still not clear why tears well up in the eyes of some local elders when I ask them how they feel after returning to their homes.
-- Shaheen Buneri
Shaheen Buneri is a journalist with RFE/RL's Pakistan service, Radio Mashaal. He is on a monthlong reporting trip to Pakistan as a
Pulitzer Center fellow
.