Ex-Speaker's New Party Could Transform Arid Georgian Landscape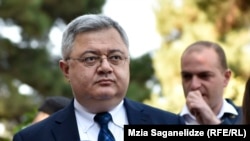 Eight months after his Republican Party suffered a crushing defeat in the October parliamentary elections, former parliament speaker Davit Usupashvili has formally launched a new centrist opposition party, the Development Movement, that he hopes will make a strong enough showing in the election due in 2020 to form a coalition government.
Such a government would be well-placed to transform a barren political landscape in which unceasing recriminations between the current ruling Georgian Dream party and its predecessor, the United National Movement, have already resulted in profound polarization, the eclipse of virtually all other political forces, and the alienation and disillusion of much of the electorate.
Announcing his planned return to politics in late April, Usupashvili said his new party will be grounded in both national and European culture and tradition. In that respect, it could be the ideological successor to the unequivocally pro-Western, liberal, center-right Republican Party that Usupashvili quit immediately after the election defeat, citing "political, value, and tactical disagreements" with other leading members over its future.
Usupashvili described the Development Movement as new in its form, its nature, and the way it will do things. That is in line with his pronouncement in October that "the 2020 election should be won by a political force of a new type, which would have the full capability to govern the country and will carry in its genetic code the values of multiparty democracy."
Usupashvili explained the need for such a new approach in a lengthy analysis posted on Facebook in late April. He argued that it's taking "a dangerously long time" to eradicate the pernicious legacy of the communist past and that none of Georgia's leaders over the past quarter century has been able or willing to overcome the "us vs. them" mentality and the temptation to rely on the use of state power instead of promoting broad civic cooperation in the name of building a strong Georgian state that could guarantee the liberty, welfare, and security of every citizen. Meanwhile, one in five Georgians has left the country and many who remain live in poverty.
Those failings, he argued, and the ensuing popular realization that efforts to build a modern, democratic, European-style state were largely superficial, have given rise to the devaluation and discrediting of fundamental values and to widespread hopelessness and despair. Only a competent, responsible political force that stands firmly on national and European political and cultural ground can change the situation for the better, he suggested.
Specifically, he said the Development Movement will seek to overcome the mutual antagonism and political polarization that imbues Georgian politics, bringing together "successful professionals from relevant fields" to work together to strengthen Georgian statehood and improve the social and economic environment. That emphasis on consolidation reflects Usupashvili's seemingly tireless efforts as parliament speaker to paper over the differences between the disparate political forces aligned in the Georgian Dream coalition. In a lengthy interview he gave in August to the news portal interpressnews.ge, he described the role he played as parliament speaker as being more that of "chief political firefighter." The Development Movement manifesto warns against the temptation for a new government to reject everything its predecessor accomplished and "start again from scratch." Instead, the Development Movement has adopted as its credo: "We foster what's good. We change what's bad. We create what's lacking."
In light of the perceived threat posed by Russia to Georgia's sovereignty, the manifesto also stresses the need to "build a state, which will [have] as its foundation the best practices of [our] centuries-old history; strong, democratic institutions will be its load-bearing walls; while the Euro-Atlantic cooperation and security structures will serve as its roof."
Portly and bespectacled, Usupashvili, 49, is a qualified lawyer and one of the team that drafted Georgia's first post-Soviet constitution in 1993-95. He is also one of the founders of the Georgian Young Lawyers' Association and served as its chairman from 1994-97. In 2003, he joined the protest movement that culminated in the Rose Revolution that toppled then-President Eduard Shevardnadze, but he soon distanced himself from the country's new ruling triumvirate: Mikheil Saakashvili, Zurab Zhvania, and Nino Burjanadze. He was elected Republican Party chairman in 2005.
The Republican Party was one of 10 that aligned in October 2007 in an opposition National Council that took a stand against what they termed the usurpation of power by then-President Saakashvili and the corruption and "political terror" that ensued. It was, therefore, logical for the Republican Party to join the election bloc set up in 2012 by wealthy businessman Bidzina Ivanishvili's Georgian Dream party with the aim of putting an end to the United National Movement's nine years in power. The precise nature of the disagreements that stopped Georgian Dream forming an analogous election bloc last year -- of which the Republicans would again have been part -- remains unclear.
Running independently, the Republican Party garnered just 1.55 percent of the vote; Usupashvili placed third in the Tbilisi constituency, where he ran as a majoritarian candidate.
The nucleus of the new Development Movement numbers several other prominent former Republican Party members, including Vakhtang Khmaladze, who, like Usupashvili, helped draft the 1995 constitution. But it also includes several leading members of the extraparliamentary opposition National Forum, including its chairman, Kakha Shartava. (The National Forum, too, was one of the 10 founder members in 2007 of the opposition National Council.) Talks between Usupashvili and Shartava on jointly establishing a new party reportedly began late last year.
Usupashvili told a press conference in Tbilisi on June 16 that his new movement will participate in the municipal elections due this fall. Then, after its formal registration in spring 2018, it will focus on the 2020 parliamentary elections. Usupashvili was quoted by the website civil.ge on January 18 as saying he has no intention of participating in either the Tbilisi mayoral elections in 2017 or the presidential election in 2018.
While political commentators have noted the need for a new alternative to both Georgian Dream and the now divided United National Movement, some have expressed doubts that Usupashvili's new Development Movement will prove attractive to voters who no longer trust either. On the plus side, a recent opinion poll ranked Usupashvili personally fifth in popularity among Georgian politicians, after President Giorgi Margvelashvili, Health Minister Davit Sergeenko, Prime Minister Giorgi Kvirikashvili, and Davit Bakradze, who heads the European Georgia party that split earlier this year from the United National Movement.
The views expressed in this blog post do not necessarily reflect those of RFE/RL.
About This Blog
This blog presents analyst Liz Fuller's personal take on events in the region, following on from her work in the "RFE/RL Caucasus Report." It also aims, to borrow a metaphor from Tom de Waal, to act as a smoke detector, focusing attention on potential conflict situations and crises throughout the region. The views are the author's own and do not represent those of RFE/RL.