Suspect Arrested in High-Profile Georgian Murder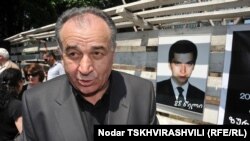 Gia Sosanashvili, a Georgian police officer, was arrested on February 7 and charged with the murder last month of Yury Vazagashvili.
Vazagashvili was killed on January 20 by an explosive device placed on the grave of his son Zurab, one of two men shot dead in May 2006 by police who subsequently said they acted on the assumption the two were about to commit an armed robbery.
Shortly before he was killed, Yury Vazagashvili gave an interview in which he named several Interior Ministry and Prosecutor's Office staffers who he claimed were responsible either for his son's death or for covering up for the perpetrators.
Five former and six current members of the Interior Ministry's Special Purpose Unit, including former Deputy Minister Irakli Pirtskhalava, were arrested on February 2 in connection with the deaths of the two men.
Pirtskhalava has dismissed the charge against him as "a fairy tale."
Georgian Deputy Prosecutor General Irakli Shotadze told journalists in Tbilisi on February 8 that Sosanashvili, from the Tsalka municipality in the south of the country, was identified on the basis of traces of DNA on a fragment of the grenade that killed Yuri Vazagashvili.
Shotadze said the evidence against Sosanashvili is "incontrovertible." Sosanashvili has denied the murder charge.
Shotadze declined to comment on either Sosanashvili's possible motive for killing Vazagashvili, or on who might have commissioned the murder. He did say, however, that investigators are currently considering several possibilities.
Speaking in Munich, where he is attending the 51st annual Security Conference, Georgian Prime Minister Irakli Gharibashvili said that Yury Vazagashvili's murder was "a serious challenge" to his government and he takes pride in the fact that it has been solved so quickly.
Human rights defender Lia Mukhashavria, however, told GHN that Yuri Vazagashvili's murder cannot be considered solved until the identity of the person who commissioned it has been determined and "all questions have been answered."
She expressed doubt that the Prosecutor's Office will be able to identify the mastermind behind Vazagashvili's death.
-- Liz Fuller
About This Blog
This blog presents analyst Liz Fuller's personal take on events in the region, following on from her work in the "RFE/RL Caucasus Report." It also aims, to borrow a metaphor from Tom de Waal, to act as a smoke detector, focusing attention on potential conflict situations and crises throughout the region. The views are the author's own and do not represent those of RFE/RL.