Giorgi has been looking for work for the past six months with no luck.
An ethnic Georgian who was forced from his home in the breakaway region of Abkhazia, he was recently evicted from a temporary shelter in Tbilisi and relocated to a settlement about an hour's drive from the capital. It's a place with no jobs, no prospects, and no future. "What kind of job is this? Sitting at home all day, no food, nothing to drink, and just swallow the fresh air," he says.
Others in the settlement, located in a town called Bakurtsikhe, complain of having no gas to heat their homes, of water being cut off, and not having a readily accessible hospital.
Lali, an internally displaced person (IDP) from the Abkhaz port city of Ochamchire, says she barely has enough money to make ends meet. "We go to shops and take food on credit," she says. "Once we receive our 22 laris [$12.4], we pay back the shops. This is our life. Some are helped by relatives. We live like beggars."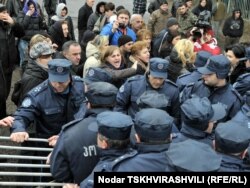 IDPs being evicted from Bagebi Student City in Tbilisi. "They surrounded us, encircled us, and led us away as if we were some maniacs or terrorists."
Several thousand internally displaced families have faced a similar scenario since the government announced this past summer that 36 shelters across Tbilisi were going to be evacuated, with the people living there offered alternative housing in two villages far outside the city limits. Many chose to find their own accommodation in the capital, staying with friends and relatives, rather than move to the villages.
Two rounds of evictions have already taken place, in August and January. Another wave, affecting more than 5,300 people, was expected to begin on February 10. But after an outcry from rights groups and a heated debate in the Georgian parliament on February 9 about the ethics of removing the IDPs, the authorities decided to postpone the evictions.
A series of evictions in the city of Gori, near breakaway South Ossetia, have also been delayed indefinitely.
Trying To Cut Costs
The fate of Georgia's estimated 246,000 IDPs is an emotional and politically explosive issue for the country. Most were evicted from their homes in Abkhazia and South Ossetia when those two pro-Russia separatist regions effectively broke free from Georgian rule following wars in the early 1990s. A new wave of IDPs fled South Ossetia when Russia and Georgia went to war over the region in August 2008.
President Mikheil Saakashvili's government insists that the IDPs be allowed to return to their homes in Abkhazia and South Ossetia, which are still legally part of Georgia but effectively run their own affairs.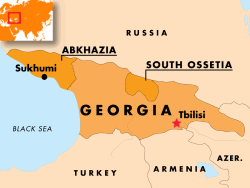 Until that happens, however, Georgia's cash-strapped government needs to provide them housing and subsistence funding. And with many of the IDPs housed in central Tbilisi, where real estate is expensive, the authorities are seeking more cost-effective options.
Over 40 percent of Georgia's IDPs live in 1,658 temporary shelters, 515 of which are in Tbilisi.
Human Rights Watch has criticized two rounds of evictions that have already taken place in the capital, saying the IDPs were not given adequate warning and that the alternative housing provided was in remote regions. Some of the shelters had damaged roofs and lacked electricity and gas.
Moreover, not all IDPs were provided with housing, leaving some homeless and without adequate compensation.
Caitlin Ryan of Transparency International says that of the 500 families evicted from Tbilisi in January, only 19 accepted the alternative accommodation offered by the state. The rest chose to stay with family members or found cheap apartments to rent.
"Many IDPs definitely face pretty tough conditions. I mean, unemployment in the entire country is high and many of the IDPs are dependent on social assistance, they receive monthly payments," Ryan says. "So I would assume that for many of the IDPs who were evicted it has definitely been tough, [and] then others -- you know it's a mixed bag, others seem to have been able to find a place to rent."
The United Nations High Commission for Refugees says the most recent wave of evictions in January was a "marked improvement" over the initial wave in August, and no "major violations of international law or standards" were evident.
Giorgi Gabashvili, chairman of the Education, Science and Culture Committee in the Georgian parliament, echoed this sentiment during the debate on February 9, noting that the UN "had been involved in the process [of IDP relocation] the whole time."
'Treated Like Criminals'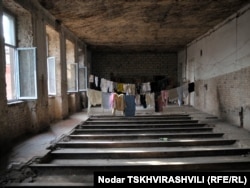 Even in Tbilisi, some of the IDPs live in poor conditions.
The UN's refugee agency did say, however, that there were still "shortcomings" in the process, including not giving monitors free access to the IDPs, communication challenges, and some disputes over the calculation of financial assistance.
Lia Mukhashavria, an attorney and human rights activist, says she and other lawyers are planning on suing the government over the treatment of the IDPs. She argues that the families were not given adequate notice, and in some cases, they were only informed the night before they were to be evicted.
"None of the IDPs were given the right to dispute this issue before the courts," Mukhashavria says. "That is [in] total violation of the [right to a] fair trial, because these people [were] never given the chance to dispute the eviction legality before a court."
Critics say that many IDPs were never given the $10,000 the authorities pledged to those who chose not to move into state-provided housing and that the process of allocating the funds was not transparent.
Lida Kvastiani, an IDP from Abkhazia who was removed from her shelter in Tbilisi on January 20, says she and her family were treated like criminals when they were evicted:
"They surrounded us, encircled us, and led us away as if we were some maniacs or terrorists," Kvastiani says. "I have six children and this is how I got kicked out. I can't even talk now, I'm feeling really unwell."
RFE/RL's Georgian Service contributed to this report