BRUSSELS -- With her perfectly coiffed hair, controlled manners, and impeccable clothes, Nino Burjanadze has the appearance of a stern yet kindly schoolteacher.
But the 47-year old lawyer and former parliamentary speaker is actually one of the most controversial opposition figures in Georgia at the moment. And she does not blush about it for a second.
Rather than presenting a mea culpa for all of the questionable moves she has made in recent years, she instead wants to tell what she calls "the truth" about her political foe -- Georgian President Mikheil Saakashvili -- and the political climate he has created in her country.
Speaking to RFE/RL during a recent visit to Brussels, Burjanadze didn't mince her words, describing the Georgian president as "Europe's new dictator" who is in total control of the media, the judiciary, and the police.
"I think Georgia is not a reliable partner of the European Union right now," she said. "And even worse, the situation in Georgia is getting worse every day."
Relationship Deteriorated
But Burjanadze was not always this critical of the current political elite. Promoted to the role of speaker of the Georgian parliament in 2001 by the previous Georgian leader, Eduard Shevardnadze, she was instrumental in paving the way for the Rose Revolution that swept away her former patron two years later and ushered Saakashvili into power.
She stayed on as speaker until 2008, embracing Saakashvili's reforms and his desire to integrate the country with NATO and the European Union.
Her close affiliation with the president deteriorated in 2008 after what she claimed was the stalled democratization process in the country, as well as what she believes was Saakashvili's mishandling of the August war with Russia over South Ossetia the same year.
Georgian President Mikheil Saakashvili speaks during festivities marking Independence Day in Tbilisi on May 26.
But critics allege that Burjanadze really quit because her allies did not get as many places on the ruling United National Movement's party list in the May 2008 parliamentary elections.
Burjanadze resigned shortly after those elections and formed her own party, Democratic Movement-United Georgia, turning into a vociferous critic of the government. Despite polling at only 2 percent, Burjanadze is still making headlines in Georgia with periodic noisy street protests. The government has countered her activities with what she described as a "campaign of terror."
"Everybody knows that all telephones are [being listened to]," she said. "Everybody knows that if you express different views from the government you might lose your job. If you are an active member of the opposition you may find in your pocket drugs or a gun and you might be in jail for many months or even years because there is no independent judiciary in the country."
Numerous Scandals
Her clean-cut image has also been tarnished by numerous scandals in recent years.
Several members of her party have been arrested for attempting to overthrow the government, and her husband Badri Bitsadze recently fled the country after being accused of employing paramilitary troops in an antigovernment rebellion. There are also persistent rumors of her being a Russian quisling, receiving indirect money from Moscow.
The biggest controversy occurred in May when Burjanadze organized street protests with the stated aim of removing Saakashvili from power. The demonstrators were given a permit to hold rallies in downtown Tbilisi from May 21 until midnight on May 25. A military parade to mark Georgia's Independence Day was scheduled for May 26.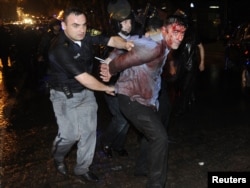 Police clash with antigovernment protesters in Tbilisi in the early hours of May 26.
But Burjanadze and her allies refused to disperse, even when the authorities offered them an alternative venue in the center of the city, saying they intended to prevent the military parade from taking place.
The police began to suppress the protests with tear gas and rubber bullets after midnight on May 25. Some of the demonstrators appeared intent on provoking violence, attacking police with sticks and metal pipes.
Two people were killed in the subsequent chaos. The government quickly pointed the finger at Burjanadze, claiming that the deaths occurred when a car in which she was traveling sped through a group of people -- a story she dismissed with a wave of the hand.
"Without any proof and without any evidence the government immediately [said] that my son was driving the car and that this was my car," she said. "I am calling [for] an international investigation. I am ready to give any information to an independent investigation committee."
Eerie Similarities
The events of May 2011 are eerily similar to a crackdown on protesters that occurred in November 2007. The difference is that she, as the speaker of parliament and a Saakashvili ally then, endorsed the government's violent response. She strongly condemned the authorities' handling of the recent protests.
Burjanadze is keen to dispel the similarities and her apparent flip-flopping on the issue. Armed with maps, photos, and videos showing the police breaking up the demonstration, she explained how protesters were surrounded on all sides by riot police. She said the government simply wanted to "punish the people."
She also defended her actions as speaker in 2007.
"First of all, when I was a speaker of the parliament and there was a crackdown of the demonstrators, I opened the door to the parliament and gave the possibility for people to enter in the parliament building to survive from the gas and police," she said. "I supported at that time investigation about excessive force and I signed a special decree in the parliament that the investigation commission should be established and investigate excessive force."
In the same fashion, she defended herself against other accusations leveled against her.
She brushed off her alleged Russian connection, despite the fact that she has traveled to Moscow to meet with President Dmitry Medvedev and Prime Minister Vladimir Putin, both of whom have expressed a desire to see Saakashvili overthrown.
'This Is Bringing Nothing'
Claiming that Saakashvili's policies toward Tbilisi's mighty neighbor to the north has only brought about the loss of Abkhazia and South Ossetia, Burjanadze said she favors closer ties with both Russia and other allies in the West.
"Ignorance of Russia did not bring anything good for my country," she said. "One thing is that you have to try to find a right language to protect your country's interest. Another thing is not to speak with the people whom you don't want to speak. This is bringing nothing."
When it came to her husband, who is allegedly hiding from the Georgian justice system abroad, she was equally combative.
"They want to keep my husband as a hostage in jail to push me to change my political motivation or not to continue my struggle," she said.
She also suggested that Georgia risks descending into the same type of bloodshed witnessed during uprisings across North Africa and the Middle East.
"One day in Georgia if things will continue like that in any case there will be an explosion," she said, "but it will be similar to the Middle East right now. It is dangerous for the country's stability and this might bring bloodshed. So we have to stop the dictatorship right now."