TBILISI -- Protesters in Georgia have gathered for a fourth consecutive day of antigovernment demonstrations calling for the ouster of President Mikheil Saakashvili.
Some 200 demonstrators camped out overnight outside the headquarters of the Georgian public television station, where they have erected tents near a makeshift stage decorated with posters reading "We are fighting for democracy" and "Misha must go."
The number of protesters has dwindled since the start of the protests on May 21. Then, thousands of protesters gathered outside the headquarters of the Georgian public television station to accuse Saakashvili of Soviet-style tactics in his running of the South Caucasus country.
The round-the-clock protests have been largely peaceful. But police on May 22 used tear gas and rubber bullets to disperse demonstrators after some protesters used metal bars to attack nearby cars.
Protesters said they were trying to help a friend who had been detained and was sitting in a police car. One woman was reportedly taken to the hospital as a result of her injuries.
The demonstrations -- the first of their kind in nearly two years -- are an attempt by the more radical branch of the Georgian opposition to assert itself on a political stage that Saakashvili has largely dominated for nearly eight years. (The more moderate Opposition 8 group, led by former UN Ambassador Irakli Alasania, has distanced itself from the protests.)
'Revolutionary' End
Nino Burjanadze, Saakashvili's key ally in the 2003 Rose Revolution that led him to power, is now among those leading the crusade for a "revolutionary" end to his presidency, which she says has been characterized by creeping authoritarianism and neglect.
Speaking to RFE/RL's Georgian Service on May 22, she said Saakashvili's stifling of the opposition made elections meaningless.
"Never in history has a nondemocratic and autocratic authority transferred power through elections. That has never happened," Burjanadze said. "As for the threat of instability, yesterday I remembered the words of a great American, John Kennedy. He said that any authority that makes peaceful revolution impossible will push for the revolution to be violent."
FLASH ANALYSIS -- Koba Liklikadze of RFE/RL's Georgian Service looks at the ongoing Georgian protests:
Burjanadze's People's Assembly opposition movement, which is behind the unfolding protests, has been joined by the Georgian Party, an opposition group led by several high-profile politicians, including former ombudsman Sozar Subari and millionaire Levan Gachechiladze.
The two groups have sparred in the past. But arriving at the protest on May 22, Gachechiladze shook Burjanadze's hand, hugged her warmly, and declared the country's future was more important than political rivalries.
"I, Levan Gachechiladze, am personally forgetting about everything for the sake of my motherland," he said, "and I would like to [greet] Mrs. Nino in front of you all."
Possible Trump Card
After joining the protests, the Georgian Party upped the ante, declaring a so-called Arab-style "Day of Rage" on May 25 and vowing Saakashvili would be ousted that day. They had also planned to introduce a possible trump card: Irakli Okruashvili, a former defense minister and onetime Saakashvili ally who fled the country in 2007 after a highly public falling out with the president, whom he accused of corruption and criminal intent.
Okruashvili, who was later was convicted in absentia of corruption charges, has been living in France, where he has political asylum. Earlier this week, he vowed to return to Georgia on May 25 -- the day Burjanadze and others have vowed to secure Saakashvili's ouster -- and "finish off this regime once and for all."
But on May 24 both he and the Georgian Party backtracked. As the protest numbers dwindled, Subari told local television the "Day of Rage" had been canceled. And Okruashvili reversed his decision to travel to Georgia, saying he did not feel Burjanadze's People's Assembly was the appropriate political partner for him and his allies.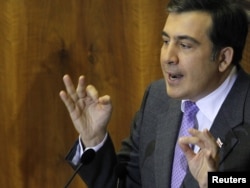 Georgian President Mikheil Saakashvili has so far not commented on the demonstrations.
It is unclear what Okruashvili's motivations may have been for contemplating a return. Georgian Interior Ministry officials threatened to arrest him as soon as he enters the country. And it is not certain the once-popular Okruashvili still enjoys the public support he once did.
Early on, the People's Assembly appeared unamused by the stunt, with one of its leading members, chess champion Nona Gaprindashvili, telling RFE/RL's Georgian Service that any attempt by Okruashvili to join the protests would be "unacceptable."
"We have no connection with Okruashvili. When the Georgian Party came to us, we told them that if they knew anything about Okruashvili's plans to let us know," Gaprindashvili said. "We should know for 100 percent Okruashvili's precise plans before we make any decisions, because we are not going to have any relations with Okruashvili."
No Comment From Saakashvili
The government appears unfazed by the protests. Saakashvili, who came under heavy international criticism for his crackdown on unarmed demonstrators in November 2007, has made no comment on the current demonstrations or the calls for his imminent ouster and spent May 23 in Budapest meeting with his Hungarian counterpart, Pal Schmitt.
The Georgian Foreign Ministry has reiterated that the people gathered outside the public television building have the right to peacefully protest.
Russia, meanwhile, has turned an unrelenting eye on the Georgia protests. Newscasts on the main state-run channels have given broad coverage to the demonstrations, including activated tear-gas canisters and shots of protesters overcome by the smoke during the May 22 clashes.
Moscow's relations with Saakashvili have never been warm. Kremlin leaders have repeatedly sought to chip away at the authority of the Georgian leader, who has openly sought to move his country closer to the West and further from Russia's postimperial sphere of influence.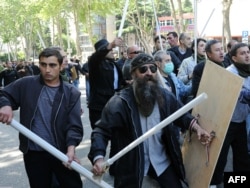 Opposition activists carrying sticks and shields clashed with police in Tbilisi on May 22, prompting officers to use tear gas and rubber bullets.
The 2008 Russia-Georgia war, which removed the separatist Abkhaz and South Ossetian regions from Georgian jurisdiction, was considered an attempt by the Kremlin to put a chokehold on Saakashvili's ambitions.
The loss of Georgia's breakaway territories was devastating to many Georgians and dealt a severe, but not fatal, political blow to Saakashvili. There is widespread speculation that Saakashvili might take the newly empowered prime minister's position when his final presidential term expires in 2013. (Russia's Vladimir Putin made a similar move in 2008, when his second term as president ended.)
The Specter Of Russia
Many opposition leaders -- including Burjanadze, who cultivates close ties with Russia -- have used the loss of the breakaway regions as a rallying cry in the attempt to build their own base of public support.
The specter of Russia looms large in Georgia, with many in both the opposition and the ruling party convinced that Kremlin operatives are determined to steer the course of Georgian politics.
Davit Darchiashvili, a lawmaker with Saakashvili's National Movement party, told RFE/RL he did not expect a major outbreak of violence at the protests. But at the same time, he said, it was reasonable to assume any unrest would ultimately be traced to Russia.
"There is no reason to think in terms of a large-scale threat. There is not any social, systemic, or mental reason," he said. "But we can't rule out that several hundred people have coordinated with Russia in different ways and are ready to take various kinds of steps. It will be unpleasant, but any state and its law enforcement bodies should be ready for something like that."
written in Prague by Daisy Sindelar, based on reporting from Jimsher Rekhviashvili, Nona Suvarian, Bidzina Ramischwili, Niko Nergadze, Nino Kharadze, and Nino Gelashvili in Prague and Tbilisi