Ghost towns exist in all regions of the world, and are commonly found in areas that were abandoned after an economic downturn. These five, however, were born out of bizarre circumstances: a nuclear accident, an orchestrated suicide/murder, a mass evacuation, a modern-day Atlantis, and a fire that simply won't go out.

And, as spooky as they may be today, Chornobyl, Oil Rocks, and Centralia still have a few inhabitants, clinging to what's left of their past lives.

Pripyat, Ukraine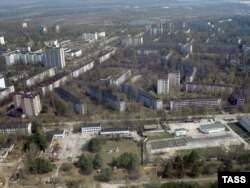 An aerial view of Pripyat
Perhaps the best-known ghost town in the world, Pripyat was evacuated after the 1986 nuclear accident at the Chornobyl power plant. It previously had a population of around 50,000 but now is part of the "Chornobyl exclusion zone."
Estimates of the number of deaths from radiation-related cancers as a result of the accident range from 4,000 to 250,000.
These days, radiation levels aren't believed to be high enough to cause harm unless people are exposed for long periods of time. Indeed, tourist agencies regularly take groups inside to view the hastily abandoned city.
Until recently, almost all of the former residents' belongings were preserved, with nonperishable food left on store shelves and children's toys and books left where they were last played with. But looting in the years since the accident, along with gradual decay, have detracted from the city's museumlike quality and rendered some buildings unsafe to enter.
Jonestown, Guyana
A brutal mass murder/suicide instigated by American cult leader Jim Jones has left few remnants here beyond shock and horror.
On November 18, 1978, Jones's commune, The People's Temple, forced more than 900 Jonestown residents -- cult members -- to drink cyanide-laced Flavor Aid (sparking the now-ubiquitous term "Don't drink the Kool-Aid" -- though the actual juice was a knockoff).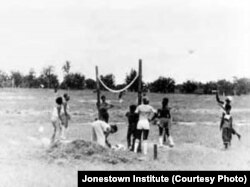 Jonestown residents at play in 1979
The commune was located on 3,000 acres of land, with rows of houses, a radio tower, and a pavilion. After the tragedy, the media reported on widespread human rights abuses committed at the site, including putting children in a well overnight as punishment.
These days, there's not much left to see. In the early 1980s, the Guyanese government allowed Hmong refugees from Laos to stay at the commune, and over the years the buildings have been looted by locals. Last year,
"The New York Times" reported
that locals hope to turn Jonestown into a tourist destination.
Kowloon Walled City, China
The Kowloon Walled City, made famous as a lawless, crime-ridden, and overpopulated wasteland in numerous video games and movies, was turned into a giant park after its residents were evicted in the late 1980s.
The city was originally a Chinese military fort but became an enclave after parts of Hong Kong were leased to Britain in 1898.
Its population skyrocketed in the following decades and the area deteriorated into a squatter slum that neither Britain nor China wanted to take responsibility for.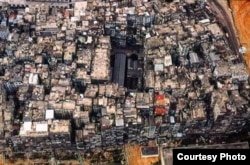 An aerial view of Kowloon Walled City before it was demolished
The number of high-rise apartments mushroomed and the nearly ungoverned area became a drug haven controlled by criminal syndicates.
In 1987, there were 33,000 residents living within the city's tiny area, giving Kowloon Walled City one of the highest population densities ever recorded. That same year, with agreement of the Chinese government, the evacuation and demolition of the area began. Kowloon Walled City Park opened on December 22, 1995.

Oil Rocks, Azerbaijan
This Soviet-era ghost town once housed 5,000 workers living on a manmade island built solely for the purpose of extracting oil. Now, it's slowly sinking into the sea.
Situated just 40 kilometers into the Caspian Sea, Oil Rocks had residential apartment buildings, movie theaters, schools, and libraries, all linked together by more than 200 kilometers of roads. Some 2,000 oil rigs and 300 kilometers of bridges helped to supply a major portion of the Soviet Union's -- and later Azerbaijan's -- vast oil wealth.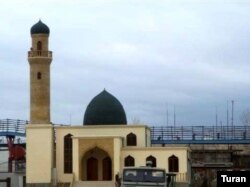 A mosque on Oil Rocks in 2009
Today, Oil Rocks is largely abandoned, and two-thirds of the infrastructure is under water.
Some workers remain, living on the top floors of apartment buildings to stay above the water line.
Azerbaijani President Ilham Aliyev, speaking at a 2009 ceremony to mark the 60th anniversary of construction of Oil Rocks, lauded the oilmen still living on the island.
He said they were held "in great respect" and pledged to focus more attention on their living conditions and concerns.
Centralia, Pennsylvania
This small Pennsylvania town of 1,100 people was essentially abandoned after a fire in 1962 in the town's landfill spread to a vast network of underground coal mines.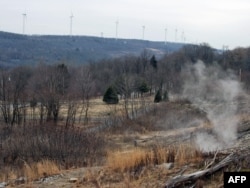 Smoke rises on a hill overlooking Centralia in 2010
Geologists estimate the fire could burn for another 250 years.
The wasteland now has sulfurous steam pouring out of cracks and holes in the mud, spreading poisonous gases and creating sinkholes big enough to swallow people or cars.
In 2010, there were still seven residents clinging to their homes and refusing to leave, even as the state attempted to evict them and dismantle the town's remnants.