Be sure to wish Chechen leader Ramzan Kadyrov a happy birthday today. But be careful about your gift-giving -- this birthday boy is a fickle one.
Young Ramzan, who turns 35, has
publicly threatened
to punish any overt displays of celebration for his big day. "Anybody who approaches the Chechen leader and even tries to give him a gift will be fired," Kadyrov's office said in a statement last week.
Perhaps it's a bizarre brand of false modesty. It could also just be that Ramzan is in a bad mood. His birthday celebration -- rebranded as Grozny "City Day" to commemorate the opening of a new real estate development in the capital's downtown -- was originally meant to include celebrity appearances from Shakira, Eva Mendes, Hilary Swank, violinist Vanessa Mae, and Kevin Costner.
But it took a turn for the more mundane last week after Shakira
disavowed
any intent to perform for the Chechen leader. Kadyrov castigated the Colombian star for turning down the invite, and said that she had violated Chechens' "human right" to be entertained. No official word yet from the other putative visitors, though it's believed that most of them also declined Kadyrov's invitation.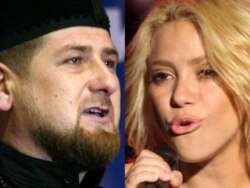 Shakira (right) won't be serenading Ramzan.
On October 4, Kadyrov met with local police and instructed them to be on their toes for the City Day festivities. But he also had some words of advice about the erstwhile celebrity invitees: don't talk about them. Kadyrov chalked up Shakira's no-show act to capriciousness, noting that celebrities' calendars are always subject to modification.
Her "change of schedule" must have been a hard one for the president to swallow. Rumors swirling around Chechnya have it that officials carefully prepared luxury apartments to house the would-be visiting stars and their retinues.
So, please, the president's office wants you to have a great time. Enjoy the fireworks, mingle with the crowd, thank your lucky stars you live in Grozny under the benevolent leadership of Ramzan Kadyrov. Just don't give the guy any presents, and don't mention Shakira. Capiche?
-- Charlie Dameron, with reporting from RFE/RL's North Caucasus Service