Former Czech President Vaclav Havel is set to release his first feature film next month, the latest career twist of the internationally renowned absurdist playwright and ex-dissident who led the Velvet Revolution that toppled communism in Czechoslovakia in 1989.
The film, "Leaving," is based on a play by the same name that premiered in 2008, Havel's first in 20 years. It's about the former chancellor of an unnamed country facing the loss of power after stepping down, threatened with losing his comfortable state villa if he doesn't publicly support his successor.
Although the villain's name, Vlastik Klein, is strikingly similar to that of Havel's real-life successor and archrival Vaclav Klaus, the current Czech president, Havel insists the film isn't autobiographical. RFE/RL's Gregory Feifer met Havel in his Prague office last week to discuss his film, Egypt, and the threat from Russia.
RFE/RL: You've said "Leaving" is about the meaning of power in a politician's life. Would you explain the central character's dilemma?Vaclav Havel:
I wanted a general question -- the problem of change and leaving -- to be felt in the subtext of the play and the film. Change is continual, people are always leaving. Settings change, as do ways of life. That's what the play is about. The protagonist can't handle change well, he stops functioning and his whole world collapses around him. He responds in the worst way possible, adapting to a subordinate position that serves the new state of affairs. It's a general theme that doesn't document any particular person or specific act of leaving.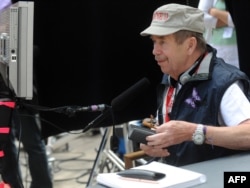 Vaclav Havel watches on the set during the shooting of his film 'Leaving'
RFE/RL: Speaking of change, you began writing the play in 1988 before putting it aside to lead the Velvet Revolution. How differently would it have turned out if you'd finished it then?Havel:
It hasn't changed a great deal from the original idea, which came to me 22 years ago. I enriched it only with some details from my later experience. For example, the issue of dividing possessions into government-issued and personal. That's a somewhat obscure procedure I went through at the Prague Castle when I was stepping down as president. I've used those kinds of minor experiences, although the main theme is from an earlier date.
RFE/RL: The theater of the absurd seemed very well suited to discussing social ills under communism. Do you think it's as relevant today?
Havel: Speaking about myself, I've been pleasantly surprised that my older plays are still being performed. Most important is that they still have something to say to today's audience, in particular the young people who enjoy my plays. That's the best I could hope for, that the plays aren't single-use products of one era.
RFE/RL: Switching topics, what's your advice to the protesters now on the streets of Cairo?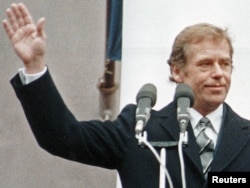 New President Vaclav Havel meets citizens after being elected at Prague Castle in 1989.
Havel:
Basing my opinion on our own experience, I think it's about time the protests are brought to an end by some kind of agreement. Because every day they continue, the danger of vandalism, escaping prisoners, and violent encounters increases. So it's in the common interest the protests end soon. But they'll have to end with some kind of significant compromise from the current regime. I personally think President [Hosni] Mubarak, who's done a lot for Egypt, should acknowledge that his time has come and step down right away.
RFE/RL: You've helped lead warnings about U.S. foreign policy toward Russia, saying a position of "realism" risks sacrificing common western values. How do you evaluate Washington's actions over Egypt today? Havel:
President Murabak has been a U.S. ally for decades. He was a guarantor of some degree of peace in the Middle East and has kept a good relationship with the Western world. So I understand why the Americans can't just tell him to leave now. Nevertheless, they'll have to make some kind of a decision soon. Personally, as I have said, I do believe he should step down straight away and not wait for the election [in September]. Of course he'd have to ensure that by giving up his powers in a responsible manner. I believe President [Barack] Obama has a similar opinion, even if he puts it more diplomatically. But he's president of a superpower and I'm a citizen of a small state.

RFE/RL: Looking east, you've said Moscow's foreign policy today is more sophisticated than it was during the Cold War and therefore more dangerous. And you've criticized Western countries, including the United States, for giving Russia special treatment. But surely individual European countries bear a great deal of responsibility, by enabling Moscow to exploit corruption to win business tenders or finance political parties, like here in the Czech Republic. Is it too simple to blame Washington for failing to stand up for western values because of its reset policy of improving relations with Moscow?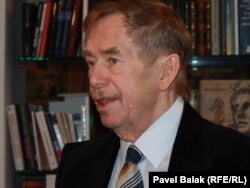 Vaclav Havel
Havel:
I do think Russian foreign policy is very savvy. There's a need for great caution because the Russians are able to discreetly blackmail countries. However, most important is that if [Western] relations with Russia are to be friendly, they must be open and sincere, otherwise there can be no friendship at all. That means one should be able to speak openly about everything at meetings and conferences. It shouldn't be that we can't discuss the killing of journalists in Russia, or the suppression of human rights, or all the warning signs surfacing in Russia because of oil and gas or other economic reasons. It's a big problem, but it's the same in Western relations with Arab states. There's a dilemma over how to balance concrete economic interests with critical opinions on the state of human rights. It's the human rights that suffer, and that's a great price to pay.
RFE/RL: Has the threat from Russia decreased or increased since you and other former Central European leaders signed open letter warning President Obama in 2009? Havel
: I don't think a lot has changed since then. The threat is still there.
RFE/RL: What's your next project?Havel:
I'd like to write one more play that's taking shape in my head right now. Then if possible, I'd like to move into some kind of retirement. There are some things I've started that I'll have to continue to the end of my life. But I'm not planning any projects besides finishing my film and writing one more play, although sometimes things just surface.