WATCH: People living near Osama bin Laden's compound in Abbottabad, Pakistan, share what they witnessed on the night of his death. (Produced by Fawad Ali Shah of RFE/RL's Radio Mashaal)

By RFE/RL

ABBOTTABAD, Pakistan -- The field where the neighborhood children liked to play soccer was right next to the house surrounded by high, thick walls topped with barbed wire.

One day, the ball rolled off the field and into the courtyard of the compound. Presently, a man emerged from behind the walls and spoke to the children.

He told them he could not get their ball back for them. He offered them 50 rupees instead.

The ball is worth only 20 rupees, he said, yet he was offering them more than twice that to go away and forget about it.

The children took the money.

That anecdote is one of several to emerge from the neighborhood in Abbottabad where Osama bin Laden hid for years alongside ordinary Pakistanis -- he unknown to them, and they to him.

Extreme secrecy shrouded bin Laden's existence in the town, which is known for its high population of retired military officers and lush, peaceful environment.

Days after bin Laden's death, many residents say they still can't believe that the man the United States hunted for almost a decade was their neighbor.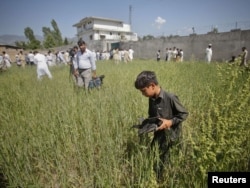 A boy collects debris remaining from the firefight as journalists surround the compound where Al-Qaeda leader Osama bin Laden was killed in Abbottabad.

A man who lived at the compound was sometimes seen buying bread at the local bakery, or praying at the mosque, residents said. But those were the only sightings.

Some residents who live close to the compound say they are still recovering from the shock of witnessing the U.S. military raid that broke the midnight quiet of May 2 with explosives and gunfire.

"We still can't believe it that Osama was living here. We thought he would be living in the mountains," one girl said. "On that night, the helicopters were hovering and we thought there was some problem with the choppers. But at 1:30 a.m., there was a blast, and the ground shook. It worried us because we never saw such an incident in Abbottabad. We turned on the [television] and found out about [bin Laden], and we were shocked and still can't believe it."

'Big Blast'

A man named Bilal said he heard three small blasts around midnight, followed by a "big blast" around 1 a.m. that shattered the windows of his family's house.

Until then, he said, nothing was known about the compound.

"Some people were living in that house, but I didn't know about them. I can't believe that Osama was living here, mainly because of the tight security [here]. Abbottabad is Pakistan's most secure city."

The town, some 60 kilometers from Islamabad, has a high concentration of top schools and military establishments. It's also the base of the Baluch Regiment of the Pakistan Army and the home of a Pakistani military academy, where newly commissioned officers are trained.

A militarylike discipline also reigned at the compound where bin Laden lived. The secrecy that its residents maintained at all times kept his existence hidden for years.

On the night of the raid, Shahzad Omar, who said he lives about seven streets over from where the operation unfolded, saw helicopters hovering overhead around 1 a.m.

"This is almost a deserted area and there was a house where some people were living for about six years," he said. "Then there was a blast followed by a blackout. And the operation continued for about 40 minutes."

Zubair Khan watched events unfold in the pre-dawn darkness and noticed that all the lights were out at the nearby military training facility.

"About three helicopters came during the night around midnight. They hovered over for 30 minutes. There were two small blasts. There was a full blackout at the Pakistan Military Academy," he said.

Having given up its famous secret, one town resident says the house is now being guarded even more heavily.

"The whole area is sealed off by the army, and even we, the residents, are not allowed [inside]," he said. "We can't even get the basic things we need to use every day."

So there is surprise, and even shock, among bin Laden's former neighbors, but what there isn't is celebration. One man said the town's residents mainly see the incident as "the death of a Muslim."

"A Muslim never celebrates the death of another Muslim," he said. "Instead, he gets sad."

written by Heather Maher, based on reporting by RFE/RL Radio Mashaal's Fawad Ali Shah in Abbottabad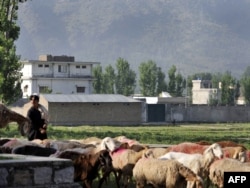 A Pakistani shepherd herds his goats past Osama bin Laden's hideout in Abbottabad.