In the 20 years since the Central Asian republics of the Soviet Union became independent, the influence of the Russian language has been declining in these countries.
Just two decades ago, Russian was a tongue common to Central Asians, but now many young people cannot speak it at all.
"Neither I nor my brothers and sisters know it," says Abdullah, a 20-year-old Uzbek who was born in the same year that his country seceded from the Soviet Union. "There are not many Russian classes left in schools and colleges. In my high school we only had one hour a week."
In this respect, Abdullah is very much a part of the post-Soviet generation in Uzbekistan. Uzbeks are by far the largest ethnic group in their country and, since independence arrived in 1991, the government has done whatever it could to make sure that the local language enjoys precedence.
Newspapers published in Russian are no longer available at every newsstand, and Russian TV broadcasts can only be received via satellite or cable. The educational system is focused almost entirely on the study of Uzbek.
A Colonization Tool
Jeyhun is a high school teacher with over 25 years of experience teaching in high schools in Uzbekistan. According to him, the position of Russian in the republic was dramatically different before 1991.
"During Soviet times, there were five hours of mandatory Russian language studies and several Russian language television channels," he says.
"Moscow's TV channels would be directly transmitted to the region; foreign movies were telecast with Russian dubbing.
"The main news sources: such as newspapers and magazines, television channels, radio stations, almost all of them used to be in the Russian language.
"But after independence, there is only one and half or two hours of Russian studies in schools (per week), and in addition, people can watch Russian channels only through satellite dishes, and Russian language programs on local TV channels have very much diminished."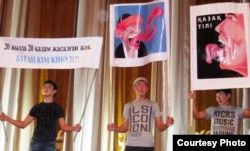 Young Kazakhs hold up placards at a conference organized in Almaty to support the local language.
During nearly a century of Russian rule in Central Asia, the Kremlin used language as part of its efforts to control local populations. Officials in far-away Moscow imposed Russian as the main language in schools and government bureaucracy.
In the 1930s, the Soviet government forced Central Asians to switch to the Cyrillic alphabet in place of the writing systems they had used for their own languages until then.
Wholesale Departure Of Russian Speakers
One result was that local languages were marginalized, and many Central Asians lost touch with their own cultures. Independence brought an opportunity to restore the balance.
That effort has been made somewhat easier by the wholesale departure of a large percentage of the Russian-speaking population.
Since 1991, two-thirds of the Russians in Turkmenistan have left the country. In Uzbekistan the figure is one half; in Tajikistan, which experienced a prolonged civil war during the 1990s, well over 80 percent of Russians have left.
Since conditions vary widely in each of the five Central Asian republics, the process of de-Russification has moved along differently in each place.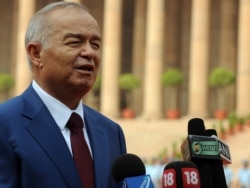 Uzbek President Islam Karimov
In Kazakhstan and Kyrgyzstan, which both have large Russian-speaking minorities, the changes have been relatively slow.
In Uzbekistan, by contrast, the republic's leader, Islam Karimov, declared Uzbek to be the national language of the republic even before proclaiming independence.
In neighboring Turkmenistan, President Saparmurat Niyazov was the first to switch the alphabet from Cyrillic to Latin in 1991.
Nodra Isamiddova, a native of Tashkent who currently lives in the United States, believes the speed of the changes in Uzbekistan prompted thousands of Russian-speakers to leave.
"After independence, there was a big emigration wave of Russian-speakers -- not necessarily just Russian nationals but also Ukrainians and Jewish people," she says. "Those people who were mainly communicating in Russian left the country."
Language Skills Are Suffering
At the same time, say scholars, poor economic conditions in most Central Asian countries mean that there has been little money to spare for training people in local languages.
John Schoeberlein, co-director of the Program on Central Asia and the Caucasus at Harvard University's Davis Center, says that this has resulted in many Central Asians losing their ability to communicate easily with the outside world -- as well as with fellow Central Asians who only speak their own languages.
"For example, in the university context, Russian almost doesn't figure in Tajikistan and many young scholars simply don't know Russian," he says. "[This] means they don't know other international languages. They really only know Tajik and maybe Uzbek."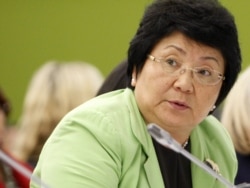 Kyrgyz President Roza Otunbaeva
Nonetheless, Schoeberlein says the situation is "very different" in northern and southern parts of Central Asia and that Russian remains the dominant language in some northern Central Asian states, such as Kazakhstan and Kyrgyzstan.
But even there developments do not bode well for Russian. Earlier this year Kyrgyz president Roza Otunbaeva demanded an upgrade in the use of the local language. The country's parliament has also made fluent knowledge of Kyrgyz a precondition for becoming president.
And in oil-rich Kazakhstan, the government has launched an ambitious program to make nearly all its citizens fluent in the Kazakh language by 2020.
A Comeback Could Be On The Cards
Even so, the gradual realization that knowing Russian also offers certain advantages has contributed to the first signs of a comeback for the language.
Anora Mahmudova, a journalist from Uzbekistan currently working for a British newspaper, believes that this minor revival is primarily down to economics.
"We have so many people who are actually now working in Russia," she says. "And people are recognizing that the more languages you speak, especially Russian, [the more] more beneficial [it is] to you economically and politically."
The same principle applies in Tajikistan. According to Tajik official statistics, half of the country's labor force is currently working abroad, mostly in Russia.
According to the International Labor Organization, remittances sent to the country by Tajik migrant workers in 2008 amounted to $2.67 billion USD in 2008, equal to nearly half of the country's GDP.
The situation in Turkmenistan, by contrast, is relatively unique. While hundreds of Turkmen students attend educational institutions in Russia, a favorable visa regime has lured an even larger number of Turkmen citizens to Turkey, either as illegal workers or as students.
Turkmen is closely related to Turkish, which tends to make cultural exchange between the two countries even easier.
And while Russian TV channels have, for the most part, been shut down inside Turkmenistan, their place has been taken by Turkish satellite programming.
Turkish schools now fill the gap left by the closure of Russian-language equivalents, reflecting the presence of over 600 Turkish companies operating in the country.
For the time being, Russian remains the lingua franca of Central Asia, but it is no longer the only foreign language on the market.
As thousands of Central Asian students head off to study in other countries of the world each year, and as Central Asian governments work to raise the profile of native languages, it remains to be seen how long Russian can preserve its role.