The head of Pakistan's Inter-Services Intelligence Directorate (ISI) has held talks in Washington amid reports that Pakistan is seeking a sharp reduction in the number of U.S. operatives in the country and a halt to drone strikes against militants.
A spokesman for the U.S. Central Intelligence Agency (CIA) characterized the April 11 talks between Lieutenant General Ahmed Shuja Pasha and CIA Director Leon Panetta as "productive."
But the four-hour meeting comes after a string of recent events highlighting the increasing disagreements between the two sides on how to move forward against Islamist extremists in Pakistan and neighboring Afghanistan.
Media reports said Islamabad was seeking the withdrawal of over 300 U.S. operatives from the country. This represents anywhere from 25 percent to 40 percent of U.S. special operations forces in Pakistan, according to "The New York Times."
Former military General Talat Masood, now an influential Pakistani defense analyst, says that the arrest and subsequent release by the Pakistani authorities of CIA security contractor Raymond Davis exposed the extent of the CIA's network in the country. Davis shot dead two armed Pakistanis in the eastern city of Lahore in January but was freed after more than $2 million in "blood money" was paid to the relatives of those killed last month.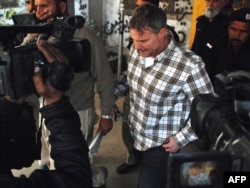 Analysts say the Raymond Davis (pictured) case exposed the differences between the ISI and CIA.
Masood says the incident showcased the discord between the allies and gave voice to previously muted concerns in Islamabad that U.S. counterterrorism efforts are undermining Pakistani sovereignty.
"They have been very relaxed -- the government of Pakistan and the ISI -- in allowing so many Americans to operate in Pakistan, which ultimately resulted in an incident of that nature," Masood says. "And they want to prevent that from happening [again]. And also it was undermining the entire sovereignty. So the ISI wants them to shrink their network to a reasonable level where they can still get certain information, which is necessary as an ally."
Airing Dirty Laundry
But the White House warned earlier this month that Islamabad still had no concrete plan to eliminate violent Islamist extremist groups on its territory. "There remains no clear path to defeating the insurgency in Pakistan, despite the unprecedented and sustained deployment of over 147,000 forces," the White House said in its latest quarterly assessment of the situation in Pakistan and Afghanistan.
Washington insiders say such public criticism is only a small part of the long list of complaints that senior U.S. officials have held for years.
Former Pakistani Brigadier General Asad Munir, however, says that Islamabad is fulfilling most of its obligations as a front-line ally in the war against terrorism. He says that senior U.S. leaders are well briefed on Islamabad's limitations in the western tribal areas along the border with Afghanistan.
Generals in Islamabad have long resisted strong U.S. pressure to launch an all-out offensive against Afghan and Pakistani Taliban operatives and Al-Qaeda in the North Waziristan tribal district.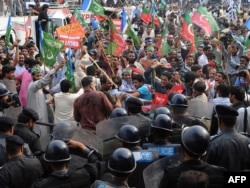 Attacks by unmanned U.S. drones regularly spark protests in Pakistan.
Munir, a former senior official of the ISI, has worked extensively in the volatile Khyber Pakhtunkhwa Province and adjoining tribal areas. He acknowledges that the CIA and ISI might have differences over issues such as the 2008 Mumbai attacks, but says they are united in fighting the extremists undermining U.S. and Pakistani security.
"I think their aims and objectives are the same. Both sides cannot afford to sever their relations or put a block in the intelligence sharing," Munir says. "I think it is going to be sorted out."
Problematic Drones
But Masood sees continued disagreements, especially over unfolding events in Afghanistan. He says that although both sides are working to harmonize their policies, they have a lot of ground to cover before reaching consensus.
One crucial area of intelligence cooperation is the drone strikes. Once descried by CIA Director Panetta as "the only game in town," they are highly unpopular in mainstream Pakistan. In an unprecedented move, General Ashfaq Parvez Kayani, the head of Pakistani military, harshly criticized a recent strike in North Waziristan, which reportedly killed 40 members of a tribal council.
Masood says that the frequency of drone strikes might be seen as a litmus test of how the relationship between Islamabad and Washington is faring.
Experts have mixed opinions on the true extent of differences between Pakistan and the United States and whether the two sides can overcome them. They agree, however, that events on the ground, such as increased U.S. drone strikes or new operations by the Pakistani military, will reflect the success or failure of the sensitive ongoing negotiations between the two sides.