BRUSSELS -- As International Women's Day approaches, the European Commission is releasing statistics showing that women in the EU earn significantly less than their male counterparts.
According to a new report, women in the 27-member EU earn 17.5 percent less than men on average -- and that gap has remained consistent for the past 15 years.
Viviane Reding, the European commissioner for justice, fundamental rights, and citizenship, notes that this means that women in the EU would need to work an extra two months a year in order to earn as much as men.
The report comes just days ahead of the 100th anniversary of International Women's Day, which will be marked on March 8. Matthew Newman, a spokesman for Reding, attributes the gap to what he calls structural problems in the labor market.
"Many women are not going into certain professions in which they would make more money. It starts at a very young age, where women are getting more involved in, let's say social studies, and they may end up as teachers, which are not very high paid jobs," Newman says. "They are not getting into professions like engineering, computer science, and management, where there are higher-paying jobs."
The report shows that the gap varies considerably among member states, with the biggest chasm -- 30 percent -- being recorded in Estonia. Italy boasts the smallest margin in the EU at 5 percent.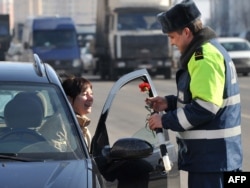 A traffic police officer presents flowers to a woman in her car in the Belarusian capital, Minsk, on March 4 to mark International Women's Day.
Newman says the relatively low wage gap in Italy is due to the fact that Italian women are not employed in low-skill -- and low paying -- jobs to the same degree as in other European countries.
The European Commission says it will initiate a series of public-awareness campaigns to tackle the problem. But some politicians are calling for legislative remedies to reduce the inequality.
Eva-Britt Svensson, chairwoman of the European Parliament's Committee on Women's Rights, says the results show that previous EU directives ensuring equal pay have failed. She says the European Commi6ssion should come up with new legislation to address the issue.
"It must be shaped in such a way that it is impossible to continue with wage discrimination," she says. "We can do a lot of things. We can send people to the moon and so on. We should be able to get a directive which works in reality."
Svensson says the problem can be solved at the top end of the income scale, noting that 97 percent of the CEOs in large EU companies are men.
She says the EU should follow the lead of Norway, a non-EU member state that has implemented quotas for women on company boards. France and Spain introduced similar legislation at the beginning of this year, and Belgium is considering such a move.
Newman points out that the commission wants European companies to commit to a voluntary pledge to include more women before revisiting the issue next year.
"Quotas are not something we are automatically going for. It is more a two-step process," he says. "We first see how things could change and then we would act if we are not seeing any kind of progress."
The European Commission still harbors the goal of doubling the number of female board members in EU companies to 30 percent by 2015 and increasing that by another 10 percentage points by 2020.
A similar quota system might be needed for the European Commission itself, with nine out of 27 EU commissioners being women. Fifty-three percent of the total commission staff is female, however.