WATCH: Sascha Meinrath of the New America Foundation opens up the "Internet in a Suitcase" and shows us what's inside.
It looks like a normal suitcase, but it's anything but. Inside you will find a laptop, a small wireless antenna, flash discs, and CDs. Together they can be used to set up a shadow Internet anywhere you like -- say, in a repressive country where the government shuts down communication avenues in times of crisis.
The project is informally called
"Internet in a Suitcase,"
and it is being developed by a team of experts at the New America Foundation, a nonpartisan research group, with funding from the U.S. State Department. RFE/RL correspondent Golnaz Esfandiari spoke to the head of the project, Sascha Meinrath, to find out more.
RFE/RL: Has this technology already been deployed anywhere?

Sascha Meinrath:
We're not certain all the different places where it's in use. It's an open-source project, which means that
people can download it for free
today and start playing around with it. We, as New America Foundation, haven't been actively involved in any place around the globe in deploying it.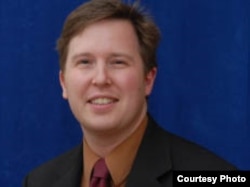 Sascha Meinrath
RFE/RL: The State Department is funding your project. Will the State Department decide which groups and what countries will get the software?

Meinrath:
No, we'll decide, and we're happy to work with the State Department if they've identified places. But for us it's really important that this stay true to its original mission and goals -- to be a community-empowering technology. So when we do deploy it, we're going to want to do that in consultation with local organizations, local groups that are working on the ground. And again, this may be for a disaster response. This may in a place that has no other connectivity. Or it could be in a place that is undergoing democratic revolution.
RFE/RL: Have you already started training any individuals or groups?

Meinrath:
We have. Here in the United States we're actually working with a number of groups in a number of different cities all across the country on this technology.
RFE/RL: What about outside the United States? Activists in countries where Internet is censored must be eager to get access to this software and use it.

Meinrath:
We've had a lot of inquiries all around the globe. You can imagine folks from a lot of the world's hotspots right now have seen this and are inquiring about that. We haven't formalized any relationships with them, but you can imagine if there is any place on Earth that is undergoing radical transformation right now, we've been contacted from those areas.
RFE/RL: Let's imagine you want to get this to activists inside a repressive country. How would you do that? A big suitcase full of equipment wouldn't go unnoticed.

Meinrath:
On the one hand, you can walk across with a giant suitcase full of equipment. That's probably not a good idea when you're walking across a border where that kind of equipment is illegal. On the other hand, any storage device can house this software. So it could be on a laptop, it could be on a USB drive, it could be on a CD-ROM, it could be online that you download, it could be in an application store for an iPhone. It could be in a lot of different places, and the goal is really that -- unless a country is willing to say no laptops are allowed in, no cell phones are allowed in, no SD cards on cameras are allowed in, no storage device whatsoever is allowed in, then there are multiple different vectors that allow you to actually bring this in.
And it's built that way for a reason -- we want to enable people to bring whatever innocuous device is available into a country. We want to, as much as possible, lessen the probability of an individual running into trouble when they bring this technology across a border.
RFE/RL: Can individuals be tracked down for using the software and setting up their own communications network?

Meinrath:
The answer is there are always ways in which people can find an individual. And this isn't a silver bullet that prevents somebody from being tracked down, but it is far more difficult to track somebody down who is using these technologies than just about anything else that's out there. And the reason why is because traditionally today almost all circumvention technology is really working at the application level.
So you assume you have a centrally controlled or surveilled network -- How do you create a secure mechanism, an anonymous mechanism to use that surveilled or controlled network? And what we're talking about is what happens if you build an alternative network, and that opens up all sort of possibilities. So one of the reasons why we've been working with folks, say, at Tor [a system allowing its users to communicate anonymously online] is we want to be able to have, if you had, say, a dozen wireless devices all connected into a local network, we want to increase the plausible deniability.
So, if you aggregate traffic and if you have a lot of different areas where you're aggregating a lot of nodes, a lot of traffic, encrypting that traffic, and then it enters into, say, a centrally controlled or monitored network, it becomes nearly impossible to figure out which of those one devices, much less which user on that device, was actually sending that traffic.
Again, it doesn't guarantee -- anyone that tells you this guarantees anonymity is lying to begin with -- but it makes it far more complicated to actually disaggregate. This is the kind of technology that is being used right now for battlefield warfare. It's just now it's open source for civilian use. So we already know that people's lives are at stake there. We're just saying, hey, how about we make this for the civilian populace as well?
RFE/RL: When do you think you will start distributing the technology to those who need it?

Meinrath:
Well, you can go today to the project website and download the software. It's online, it's freely available, and people have been doing that. There's probably been several thousand downloads of the software. What that software is useful for, however, is -- I wouldn't say limited -- but it really still needs a high level of tech expertise to use.
In terms of when will this be useful to the Grandma Bettys of the world, I would say give us another six to eight months and we should have the first iteration of that. But I would not recommend staking your life on that, but that's what we're going to be deploying in Washington, D.C., in Philadelphia, in Detroit, in Urbana -- we're going to spend a lot of time proofing that out, banging on it, asking hacker friends to wail in on it and see if they can find any security holes. By about 12 to 18 months is the goal for having this thing ready for widespread use.