UN Condemns Attack On Iran Opposition Group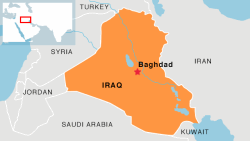 The UN has condemned a rocket attack on a camp housing an exiled Iranian opposition group in Iraq.

Nickolay Mladenov, the UN envoy to Iraq, on December 27 called on the Iraqi government to protect the camp and investigate the incident, which killed three people and injured around 50 near the Baghdad airport.

The National Council of Resistance claimed that the December 27 attack amounted to "dozens of missiles," while the head of Iraq's civil-aviation administration said three rockets landed in the camp and service at the airport was not interrupted.

In Washington, a State Department spokesperson condemned the attack and called on the Iraqi government to ensure security for the residents of Camp Hurriya.

There are some 3,000 people living at the camp.

The National Council of Resistance was founded in the 1960s to oppose Iran's shah and, later, its theocratic government.

The current Iraqi government has good relations with Iran and wants the group to leave Iraq.


Based on reporting by AFP and Interfax