Iran Talks: The Things Bored Journalists Tweet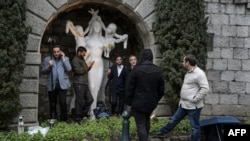 As they await the results of closed-door nuclear negotiations between Iran and world powers in the Swiss city of Lausanne, journalists are tweeting the time away.​
Kerry To Go
Featuring chicken, bacon, onions, and rocket salad, the "John Kerry mini-pizza" went on sale on March 30 at a Lausanne restaurant. The price? 18 Swiss francs -- just over $18.
View From Afar
​Bird Watching
Big Brother
Deal On The Horizon
Inside The Machine
Foul Territory
Take A Hike
-- Frud Bezhan
About This Blog
Written by RFE/RL editors and correspondents, Transmission serves up news, comment, and the odd silly dictator story. While our primary concern is with foreign policy, Transmission is also a place for the ideas -- some serious, some irreverent -- that bubble up from our bureaus. The name recognizes RFE/RL's role as a surrogate broadcaster to places without free media. You can write us at transmission+rferl.org