One of Manuchehr Mottaki's last acts before being suddenly axed as Iran's foreign minister was to express solidarity with British students who he said had been "brutally suppressed" by police while protesting against tuition fee hikes.
It was a position entirely consistent with that of the government he served -- ever keen to highlight perceived Western double-standards and hypocrisy on issues like human rights.

So too was his fronting, in December 2006, of a notorious conference in Tehran held ostensibly to "scientifically" examine the truth of the Jewish Holocaust. The event, attended by a retinue of known Holocaust-deniers, was organized after President Mahmud Ahmadinejad had described the Holocaust as a "myth" and questioned whether the massacre of 6 million Jews by the Nazis during World War II really happened.
Thus, when Ahmadinejad suddenly fired Mottaki without explanation on December 13, suggestions that he had been motivated by a desire to get rid of a man of more moderate views appeared not to bear scrutiny.
Too Independent?
Rather than policy, the differences between the two revolved around the personal, rather "than anything structural or ideological," says Ali Ansari, professor of Iranian studies at St. Andrews University in Scotland.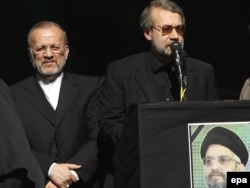 Mottaki was seen as close to Majlis speaker Ali Larijani (right), an Ahmadinejad rival.
"My sense is that it is about who is in charge of running Iranian foreign policy but it is also probably to do with the fact that they eventually couldn't get on," Ansari says, noting that a "number of people" who have joined Ahmadinejad's government have later fallen out with him "and these disputes have little to do with a hard-line view or a difference in a hard-line view.
Rather, Ansari says the issue is that Iran's president "likes to keep things very centralized within his own person and doesn't like other people to take responsibility for anything. And Mottaki, in some ways, sought to operate, not as an independent minister, but as someone with a certain degree of responsibility and so there should have been a certain formality."
That view appeared to be borne out by the Foreign Ministry's official spokesman, Ramin Mehmanparast, on December 14 when he told journalists that Mottaki's interim replacement, Ali Akbar Salehi, head of Iran's Atomic Energy Agency, was unlikely to herald wholesale policy change, especially regarding the country's disputed nuclear program:
"Customarily the policies of the establishment are decided at higher levels and different management carry these policies out," Mehmanparast added.
Foreign and defense policy -- particularly relating to Iran's sensitive uranium-enrichment work -- is widely seen as the province of Iran's supreme leader, Ayatollah Ali Khamenei, with the Foreign Ministry playing a secondary role.
Vulnerable For Many Reasons
Yet if Mottaki, 57, a career diplomat and former ambassador to Turkey, was a relatively minor player within the Iranian political machinery, his relatively high profile seemed to make him a target of the president's ire. Rumors of his imminent demise within Ahmadinejad's government have a history predating his eventual dismissal.
Despite his Foreign Ministry background and a fluency in English and Urdu, he was widely believed to be vulnerable after the president forced out Ali Larijani as chief nuclear negotiator and secretary of the Supreme National Security Council in November 2007 and installed a close ally, Said Jalili. Mottaki was seen as a confidant of Larijani, whose failed 2005 presidential election campaign he had managed.
He was also perceived to be aligned to a pragmatic conservative faction in the Iranian parliament, the Majlis -- of which Larijani is now speaker -- which has repeatedly tried to clip the wings of a president it believes to be too abrasive and unaccountable.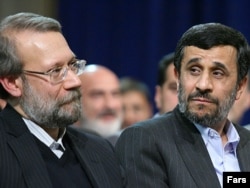 Is Ahmadinejad (right) looking to put Larijani and parliament in their place?
Ansari believes Mottaki's dismissal may also have been driven by Ahmadinejad's desire to put parliament in its place. He says it will "interesting is to see how the Majlis reacts to all this," especially as Mottaki's replacement will need to be approved by parliament.
"This is the great loser in all this. The Majlis has had no influence on this at all and my sense is that this is actually Ahmadinejad's response really to the Majlis's view that it had some responsibility within the political process," Ansari adds. "But it's been done in a way to cause maximum offense to a number of people that Ahmadinejad obviously doesn't like or wants to make a point to."
The president seems to have succeeded spectacularly in that objective. Parliament members and even pro-government newspapers have denounced Mottaki's dismissal, focusing particularly on the indignity of carrying it out while the foreign minister was abroad on an official trip to Senegal.
Heshamtollah Falahatpisheh, a member of the powerful parliament committee for national security and foreign policy, called the manner of the firing "against custom" and said lawmakers were "waiting for explanations by the president."
Even Hossein Shariatmadari, editor in chief of the staunchly conservative "Kayhan" newspaper and a man personally appointed by Khamenei, condemned Mottaki's firing as an "open insult."
That raised the possibility that the foreign minister may have been removed without the supreme leader's agreement, something prominent analysts dismiss as unlikely.
"I think that it would've probably had to have been done with at least Khamenei's tacit acknowledgment," Ansari says. The way it was done, though, suggests "that they decided to move quickly before Khamenei had a change of heart. It may well be that if Khamenei did have a change of heart he could try and reverse the decision. But the way it's been done has been so quick and so abrupt and so ruthless in some ways that it's almost a fait accompli before anyone can do anything about it."
For Better, Or For Worse
As caretaker foreign minister, Salehi, educated at the Massachusetts Institute of Technology and the front man for a nuclear program the West suspects is aimed at bomb-making but which Tehran insists is peaceful, might be regarded as a safe pair of hands. He is thought to have Khamenei's backing and to be capable of winning the respect of Iranian diplomats, many of whom were contemptuous of Mottaki.
Yet some believe Ahmadinejad might be tempted to give the job on a permanent basis to a closer ally, such as Mojteba Samereh-Hashemi, seen as one of the religious ideologues of his administration.
Such a move could ease attempts by the Obama administration to isolate Iran by allowing it to cast Tehran's foreign policy in a more extreme light, believes Meir Javedanfar, an Iranian-born commentator for the Middle East Economic and Political Analysis Company in Israel.
"This could be good news for the West. If somebody unqualified is appointed, it's going to help President Obama's plans and intentions to isolate the Islamic republic," Javedanfar says. "There were better diplomats than Mottaki but there were also some who were much worse -- and the people who are aligned with Ahmadinejad are much worse."