Prominent Iranian human rights lawyer Nasrin Sotoudeh has been sentenced to 11 years in jail in a case considered as part of a broader crackdown on human rights lawyers and activists in Iran.
Sotoudeh's husband said she was also banned for 20 years from working as a lawyer and from leaving the country.
Sotoudeh is a former associate of Iran's Nobel Peace Prize laureate Shirin Ebadi and represented a number of opposition figures and activists detained in the unrest following the disputed 2009 presidential election.
Calling the sentence a "gross miscarriage of justice," the New York-based International Campaign for Human Rights in Iran (ICHRI) said she was found guilty of "acting against national security," "not wearing the hijab during a videotaped message," and "propaganda against the regime."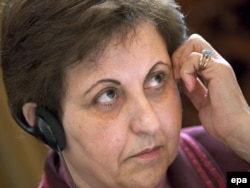 Shirin Ebadi
The United States condemned the sentence. State Department spokesman Philip Crowley called for Sotoudeh's immediate release.
In an interview with RFE/RL's Radio Farda, Ebadi warned that the Iranian judiciary was "increasingly losing its independence."
"I was extremely disappointed when I heard about the unfair verdict about my respected colleague Nasrin Sotoudeh," Ebadi said. "I am more disappointed with the fact that our justice system is increasingly losing its independence, day by day, and plays into the hands of security service interrogators.
"While in detention, Mrs. Sotoudeh was told that if she didn't cooperate with them, if she didn't make a false confession, she would be kept in prison at least for more than 10 years. Unfortunately, we see this threat has been carried out."
Sotoudeh, a 45-year-old mother of two, was detained on September 4 and reportedly held in solitary confinement in Tehran's Evin prison.
Her health condition was reportedly weakened by several hunger strikes.
"Apart from court sessions, I have not been able to meet her in person," her husband, Reza Khandan, told Radio Farda. "Two months after her arrest, our children met her once in person, and then 12 days ago they had another meeting in person, which lasted only five minutes.
"Our children are very distressed, and in fact not only the children but my wife, too, is distraught because she is unable to see our children. She is not in a good state. She is anxious at being away from family, especially our children."
The couple has a 3-year-old son and an 11-year-old daughter.
'A Voice That It Fears'
Khandan told the French news agency AFP that the accusations against his wife were leveled mainly over interviews with foreign-based media about her clients jailed after Iran's June 2009 election.
Ebadi said the verdict was part of the Iranian regime's effort to crush the voice of human rights defenders.
"Most importantly, giving such an unfair and harsh verdict against a human rights defender shows to what extent the Islamic republic is afraid of human rights defenders," Ebadi said. "And with this verdict, it wants to frighten others so that they don't get involved in human rights activities: 'Whatever violations we commit, don't report them, don't give interviews [about them].'"
There has been a chorus of international calls on Iran to free Sotoudeh.
In a joint appeal last month for Tehran to release Sotoudeh, Nobel laureate Ebadi, Jean-Francois Juilliard, the head of the media freedom group Reporters Without Borders, and Francois Cantier, head of the Lawyers Without Borders group, said: "The Iranian regime is trying to crush a voice that it fears."
UN High Commissioner for Human Rights Navy Pillay has expressed concern that Sotoudeh's case is "part of a much broader crackdown, and that the situation of human rights defenders in Iran is growing more and more difficult."
The ICHRI said Shiva Nazarahari, cofounder of the Committee of Human Rights Reporters, was sentenced earlier this month to four years in prison and 74 lashes. And last October, lawyer Mohammad Seifzadeh was sentenced to nine years in prison and a 10-year ban from practicing law.
written by Antoine Blua, with contributions from RFE/RL's Radio Farda and Farangis Najibullah