A simply drawn map making the rounds on social media depicts Iran divided into two provinces: one for males and the other for females.
The line of demarcation may be crude, but it also charts a very real divide that has existed on the issue of gender-based segregation since the Islamic republic was founded 32 years ago.
The line has become sharper in recent weeks, with the announcement that come September, when the new academic year kicks off, a number of universities would be introducing gender-based segregation.
The push for segregation comes from the country's religious conservatives at a time when Supreme Leader Ayatollah Ali Khamenei is involved in a public power struggle with President Mahumd Ahmadinejad.
In a departure from his track record on segregation, the president has firmly stated his opposition to the latest plan. In a recent letter, Ahmadinejad publicly characterized the initiative as "superficial and unscientific" and said it should be halted. On July 7, Science Minister Kamran Daneshjoo heeded the order, announcing that the plan had, indeed, been scrapped.
Former reformist lawmaker Fatemeh Haghighatjou says the president, who is far from being a champion of women's rights, is trying to capitalize on the general public's opposition to segregation at a time when he is facing increased isolation on Iran's political scene.
"He believes his move will disrupt political calculations in his favor," Haghighatjou says. "He knows people are unhappy over this situation. He's under attack; therefore, he needs to find a new popular base."
Criticized By Conservatives
Ahmadinejad's opposition to this and other issues with religious sensitivities has been criticized by conservatives and senior clerics, who have accused him of harming Islam.
Hard-line cleric Ahmad Khatami said university heads who segregate classes should be given a medal and not reprimanded.
Another cleric, Ayatollah Reza Ostadi, who leads Qom's Friday Prayers, has said it is bad for the Iranian president to oppose the plan.
"It was decided, after studies and planning, to separate girls from boys at universities to reduce immorality," he said. "But the president has written in an official letter: 'Don't do it, it is not fair.'"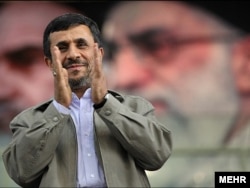 President Mahmud Ahmadinejad: "He's under attack; therefore, he needs to find a new popular base," says former reformist lawmaker Fatemeh Haghighatjou.
Conservatives have been pushing public segregation since the 1979 revolution and the creation of an Islamic republic in Iran, and there are many examples in which it is in place. Most schools are segregated. Tehran's metro trains have separate compartments for women. And in universities, women and men sit in different rows.
Yet religious hard-liners who believe gender segregation will reduce what they describe as immorality in society have been pushing for more sex-based demarcation in public places, including at universities, where they say co-education leads to corruption.
In 2009, Hojatoleslam Nabiollah Fazlali, the representative of the supreme leader at Khajeh Nasir Toosi University of Technology, said placing male and female students in the same class is like "putting meat in front of a cat."
Questionable Stance
Observers say that contrary to his current position, segregation efforts gained momentum after Ahmadinejad came to power. As mayor of Tehran, he is said to have imposed a system of segregated elevators.
You Might Also Like

Long Seen As Economic Basket Case, Iran Wins IMF Praise

Iran, FIFA Clash Over Hijab
Saeed Paivandi, a Paris-based sociologist and expert on Iran's education system, says Ahmadinejad's recent stance is therefore questionable.
"These policies have been seriously pursued in recent years," Paivandi says. "They've been promoted in state media. Ahmadinejad's government has discussed them and approved them. It's been discussed at the High Council for Cultural Revolution headed by Ahmadinejad. And it's only today that he opposes them and only after concerns of the public opinion and protests [over the plans]."
The opposition website Kalame reports that despite Ahmadinejad's order, "Taliban-style" gender-based segregation has continued at Alameh Tabtabai University, where according to the website plans are being made for women to attend classes during odd days and men during even days.
Kalame claims some professors at the university are being blacklisted despite Ahmadinejad's public opposition against the "inappropriate retiring" of university professors.
A number of liberal and reform-minded professors are said to have been forced to go into early retirement in recent years as part of an effort by authorities to Islamize universities.
Control The Universities
Tehran-based women's rights activist Fatemeh Govarayi believes the renewed efforts to separate men and women at universities are a continuation of this effort.
"One reason is that they want to bring the Green opposition movement under control because of its ties to the student movement," Govarayi says. "Another reason is that they want to control the universities, which have always been a center of dissent. Another reason is in order to control the women's movement, which is also tightly linked to the student movement."
More than half of the 3.5 million students in Iran are women. One of them, a student in the Iranian capital who did not want to be named, expresses her frustration over the plans to segregate universities.
"They see boys and girls sitting together at classes as a threat," she says, "but they ignore the real threats to society -- the low educational quality of universities and all the young people who just want to leave the country."
When, she asks, will authorities focus on what really matters?
Radio Farda Broadcaster Mina Baharmast contributed to this report