Zahra Rahnavard and Fatemeh Karrubi, the wives of opposition leaders Mir Hossein Musavi and Mehdi Karrubi, respectively, are only the latest examples of women who have been targeted by the Iranian regime.
Neither woman has been seen for nearly three weeks. The opposition has claimed they were placed under house arrest as talk of renewed antigovernment protests was rekindled last month and were then transferred to a jail in the Iranian capital. Government officials say only that they are at their respective homes, but their children have not been allowed to visit.
Suddenly on March 8, Musavi's website, "Kaleme," reversed its claim that Musavi and his wife had been transferred to jail and said they have been under house arrest -- a sanction it nevertheless described as "unethical and illegal." There was no way to independently confirm the report. Meanwhile, a site close to Karrubi stuck to its claim that Karrubi and his wife had been taken to an "unknown location."

Rahnavard, a former university chancellor and sculptress, was a ubiquitous presence during her husband's 2009 presidential campaign, appearing hand-in-hand with him at rallies. That was a taboo-breaker; until then, the wives of politicians were invisible in the Islamic republic.

Colorful Scarves
Rahnavard, usually adorned with colorful scarves, was anything but invisible. She went to rallies, gave her own speeches, and met with supporters.
She remained active after the mass protests over the 2009 disputed reelection of Mahmud Ahmadinejad that were put down by force. She became a staunch critic of postelection abuses and a supporter of the families of victims of the state crackdown.
In some cases, she was even more outspoken than her husband. In
this YouTube video
, she is seen saying that "this regime has been very repressive; we're currently seeing one of the most brutal faces of the regime."
Fatemeh Karrubi, a former lawmaker and deputy minister for social affairs, was less visible than Rahnavard. Yet she also campaigned along with her husband, refusing to be silent in the face of the human rights abuses and attacks against her family.
She directly challenged Supreme Leader Ali Khamenei in open letters and accused Khamenei of ultimate responsibility for attacks perpetrated against families of political prisoners.
Obedient Mates
Both women angered the Iranian establishment, which for years tried to mold the image of the ideal woman as an obedient mate who sits at home and remains in the shadow of her husband.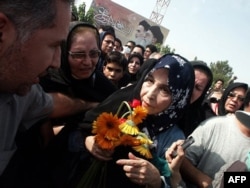 Zahra Rahnavard arriving at Behesht-e Zahra cemetery to commemorate victims of the postelection crackdown in July 2009.
Nayereh Tohidi, chair of the Department of Gender and Women Studies at California State University, says the Iranian government is afraid of the two prominent women because of their potential to mobilize people.
"If they were passive women who were not engaged in politics, the government wouldn't have arrested them," she says.
Asieh Amini, one of Iran's most prominent women's rights activists, says imprisoning Rahnavard and Fatemeh Karrubi, along with their husbands, would represent double injustice. "Two individuals ran for president, but now four people are paying the price," she says.
The Iranian establishment has never had much tolerance for women who stand up for their rights and raise their voices.
Women Treated Brutally
Women who took part in street protests that followed the contentious 2009 presidential election were treated brutally by security forces and later by interrogators.
A female journalist who was jailed in the postelection crackdown noted that the number of men who ended up in jail may have been much higher, but that women often faced harsher conditions.
A female member of the Green Movement in Tehran, who declined to provide her name, says she is upset that the plight of Rahnavard and Fatemeh Karrubi are not getting more attention. "Have they forgotten that when Musavi couldn't leave the house, it was Rahnavard who continued visiting the families of political prisoners?" she asks, pinning the blame on Iran's patriarchal society.
A student activist in the Iranian capital, however, says he believes Rahnavard and Fatemeh Karrubi are not being discriminated against because of their gender.
"Rahnavard and Karrubi have played a complementary role to their husbands. Others, including [student activists] Bahareh Hedayat and Mahdyeh Golroo, [human rights activist] Shiva Nazarahari, and [lawyer] Nasrin Sotoudeh...paid a heavy price and they have received good media coverage."
Dozens of women were jailed amid the mass protests that followed the 2009 election. Some received heavy prison sentences, including student leader Bahareh Hedayat, who was sentenced to 9 1/2 years in jail.
Yet even prison did not silence her and many other women, who issued open letters and went on hunger strikes to protest against their conditions.
Their voices and the voices of other prisoners were amplified by rights activists and groups such as The Mothers of Park Laleh (previously known as the Mourning Mothers of Iran), who every Saturday gathered at parks and marched peacefully.
The government had no tolerance for them, either. The group was targeted; some of its members were detained, and others were harassed and threatened.
Amini says despite heavy repression, women have remained the voice of the Green Movement.
One woman who has been playing a particularly significant role is
Parvin Fahimi, the mother of 19-year-old Sohrab Arabi
, who was killed in the 2009 protests.
Fahimi has spoken out against violence and said on a number of occasions that if the authorities release all political prisoners, she will forgive those responsible for her son's death.
Voices Of Tolerance
Professor Tohidi says women have generally promoted tolerance and spoken up against taking revenge for the brutality they've faced.
"The [goal of woman] is for people to reach a better life, democracy, a society where the rule of law, peace, and security prevails," she said. "If violence and revenge continues, then the cycle will never stop."
Iranian Nobel Peace Prize winner Shirin Ebadi, another woman who has become a thorn in the side of the establishment, had called on Iranians to rally on March 8 -- International Women's Day -- to demand gender equality.
Opposition websites also called on opposition members to take to the streets to join women demanding equal rights and to protest against the detention of the two "Green ladies."
One women's rights activist, speaking on condition of anonymity, said that while in most countries around the world women were being celebrated on that day, in Iran, women who take to the streets are met with force.
"For us, it usually means being beaten by batons and being detained. We're being constantly punished for being a woman and for pushing for equal rights," she said.