Is it a bird? Is it a plane? No, it's Baghdad native and extreme sports daredevil Fareed Lafta flying from the sky.
The skydiver says he wants his accomplishments to serve as message of personal empowerment for young Iraqis, a way to show them "that if they improve themselves, develop themselves, have good education, open them eyes and minds and horizon and hearts for life, they can get better opportunities," he says.
"I don't want everyone to sky dive," the 30-year-old explains. "I don't want them to copy me. I want, from them, to be creative people -- to be doctors, to be officers, to be whatever."
In Lafta's native Iraq, 65 percent of the population is under 25 years old. Newly released
preliminary findings
from a large survey on their social and political opinions reflect a generation empowered by the Internet, eagerly joining websites like Facebook and perhaps even watching Lafta's skydiving videos on YouTube.
Iraq's Youth Without Hope
The findings also suggest less of a sectarian divide among various religious and political groups.
Eric Davis, a political scientist at New Jersey's Rutgers University, is part of a team surveying the attitudes of hundreds of young Iraqis throughout the country.
He says there's a critical need for homegrown role models in Iraq because the country's increasingly Internet-addicted younger generation is "very Westernized," as they have greater access to the Internet and various social media.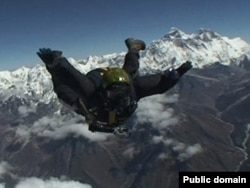 It's a bird, it's a plane...!
"So I think that has a good side to it, in the sense that it promotes a more tolerant, multicultural kind of perspective," Davis says," but I think it also has a bad side to it because it tends to lead them to think that there's not very much that they can derive that's of value from their own culture."
It's not as if Iraq lacks a history of remarkable characters, from the founders of the
Free Verse Movement
of the 1950s that revolutionized Arabic poetry, to the intelligentsia of the
Solidarity Club
, a prominent anticolonialist Baghdad salon in the mid-1920s that also had significant political clout.
Filling Education Vacuum
But Davis says many young Iraqis have no idea any of this existed in their country, while he argues that somebody who lived in the 1950s could "still be a role model for Iraqi youth today."
"The problem is," he explains, "that the school textbooks, in an effort not to antagonize anyone, have become so bland, and have eliminated so many details, that there's no opportunity for many of these young people to know about their history."
Under Saddam Hussein's Iraq, textbooks
were rewritten
in an effort to indoctrinate students with Hussein's ideology. For instance, there are reports that students were taught multiplication by being asked for the death count when four planes are shot down, with three U.S. pilots in each plane. An entry in one fifth-grade Iraqi history textbook on the 1991 Gulf War described the conflict as "the Mother of all Battles launched by American and Zionist aggression and 30 nations."
The educational vacuum in the country has left an opening, Lafta says, for extremists.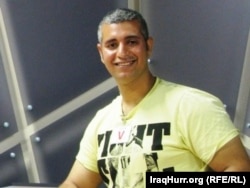 Fareed Lafta hopes to inspire not only Iraqi youth, but young people all over the world.
"In Iraq, we have classic role models," he says, explaining that he is trying to break out of that. Because terrorists are inspiring young men in Iraq today, he says "you need something fresh, you need something new, something [that] can excite young men, and when they see it they will say, 'Wow, this so nice, this so beautiful.'"
Since the 2003 U.S.-led invasion of Iraq, illiteracy has skyrocketed thanks the mass destruction of schools, the increase of child labor among Iraq's many poor, and a growing resistance to schooling girls due to the rise of religiously fueled arranged marriages.
The few educational facilities left in the country are often staffed by underpaid teachers working with a poor curriculum. As recently as April 2010, one in five Iraqis over 15 years old was
found to be illiterate
.
Lafta believes this is all the more reason to reach out to young people, particularly the uneducated. Whatever their background, he communicates to them in a language they understand: by doing cool stuff.
WATCH: Fareed Lafta's "skydive for peace" from his perspective:
'Fly Me To The Moon'
Known as Iraq's superman, Lafta says his next goal is a trip to the moon -- a mission he says is as much about inspiration as it is about exploration.
He says he would be "honored" to place an Iraqi flag on the moon because "I'm proud to be Iraqi," but "my message is to inspire all young people all over the world, and to give them hope, and to give them an opportunity to develop themselves."
Lafta recently finished his astronaut training at the Russian Federal Space Agency (Roskosmos) and is in the midst of lobbying the Iraqi government for financial support to join a manned moon mission as a researcher. In November 2009, the Arab Union for Astronomic and Space Sciences selected him to represent Iraq in space, but he has yet to secure funding for the voyage.
Born in 1978 in an upscale Baghdad neighborhood, Lafta displayed a keen sense of adventure at an early age. He recalls, at the age of 5, jumping "from my cupboard in my room" to land on a carefully stacked pile of pillows far below.
Twenty-odd years later, he was skydiving over Baghdad in what he called a "jump of peace." Two months ago he skydived over Kabul's Ghazi stadium -- known as a recruiting area for the Taliban -- an event he called a "symbol for terrorists."
For Lafta, these events are personal challenges as much as they are publicity stunts to attract the attention of his Arab peers. But it's a tough audience. Nearly half a dozen young people contacted by RFE/RL's Radio Free Iraq said they had no one to look up to outside of family members, and couldn't list anyone who inspired them.
RFE/RL Radio Free Iraq's Rowyada Shawky and Sergei Danilochkin contributed to this report