BAGHDAD -- Iraqi politicians say they regret the Persian Gulf states' request that the Arab League cancel its May summit in Iraq, RFE/RL's Radio Free Iraq (RFI) reports.
Ali Shlah, a member of Prime Minister Nuri al-Maliki's State of Law parliamentary bloc, told RFI on April 14 that scrapping the Arab League summit at a time when Iraq is regaining its position as a major country in the region will harm the other Arab countries more than Iraq.
Shlah said Iraqi Foreign Minister Hoshyar Zebari and Arab League Secretary-General Amr Moussa will hopefully succeed in mending the rift that occurred over events in Bahrain.
Iraq's Shi'ite-led government has supported the uprising by Bahrain's Shi'ite majority against the Sunni monarch.
Hamid al-Mutlaq, a member of former Prime Minister Ayad Allawi's Al-Iraqiyah parliamentary bloc, told RFI that hasty reactions by Arab states will serve no purpose and the "bigger picture of the Arab world" should be taken into consideration before introducing more divisive elements, such as canceling the Arab League summit.
Al-Mutlaq said a position declared by one government official does not warrant a rash response such as that by the Persian Gulf states which, he said, is not conducive to good neighborly relations and Arab solidarity.
Mahmud Othman, a member of the Kurdish parliamentary bloc, told RFI that some Persian Gulf states have from the outset been unfriendly towards Iraq and have used the Bahrain issue as a pretext to keep the Arab League from holding the summit in Baghdad.
Othman said this should be a wake-up call that "in the future, regional considerations should be taken into account [by governments] when formulating a stance towards a controversial issue [such as Bahrain]."
David Ranz, spokesman for the U.S. Embassy in Iraq, told RFI that "we have always supported the decision by the Arab League to host its next summit in Baghdad [in May]. Ultimately this is a decision the Arab League will have to make but we do believe that Iraq is playing an increasingly important role in the region."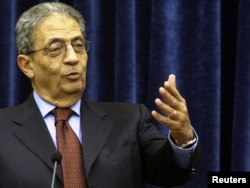 Arab League Secretary-General Amr Moussa
Ranz added that Iraq is now resuming its legitimate function as one of the leaders in the region and is adopting a "constructive" approach to events.
"When the Arab League took the very positive decision to support a humanitarian intervention in Libya, one of the countries that was at the forefront of that effort was Iraq," he said.
Following a meeting with Zebari in Cairo, Arab League chief Moussa told reporters that neither he himself nor a lone member state has the authority to cancel the summit.
Moussa said that an Arab League ministerial meeting will be convened in the coming days at Iraq's request to discuss the issue.