Signs are mounting that some U.S. forces could remain in Iraq after President Barack Obama's declared December 31 full withdrawal date.
The latest sign comes from Leon Panetta, Obama's choice to be the next U.S. secretary of defense.
During a Senate confirmation hearing on his nomination on June 9, he said, "I think it's clear to me that Iraq is considering the possibility of making a request for some kind of presence to remain there."
He told the Senate Armed Services Committee that there are about 1,000 Al-Qaeda insurgents in Iraq and that the situation is fragile.
"I believe that we should take whatever steps are necessary to make sure that we protect whatever progress we've made there," he said.
The suggestion that Washington would be ready to leave some forces in Iraq -- should Iraq Prime Minister Nuri al-Maliki request it -- may seem to contradict Obama's commitment to repatriate all troops by year's end.
But it confirms the oft-stated assessment by the current defense secretary, Robert Gates, that the situation in Iraq still remains too volatile for a complete pullout. He has said repeatedly that he hopes Iraq asks for a continued U.S. presence beyond December 31.
'New Discourse'
Iraqi analyst Hashem Hassan at Baghdad University says the Iraqi government, too, appears to increasingly feel some troops should stay.
"Rather than complete withdrawal, the prime minister has recently hinted that a decision on this issue is to be taken by consensus of the political factions," Hassan says. "This is a new discourse that is different from the previous position for total withdrawal of U.S. forces by the end of this year under SOFA [Status of Forces Agreement]. This is a first indicator.
"The second is that defense officials, including the chief of staff, have expressed an identical view to the U.S. vision that the Iraqi armed forces will not be battle-ready in terms of training and equipment before 2020."
Hassan told RFE/RL's Radio Free Iraq that the government considers the Iraqi security agencies "still fragile and not yet absolutely loyal to the Iraqi flag and constitution due to meddling and interference" by political parties. That includes political squabbling that has blocked the appointment of security ministers.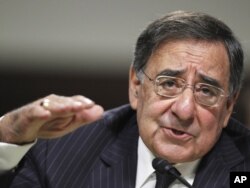 U.S. Defense Secretary nominee Leon Panetta: "Whatever steps are necessary"
One reason for such heightened security concerns is the fact that Al-Qaeda and other militant groups have been stepping up attacks on government forces and institutions as the U.S. withdrawal date nears.
On June 6, at least 13 people were killed and 15 wounded when a suicide bomber detonated a car in Iraq's central city of Tikrit. The blast took place as Iraqi military officers were supervising the handover of checkpoint security from the army to the police.
Just days earlier, on June 3, at least 21 people were killed and 70 wounded in a pair of bombings in the same city.
Both attacks appeared to be carried out by suspected Sunni Islamists, including Al-Qaeda, who still carry out frequent attacks in Salahuddin Province as they try to destabilize the government and stir up sectarian tensions.
Bolsters Credibility
Currently, most of the 47,000 U.S. troops now in Iraq are quartered on bases near still-active hotspots -- in central Iraq, near Baghdad, or near Mosul. None of the U.S. units has a declared combat role, but they remain fully armed and their presence bolsters the credibility and capabilities of Iraq's own forces.
Lebanese academic and analyst Imad Rizk tells Radio Free Iraq that keeping Iraq stable is particularly critical now, both for Iraq and for the wider region.
"Considering the Arab spring and militant Salafists regrouping, I think that some U.S. military presence to support the Iraqi forces will be a strong boost in the next stage of helping the Iraqi government bring about stability," Rizk says. "The Arab region as a whole and Iraq in particular needs stability to promote economic growth and achieve political reconciliation."
Beyond the continuing insurgent activity in Iraq, there is other strong pressure for keeping some U.S. forces in the country -- that is, tensions between Arabs and Kurds.
The flashpoints are territories in northern Iraq claimed by both sides, including the multiethnic oil-rich region around the city of Kirkuk. Under the Iraqi Constitution, the fate of the city is supposed to be decided by referendum but the vote has been repeatedly put off amid political quarreling and fears of violence.
To ease tensions, Iraqi Army troops, Kurdish soldiers known as peshmerga, and U.S. troops jointly staff checkpoints along the so-called green line in northern Iraq. The line divides the Kurdish autonomous region from Iraq proper.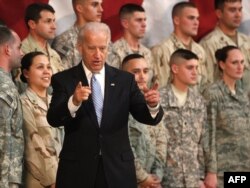 U.S. Vice President Joe Biden meets U.S. soldiers at Camp Victory in Baghdad in January.
The presence of the U.S. soldiers is intended to build confidence between the peshmerga and the Iraq Army toward the day when those two partners can work together without friction.
With so many issues still clouding Iraq's security situation, the looming question now appears only to be how many U.S. troops will be needed to keep the future peace.
The number, which likely would be proposed initially by Maliki, would have to be balanced in Washington against several factors.
One is the White House's own assessment of Iraq' security situation. Another is the White House's desire to fulfill as much as possible its pledge to bring all U.S. soldiers other than advisers home. And the third is the U.S. public's fatigue with Iraq.
U.S. forces have been in Iraq for eight years, since the American-led invasion to remove Saddam Hussein from power. The United States has lost more than 4,400 soldiers in Iraq, with more than 32,000 wounded, in an engagement that has cost hundreds of billions of dollars.
Radio Free Iraq correspondent Simira Ali Mandi contributed to this report; written by Charles Recknagel