The son of famed Iranian filmmaker Jafar Panahi, who was sentenced to six years in prison and banned from making movies or traveling abroad for 20 years, says at the time of his father's 2009 arrest he had no thoughts of making a film about opposition activity.
But inspiration was not far behind, and his son says he was already working on the film at the time of his second arrest, in March. Charged with attempts to make an "antiregime" documentary about the opposition Green Movement that arose after Iran's disputed 2009 presidential election, Panahi was convicted December 20 for "propaganda against the system."
Panahi denies all charges and plans to appeal.
The harsh sentencing was seen as a blow to the international cinematic community and a warning to Iranian artists to stay away from politics. Panahi was a vocal supporter of the opposition.
In an interview via Facebook and translated from Farsi, Panahi's son Panah, who is living in Tehran, says that at the time of his arrest his father "wasn't thinking about making any movie about what happened after the election."
His comments come a day after a group of European film organizations, including the Cannes Film Festival, launched a petition in the filmmaker's defense, rallying support from directors and actors around the world.
Panahi is an internationally acclaimed director, having won the Camera d'Or at Cannes for his 1995 film "The White Balloon" and the Golden Lion at the Venice Film Festival for his 2000 film "The Circle."
He was invited to sit on the jury at Cannes this year but was prevented from leaving the country at the last minute, in an incident that strained French-Iranian relations. French Culture Minister Frederic Mitterrand on December 21 criticized Iran over Panahi's sentence, calling it an "unacceptable attack" on freedom of expression.

Through His Son's Eyes
Panah calls his father his "best friend" and "one of the kindest people I know on this planet."
"All my friends agree with me," says the 26-year-old, a lanky young man with an abundance of thick dark hair often styled in a Fonzie-like sweep off his forehead.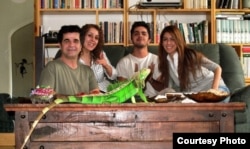 Iranian filmmaker Jafar Panahi (left) with his family: Tahereh Saeedi, his wife, (second from left), son Panah Panahi, and daughter Solmaz Panahi.
Jafar Panahi was born in 1960 in a poor area in south Tehran, one of eight children.
"My dad was living in a very crowded house during his childhood," Panah says, but he "fell in love with cinema" at an early age, working after school from the age of 12 in order to make money to see films.
"He was always really in touch with the limitations and poverty that surrounded him," says his son. "It was from that time that the kind of social perspective toward cinema took shape in his mind.
"He wants to use the art of cinema to show the pain of human beings in different periods of time," he says. "By showing the limitations, the poverty, sadness, difficult times in human history -- this is the way to achieve a humanistic cinema. And what is more poetic than a humanistic moment?"
All of Panahi's films are influenced by a cinematic movement called "neo-realism" that first emerged in post-World War II Italian film. It is characterized by a grittier cinematic style depicting ordinary human life, in contrast to the gaudy, packaged style then in vogue.
Throughout his career, Panahi often used nonactors in an attempt to show what he called, in an interview with the film journal "Senses of Cinema," the "truth of society."
Panah Panahi says the 1947 film "The Bicycle Thief" by Italian director Vittorio De Sica was crucial to his father's development. "It was this film," he says, "that taught him cinema."
WATCH the trailer for Jafar Panahi's "The Circle," which won the Golden Lion at the 2000 Venice Film Festival:
He often invoked a sequence in the film, his son explains, in which the main character follows the thief to his home and is moved when he witnesses the thief's life of poverty and the struggles he has with his family relationships. From that moment on, the thief becomes human in the main character's eyes.
"I think this sequence reflects Jafar's character and his cinema," says Panah Panahi.
"Doubtless, the effect of that Vittorio De Sica sequence makes Jafar look at his prosecutors the same way the main character was looking at the thief," he says. "He will forgive them and not carry anger in his heart. I wish these politicians would look at people like Jafar and learn some humanity from them."
As a teenager, Jafar Panahi enrolled in an educational institute established by famed Iranian filmmaker Abbas Kiarostami, one of the best-known Iranian directors in the West and a towering figure on the Tehran film scene. Kiorostami also taught film at the school, and it was there that he first met Jafar. Their friendship, Panah says, continues to this day.
At 20, Jafar Panahi's studies were interrupted by the Iran-Iraq War (1980-1988). He served in the military from 1980-1982, producing a war documentary for Iranian television during that time. After completing his deployment, he enrolled in the Tehran College of Cinema and Television, where he met his future wife, Tahereh Saeedi, who was working as a nurse.
The couple has two children, Panah and a daughter, Solmaz, who was briefly imprisoned after her father's arrest but later released. She is now studying theater in Tehran.
As he was completing his studies at university, Panahi worked as Kiarostami's assistant for the acclaimed 1994 film "Through The Olive Trees" and a year later, in 1995, the then-35-year-old Panahi produced his first feature film, "White Balloon." The film, based on an original script by Kiarostami, effectively launched Panahi's international film career.
He went on to produce five other films, the most recent of which was his 2006 film "Offside," which won the Silver Bear at the Berlin Film Festival.
Panahi's imprisonment and cinematic restrictions promise to impede his work, but Panah Panahi says his father, even in jail, still sees beauty in the world around him -- as only a filmmaker can.
He remembers visiting the country's notorious Evin prison, where his father is being held, and seeing him standing under a mulberry tree surrounded by guards but with his attention elsewhere -- he was looking upwards, plucking berry after berry off the tree.