DOLINKA, Kazakhstan -- Parents of inmates at a notorious jail in central Kazakhstan for convicts with tuberculosis held a protest at the prison today to demand their sons are not moved elsewhere, RFE/RL's Kazakh Service reports.
The protesters, who numbered around 20, say that even though conditions are harsh at the jail in Qaraghandy Oblast, they are worried their sons could be sent somewhere worse.
The protest comes a week after prisoners at the penitentiary were reportedly beaten by security forces and many of them slashed their wrists or cut open their stomachs to protest arbitrary brutal treatment there.
One of the protesters, Bibigul Ospanova, told RFE/RL that the inmates' parents are against their sons' transfer to other penitentiaries because nobody knows where they might be sent and what can happen to them.
"They are tuberculosis patients and at least get some kind of treatment here. Many of them are still recovering from self-inflicted injuries. We do not trust the penitentiary authorities. They may retaliate against our children's protest actions by sending them to even worse prisons," Ospanova said.
Another protester, Lyubov Rostovskaya, told RFE/RL that the picketers are ready "to lie down under the wheels of the vehicles in the event that our sons are transferred from the penitentiary to other labor camps."
Rostovskaya also said the parents have blades and bottles filled with gasoline to maim themselves or even set themselves on fire to protest the possible transfer.
Penitentiary officials announced earlier this week that those inmates whose treatment for tuberculosis has been successful will be transferred to other labor camps. But the inmates' parents say the authorities plan to get rid of the most recalcitrant inmates following the violent incident there a week ago.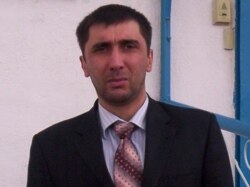 Vadim Kuramshin
Human rights activist Vadim Kuramshin told journalists in Almaty on September 26 that special security forces and Interior Ministry troops entered the labor camp on September 23 and started systematically beating inmates. He said the inmates were herded together naked in the center of the camp under pouring rain, even though many of them suffer from tuberculosis, and that they were beaten randomly on a daily basis.
Prison warden Darkhan Qanatbekov told RFE/RL on September 26 that the inmates were not beaten, but routine measures were undertaken to maintain order in the penitentiary.
A press release from the Penitentiary System Monitoring Department's branch in Qaraghandy said that "penitentiary guards, security forces, and Interior Ministry troops took part" in the operation to ensure order.
"A group of convicts refused to comply with the lawful demands of penitentiary administration representatives and, because of that, special measures with minimum damage to the inmates' health were undertaken," the statement said. "The objective of the operations was to confiscate banned items from the convicts. On September 26, a group of the most disobedient inmates maimed themselves in order to destabilize the internal order in the penitentiary."
Participants in today's protest unfolded a large placard saying "The Interior Ministry Celebrates Bloodshed!" Several men in civilian clothes filmed the protest, but no uniformed police were visible.
The protest action was not dispersed. No violence was reported. Penitentiary warden Qanatbekov came out to talk to the protesters and journalists. He denied all reports that some "disobedient inmates will be transferred to other labor camps" but added that those inmates whose medical treatment has been completed will be sent back to the labor camps from which they were sent to his penitentiary.
The Dolinka prison network in Qaraghandy was established in the 1930s and was a major component of the Stalin-era prison camp system.
In recent months, prisoners at Dolinka have repeatedly staged riots and protests and injured themselves to protest the allegedly strict regime at the labor camp and harsh treatment by camp guards.
Read more in Kazakh here
Read more in Russian here